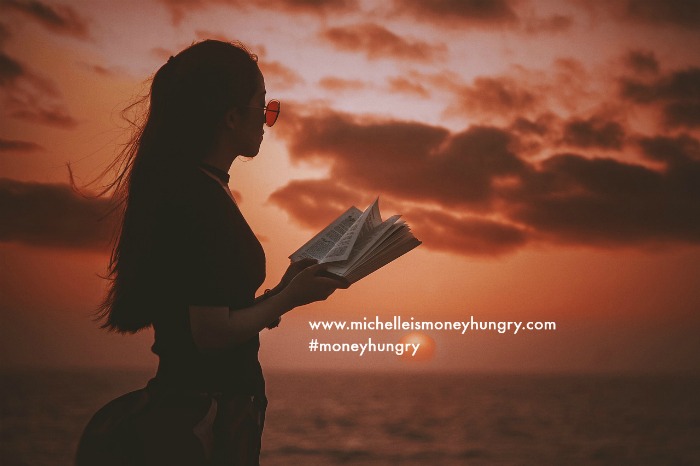 10 Personal Finance Books You Should Read
I obsessively read personal finance books. As a person who is still on my debt-freedom journey, these books inspire, educate, and motivate me. For awhile I stopped reading them, but recently I've picked them back up and I'm so glad that I did. I have about another 2-years of debt repayment to go and I need a boost to my energy, focus, and purpose. I thought I would share some of my favorite personal finance books. And, books that I'm looking forward to checking out!
* In order for me to support my blogging activities, I may receive monetary compensation or other types of remuneration for my endorsement, recommendation, testimonial and/or link to any products or services from this blog. Please read my disclosure here.*
10 Personal Finance Books You Should Read
Ash Cash from "I Am Ash Cash" just dropped a book that is number one on my personal finance must read list. It expands on Jay Z's 4:44 album. And, it's available via Amazon. I want to throw my money at Ash right now! Take my money! I must read this book.
Amanda Abella, who is a friend of mine, is a personal finance influencer, speaker, and business coach. She is in the process of growing her brand and I'm excited to see what she does in the future. Her book "Make Money Your Honey" Is a blunt, fun, and passionate take on loving your finances.
Dave Ramsey's The Total Money Make Over is the book that really got me focused on the idea of living debt-free. I love most of Uncle Dave's financial philosophies, but, he's has gotten WAY to damn grumpy for me. I'm unable to listen to his radio show because I feel like he's just too angry. And, I become angry after listening to the show. Read his books, read the debt-free stories on his blogs-avoid the radio show.
Barbara Stanny's book "Overcoming Underearning" is one of my favorite personal finance books ever! I've read a lot of them, so this is huge. I love this book so much that I think it should be required reading for anyone who is: earning money, not earning money, paying off debt, struggling with limiting beliefs, or baffled about why they can't get ahead financially. You have to do the work throughout the book. But, I think you will find that inner work to be incredibly helpful as you work to change your financial life.
Melanie Lockert, is a passionate advocate for those people dealing with the extreme money situations. Her amazing blog "Dear Debt" gives voice to what we would like to say to our debt. I was very fortunate to contribute a post and I find Melanie's blog to be a very gentle, warm, and empathetic space in the personal finance space.
Tiffany "The Budgetnista" Aliche was sleeping on her sister's coach when she hit roc
k bottom. She pulled herself together and gave back! She is now THE leading voice of black women's finance and her brand keeps expanding as we speak. She is dedicated to service and it's amazing that her book "The One Week Budget" has resonated and helped so many people.
Jason Vitug, founder of Phroogal, 
 wrote one of my favorite personal finance books ever. You might notice that he thanks me in the notes…but, that's not why his book "You Only Live Once" is so awesome. I love how Jason addresses the reality of human nature. People want to do what they want to do, but, they are empowered to make choices that nurture their souls without endangering their wallets.
David Bach, author of "The Automatic Millionaire," had no clue that people would lose their minds many years after his book was published about "the latte factor." They would also lose their minds about avocado toast as well. I had the good fortune to meet him this year at FinCon17 in Dallas. He was witty, engaging, and super cool. He also made it clear that "The Latte Factor" was a metaphor about the small incidental expenses that can be invested and grow over time. I wish people would stop being so literal and re-read the book with that in mind.
Cait Flanders just published a book called "The Year of Less." I haven't had a chance to read it, but, I'm completely in love with the idea of mindfully using less (and being happy about it!). If this book is anything like Cait's blog posts-it's going to be a beautiful read.
I'm not coupled up yet, but when I am, I'm reading my friend Elle Martinez' book "Jumpstart Your Marriage and Your Money." Elle also hosts the Couple Money podcast. She is thoughtful, deliberate, and compassionate and those personality traits lend themselves well to her message of creating a strong financial foundation as a couple.
There are so many books to read and so little time! If you're starting a new financial journey this year, I hope that one of these books will help you with that process. 
The following two tabs change content below.
I am an obsessive foodie, but not self-righteous with it, love travel, meeting new people, helping you look good, and am freaked out by people who don't enjoying reading...something! Grab a Perrier, read my blog, feel free to drop me a line! Hope to hear from you soon.