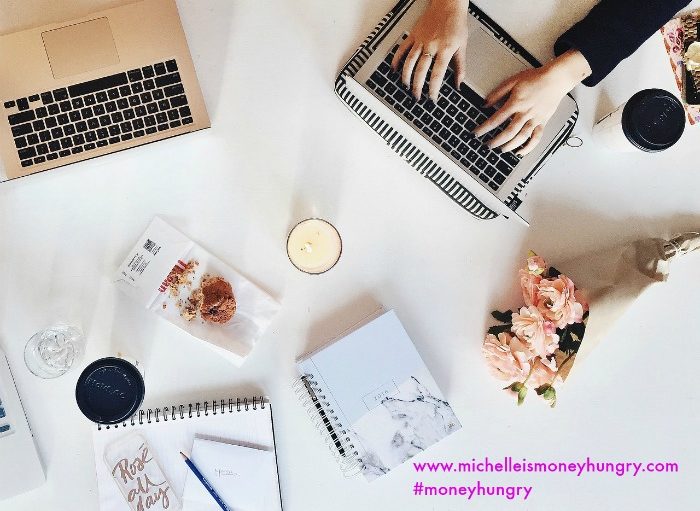 20 Tools For Your Creativepreneur Business
If you're thinking about becoming a creativepreneur/digital marketer you'll find yourself in a pretty affordable business model. But, if you're just getting started, you probably have no idea what tools and resources are necessary (or, potentially necessary) for your business. Here are 20 tools that I use (or, have used) to run my online business. I would like to mention that that as my business grows I reassess what's working or not working for me and then change things up if necessary.
* In order for me to support my blogging activities, I may receive monetary compensation or other types of remuneration for my endorsement, recommendation, testimonial and/or link to any products or services from this blog. Please read my disclosure here.*
20 Tools
Deskpass

-I find it incredibly difficult to work from home. I'm constantly distracted and I always notice projects that I need to work on, cleaning that needs to be done, and laundry that has piled up. Then, I discovered Deskpass. Am.in.love. Deskpass currently is offered in the following cities: Denver, Chicago, L.A., NYC, Austin, and San Francisco.  I pay a monthly flat rate and am able to work from one of the many spaces that are on the platform in my city. The best part about Deskpass is that they've recently added roll overs. Basically, if I have unused visits in the previous months, those unused visits will roll over to the next month. Last year I traveled quite a bit and this year I now have a ton of opportunities to work in an office.
WordPress-I run two websites and both are housed on WordPress. I love WordPress and even though there is a bit of a learning curve-once you get past that-you're ready to rock and roll. WordPress is basically the service I use to create and share my blog with the world.
Convertkit

-Many of us are a little slow when it comes to growing our email lists. But, when you do, I seriously recommend using Convertkit. It's an email service provider created by a former blogger. One of my favorite components to Convertkit is the ability to "tag" how a person landed in your email list. Basically, if you created different free resources for readers/listeners to check out, you can create a list indicating how they found you. This is huge as many people have a number of free resources that they share with readers/listeners (if they have a podcast).
Zoom

-I continue to be amazed by all of the freaking meetings that I find myself in. I use Zoom as my "go-to" tool to do this. Zoom is a video or audio conference tool that I'm obsessed with. In my opinion, it works a lot better than SKYPE. I pay about $15 a month but I'm looking to change my subscription to the webinar option so that I can livestream onto Facebook. Why would I do this? The videos are a lot more stable and you can get a copy of the video and a separate audio file as well that can be used for a podcast.
Freshbooks-

As you begin doing work for other people or charge people for services rendered having a great invoicing system is key. I currently use Freshbooks. I've used Freshbooks for years and have been really happy with them. I will note that they have updated their system and in order to receive PayPal payments you will need to use their classic interface.
Next Set
Paypal

-I love PayPal! You can invoice people who aren't using Bill.com or other ways of paying. One of the coolest new features is the ability to add a debit card to the system and get payments credited into your account within 30-minutes. Nice.
Evernote

-I do use a planner, but that things is HUGE. Sometimes it's nice to have a digital productivity tool. Evernote is the tool that I use to make sure that I'm keeping focused on being productive.
Dropbox

-A lot of people are still a bit leery about using "cloud based" technology. I'm not one of them. Dropbox is where I save my pictures and other digital resources.
Picmonkey

-As a blogger I am working on a lot of photo related content. I use Picmonkey to create Pinterest pins. I also use Picmonkey to add watermarks or comments on my photos.
Google Docs

-I love Google Docs. It's funny because when they first rolled out…I didn't love them. But, I do now.  It's a great way to store and share documents online.
Next Set of Tools
Closed FB groups

-FB is doing a lot of things behind the scenes right now, but having a closed FB group is a wonderful way to connect with your future clients. You will learn: their pain points, their stressors, the language that they use, and learn how to anticipate what they will need next.
Libsyn

-I am a podcaster! I absolutely love it because I love to talk to amazing people. I used to host my podcast via my blog. No bueño. Every since I began hosting my podcast(s) on Libsyn, podcasting has been a lot more enjoyable.
Canva

-I love Canva! It's another tool that I use to edit photos. The nice thing about Canva is that they have a ridiculous amount of pre-curated content that you can edit for your own personal brand.
Making Sense of Cents Affiliate Course

-Throughout the years I've purchased several courses to help me grow my digital income. My ultimate goal is to grow passive income via my blogging activities. Michelle Schroeder-Garnder's Making Sense of Cents Affiliate Course has been my go-to tool for focusing on my affiliate income strategy.
Business Coaching

-There is a point in every career where need to seek mentorship, coaching, or both. I found myself in that position last year and began working with Amanda Abella in her Persuade to Profit group coaching programming. Working with her has really helped me clarify what I am selling and to whom. There is a reason why my branding has gotten a lot more consistent and I've worked so hard on making it clear who I am and what I do.
Final Set of Tools
A Great Planner

-Last year I bought a planner that I was convinced would be a great fit for me and my business needs. I thought that it would help me be organized and focused. Instead, I found myself reluctant to use the planner that I purchased. I put my appointments and other important information in it…but, the planner was a bad fit for me. At the end of the year I spent almost 2 months looking for the right planner and I finally found it! I always struggled with how little space each day was allotted in most planners. My new one has a month view and then a daily view. Basically, this allows me to see the big picture and then it's broken down into one day at a time.  SO. MUCH. BETTER.
Mastermind Group

-You need a group of people who are focused on helping you grow your expertise and business based confidence. I've participated in a Mastermind group for the past 3 years and it has been an amazingly positive experience. While some of the members have moved on (which is actually the ultimate goal) it continues to be a group that supports, encourages, and pushes me personally and professionally.
Spotify

-Sometimes you just need to listen to some good music while you rock out projects. I also love that you can curate listening stations to share with your readers and listeners. Also, sometimes it's fun to share the soundtrack to your life.
High Speed Internet

-This is so freaking important especially as people focus on livestreaming as a part of sharing their content. And, let's be honest, you need access to the internet to work on projects fromhome.
Hulu or Netflix-The reality is that there are moments when you just need to Netflix and chill because you spent the past month working on a business project. Eliminating T.V. became one of the many things that you as a business owner happily give up during a moment of focused intensity.
Bonus:
Elite Blog Academy-If you're a blogger, this course is a great resource that helps teach you the "business" of blogging. If you're wondering about: how to set up your blog, content, organizational focus, and more-you should give EBA a first (and second) look. It goes on sale once a year and this year that happens the first week of March.
The following two tabs change content below.
I am an obsessive foodie, but not self-righteous with it, love travel, meeting new people, helping you look good, and am freaked out by people who don't enjoying reading...something! Grab a Perrier, read my blog, feel free to drop me a line! Hope to hear from you soon.