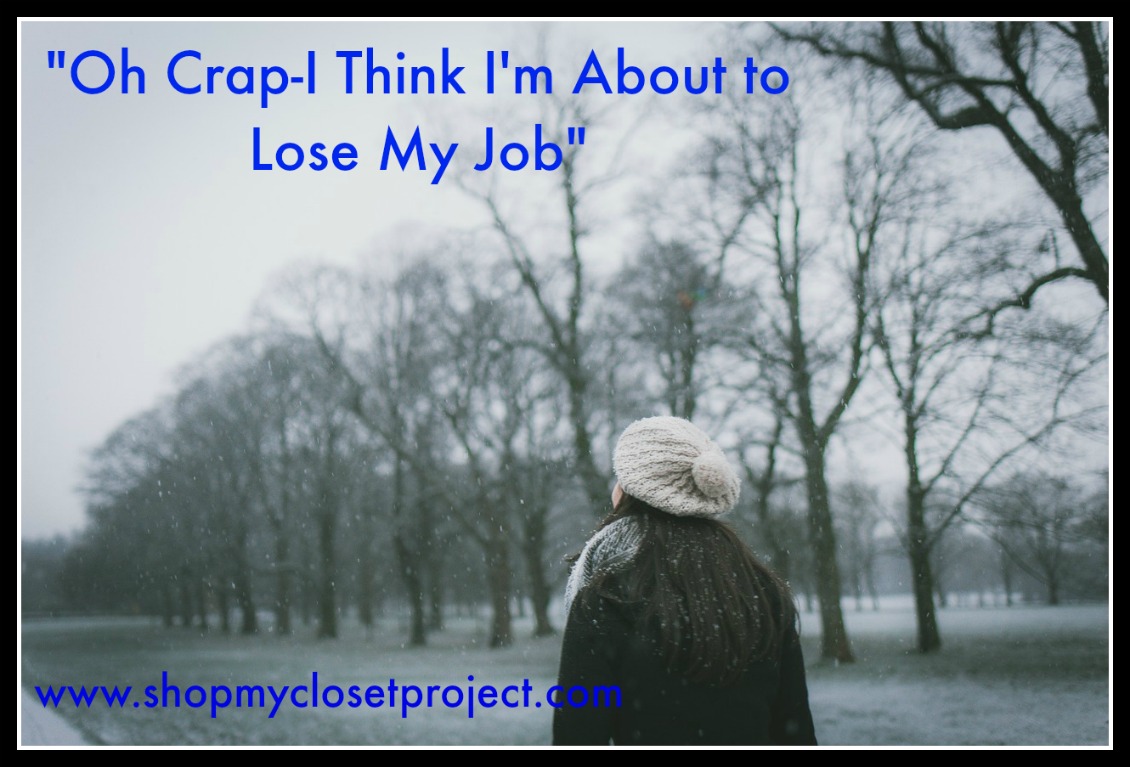 5 Days to $500 Dollars-Crap I Might Lose My Job
Like many people, I've lost a job (or two) before. Typically job loss happens in two different ways:
Or, you've had a "feeling" but felt you were being paranoid. But, there were signs all along.
Losing a job, especially when you need it, is one of the most demoralizing experiences that many people can experience. Losing a job is similar to dealing with a divorce or even a death-because it is typically and abrupt end to a moment and community that you've been connected to for a period of time in your life.
Basically, it sucks.
This year I've decided to get a lot more personal about the way I help readers of The Shop My Closet Project. I'm on a mission to help empower people financially. Because I've walked in your shoes. Remember (or, in case you didn't know) I ended up supporting my mom for a number of years after a job loss. I watched her apply for hundreds of jobs and receive hundreds of rejections.
I don't want this to happen to you.
The "Oh, Crap-I'm About to Lose My Job Edition." We're going to work through ways to prepare for job loss so that you're not left freaking out, floundering, or completely screwed because you were caught off-guard.
One of the reasons why I've decided to continue this blog and help people with personal finance…even though I'm not finished with my journey…is because it has become my mission.
I wish that there was someone out there who could have supported me during that difficult time. With tips, ideas, resources, tools, and a sense of community.
The goal of this challenge is to help people who are experiencing the potential for job loss. Please share this challenge with friends, family, and colleagues.
You're Not Alone.
The 5 Days to $500 Dollars Challenge
Has the goal of helping participants free up cash, change a few habits, and get a better handle on where their money is going. You will leave feeling empowered and with a sense of direction so that you can handle whatever comes next.
From Monday, February 13-Friday, February 17,  I will live stream on The Shop My Closet Project Facebook page. Participants will also receive a workbook to use to help work on preparations for possible job loss.
Begin by joining The Shop My Closet Project Money closed Facebook group to connect with participants of the challenge.
If you're worried about:
Eating
Paying bills
Transportation
Preparing for a  job search
We will talk about it. In a moment like this, it's also important to take care of your mental health. We will talk about that as well.
Sign Up Today to participate in next week's challenge (notebook will be sent out next week).
Time to Prepare
The following two tabs change content below.
I am an obsessive foodie, but not self-righteous with it, love travel, meeting new people, helping you look good, and am freaked out by people who don't enjoying reading...something! Grab a Perrier, read my blog, feel free to drop me a line! Hope to hear from you soon.