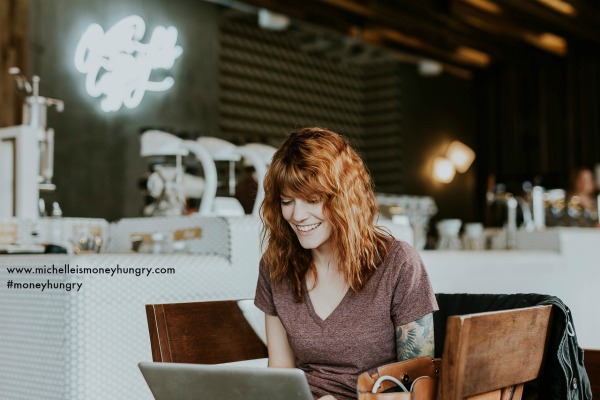 Why Every Blogger Should Rethink Their Amazon Affiliate Strategy
For the longest time I was pretty underwhelmed by the Amazon Affiliate program for online content creators. I was a bit peeved by the 24-hour cookie that they used, especially when other programs had 30-60-365 day cookies. And, for those of you wondering what the heck is a cookie? Let me tell you-it's the way that a website or affiliate link tracks who has landed and taken an action on your website. Actions could include, but aren't limited to, clicking on an affiliate link that you've shared, interacting with an ad, or viewing some content in a way that is trackable. Needless to say, 24-hours didn't excite me. Until I heard the data on Holiday 2017 spending. Almost 50% of holiday spending was associated Amazon. This is why every blogger should rethink their Amazon Affiliate Strategy.
* In order for me to support my blogging activities, I may receive monetary compensation or other types of remuneration for my endorsement, recommendation, testimonial and/or link to any products or services from this blog. Please read my disclosure here.*
At the End of 2017
I began placing Amazon affiliate links in a few blog posts. I liked the idea that if someone clicked on one of my Amazon Affiliate links and shopped in 24 hours that maybe, just maybe I would get a couple a pennies a week. And, then, as I added content to my website that amount would grow. Basically, I was half-heartedly embracing Amazon Affiliates because, why not?
Soon, I started noticing that for links were performing much better and much faster than I anticipated. My blog currently has meh traffic (something that I'm really working on) and so I will admit that I was really surprised by how quickly the links were converting.
Here's the thing, when 50% of almost $700 billion of forecasted spending (according to the National Retail Association) happens in one space-that's a "come to Jesus" moment.
That's a lot of money.
Amazon
Is changing not only how we spend, but how we live our lives. Don't believe me? Here are some examples of how people are interacting with Amazon:
Prime Membership

-In the interest of full disclosure, I even have one. I love the unlimited ability to read as many romance novels as possible. I was spending A LOT of money on romances and have cut my spending on romances by a significant amount.
Echo/Alexa-

I do not have one of these yet and I really plan on delaying getting one of these for as long as possible. But, these home assistants allow users to order the things that they need quickly.
Whole Foods

-Jeff Bezos was not playing around when he purchased the Whole Foods corporation CASH. People refer to their shopping experience at Whole Foods as Whole Paycheck-and he paid for the entire company with cash. Let that sink in.
Merch By Amazon

-People are able to sell goods (t-shirts) via this portal.
Prime Music-

Need music? You can find it on Amazon.
Prime Video

-Basically, t.v. shows and movies.
In fact, recently a marketing company reached out to me to see if I would like to participate in a focus group. They were paying participants in Amazon gift cards (I declined).
Now, spend some time thinking about how YOU and the people around you are using Amazon-and how frequently you use it. Then, consider how often the organizations you're associated with use Amazon as well.
Here's an example:
I volunteer at my high school in a reading program. My student decided to read a different book from the one we originally started with. The coordinator of the program ordered the book for me via Amazon (the school has an account).
Everyone is using the service.
Bloggers, Your Affiliate Strategy
Needs to include Amazon. You are leaving money on the table if you don't. Many people will also lament the low payouts that the company gives out. Basically, the percentage per item that is paid out to the affiliate. I totally get that. But, people are crazy if they consider $350 billion spent  just in the holiday season chump change. Here are some ways to include Amazon Affiliate links authentically.
When you're writing posts that are of service to your readers-include helpful resources in those posts.
Use only the image of the product whenever possible. People seem to click on pictures more.
Backlink to similar posts.
Create gift lists that are relevant to your readers.
Understand the Amazon affiliate program. Read the rules and make sure you understand them.
Always disclose that you're an affiliate (and this is a blogging best practice).
On the first day of February the first click on my Amazon Affiliate link converted to a sale. One click=sale.
Caution
Think about what your reader really wants from you. Do your readers prefer Amazon or Walmart (their biggest competitor). You should have several core affiliates that you're focusing on because affiliate earnings can be affected by:
Business related changes.
But, it's very obvious to me and everyone else, that Amazon is here to stay for many years to come. If you're a blogger, this is the time to jump on the Amazon band wagon. People are shopping in malls less, but online MORE. Begin planning out and focusing on a strategy to optimize your affiliate earnings throughout the year and especially during the holiday season.
Your earnings will, of course, depend on the number of page views your blog gets. I'm excited to see how this plays out and will keep you posted.
Bloggers, have you focused on growing your Amazon Affiliate Income? Why or Why Not?
Elite Blog Academy
Check out one of my favorite tools! I took Elite Blog Academy (as did several of my friends). Before I took it, I had no idea that blogging could be a business. In fact, it was hard for me to wrap my head around all of the possibilities to earn money blogging-while serving your readers. Check out the following resource:
The Secret Blueprint for Blogging Success (Click Here!) 
The following two tabs change content below.
I am an obsessive foodie, but not self-righteous with it, love travel, meeting new people, helping you look good, and am freaked out by people who don't enjoying reading...something! Grab a Perrier, read my blog, feel free to drop me a line! Hope to hear from you soon.