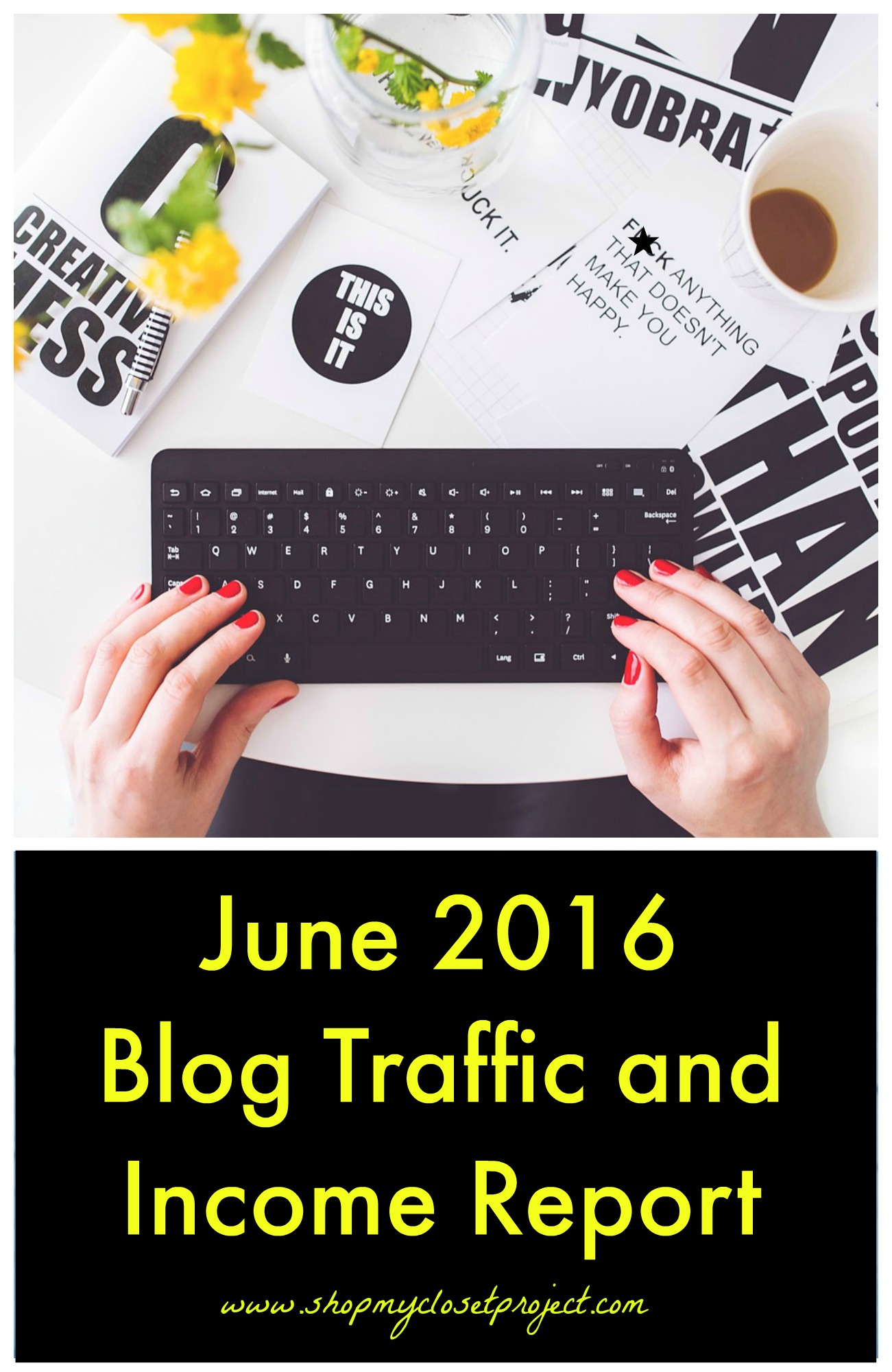 Blog Traffic and Income Report June 2016

For those of you who know me, you're aware that I've spent a very long time trying to figure out the best way to monetize my site without: antagonizing long-term readers, making my blog annoying, cluttering it up with annoying ads, and potentially losing my blog voice in the process.
I've Figured It Out
After agonizing over how to monetize my blog I'm now moving into the implementation phase. As a result of that I will begin post Blog Traffic and Income Reports. I will only share paid out earnings-NOT pending earnings.
Also, I will only talk about:
Affiliate income
Ad earnings
Speaking gigs
Online product sales
Sponsored posts
Even though I do earn a reasonable amount from freelance writing, I will not add my freelance writing earnings to these posts because my focus is specifically to grow my affiliate earnings.
If I have pending earnings that haven't met the payout threshold-I will not count them because I don't consider that "real" money. It's not in my bank account-so, it's not real.
Side Hustles
I also do a couple of fun side hustles but I think that I will leave those out of these reports as well. In the future I will share separate posts on how to side-hustle and in those posts I will share what I make when I side hustle.
The affiliates that I am sharing I feel meet all of my ethical standards and are consistent with what I've shared before.  I am specifically focusing on sharing products and goods that will better the lives of my readers. In fact, 80% of the affiliates that I will share with my readers are free to use-and give you money. That's pretty awesome. They are resources/services/or goods that I use and am ridiculously obsessed with.
My Thoughts on Monetization
I've written my blog at a financial loss for years-and I'm fine with that. But, it doesn't make sense for me to ignore the very real possibility that I could attract a substantial amount of passive income that could help me pay off debt and manage other parts of my financial life.
This is a personal finance blog and ignoring a tool that could change the trajectory of my life would be foolish. I've decided that it's important for me to try because what if I could make something amazing happen?
In my observations of monetized blogs it usually seems to take people about 2 years to create some substantial earnings after they decide to actively monetize their sites. I think it's reasonable for me to expect that it will take awhile for this to happen and I'm ok with that.
Basically, I'm starting at zero-like everyone else! It will be interesting to see what happens. If I earn nothing then I will report that. In the future I will also share the expenses that come with running a website.
My Mastermind Group
Inspires me. There are several people in my Mastermind Group making a substantial amount of money via their blogs. I want to be clear and say that a year or so ago they were where I'm at now: low subscriber numbers, ok page views, and very low affiliate income. Then, they figured out a strategy appropriate for their blog and WORKED IT.
One year of extreme focus has substantially changed their lives. I actually don't think you will really notice the difference as I've been slowly phasing in the changes and setting up my strategy for the past 9 months.
Who knows if it will work but I'm going to give it a shot. If you are curious about beginning a blog check out the following post: How to Decide What to Blog About.  Also, feel free to join my closed Facebook Group: The Shop My Closet Project Money. Get support, encouragement, and ideas as you save money, plan for an epic trip, or pay for your kids' college tuition this group will help you "own" your financial decisions when other people don't get what you're doing.
I love a good challenge. I did a year long No Shopping Challenge, Grocery Challenges, fitness challenges, and the list goes on. I love getting crazy focused on a project and doing everything that I possibly can to achieve that goal.
I haven't rocked out a challenge in awhile so this is my challenge for the next year. Get my blog to earn substantial "passive" income.
June Blog Traffic and Income
I've decided to do a traffic comparison so that you have an idea of what the traffic growth has been. My highest monthly page views this year were 68,312 (January 2016). Like most bloggers I've experienced a substantial drop in page views going into (and during) summer.
Page Views
June 2014

: 4,899 page views

June 2015

: 19,808 (page views) (I had a link to The Penny Hoarder go live last year)

June 2016

:  16,444 (I think this number is in line with the blog growth and with the normal drop in readership during summer)
 Income
Again, I made money doing other things as a result of blogging but I am only focused on "passive" income for these reports.
Um…I have 2 other Blogs
Ok, so, I forgot to mention that I have 3 blogs that I run.
The Shop My Closet Project-Personal Finance and Lifestyle Topics
Colorado Luv Hub-All things about Colorado with a specific emphasis on Denver and Boulder
The Done Society-For people transitioning from their 9-5 to online digital entrepreneurship.
I am in the process of monetizing the other two sites right now as well. As passive income comes in (fingers crossed)  I will also include that information in this report (but make it clear where the money is coming in from).
Lots of work-keeping me out of trouble LOL!
Wish Me Luck!
The following two tabs change content below.
I am an obsessive foodie, but not self-righteous with it, love travel, meeting new people, helping you look good, and am freaked out by people who don't enjoying reading...something! Grab a Perrier, read my blog, feel free to drop me a line! Hope to hear from you soon.