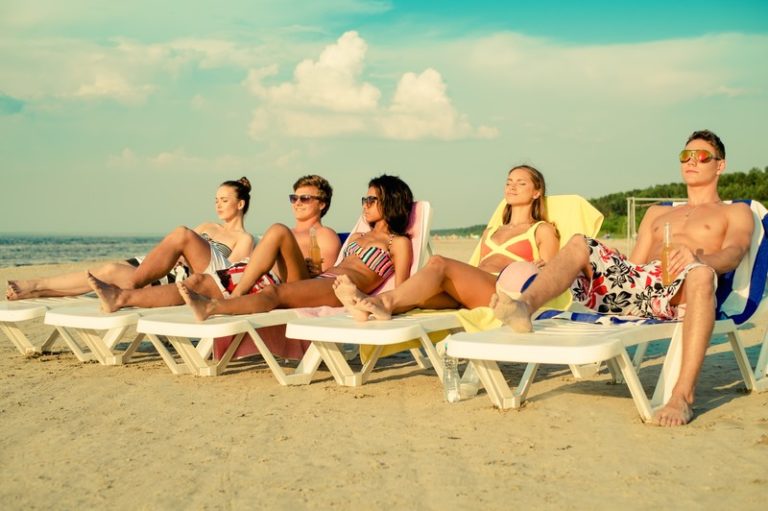 Can YOLO Peacefully Co-Exist With Frugality?
* In order for me to support my blogging activities, I may receive monetary compensation or other types of remuneration for my endorsement, recommendation, testimonial and/or link to any products or services from this blog. Please read my disclosure here.*
I am a pretty frugal person. I purchased a $1500 dollar car and I LOVE it. I'm happy to ride my bike everywhere and I am content to read books all day long (seriously-I am addicted and sometimes reading affects my productivity). I geek out over No Spending challenges and love side-hustles. I regularly do grocery challenges (am about to do one in May) to see how long I can stay away from the grocery store. I love shopping for used clothing (got a great haul for Summer) and I am savvy in the ways of taking public transit because I did it for years. I am pretty frugal…until I'm not. I embrace some aspects of YOLO because we have this one life.
YOLO 
I am an experience driven person. I love to travel, fun events, special dinners, and one-of-a-kind experiences with friends and family. In my quest to minimize my overall financial footprint (debt-specifically) I find myself often thinking about the relationship between YOLO/Frugality/and the fine line that some frugal living brushes with self-deprivation. And, I think about how that self-deprivation can sometimes feel like an endorphin rush because you're doing something that other people couldn't imagine doing. Like being a vegan. Tried that for a month and I totally understand why Vegans are so self-righteous.
As a very proud member of the personal finance community, I find myself often having conversations about what we did to avoid spending money. But, I've found that sometimes that those conversations morph into negative judgments against people who "could have better finances if they just did…"
Well, they didn't choose do what we're doing. And, I often find myself reminding people that we don't know everything behind other people's financial curtains. Sometimes when you're struggling you choose to YOLO it because life can be hard and you need a sense of relief however fleeting.
I've been there and done that.
But, I'm very excited to share that YOLO can peacefully co-exist with frugality but that some thought has to put into creating an atmosphere where living what you feel is your best life now, won't negatively compete or harm your financial future.
YOLO Can Co-Exist With Frugality
Here's how it works. First, be honest about yourself. There are some things that just won't change about YOU as a person. Here are some of my examples:
I don't eat bad food

-I've always been like this since I was a kiddo. I started cooking at 7 years old for two reasons-my mom wanted me to learn and I wanted to learn because I didn't like her cooking. True story.
I have expensive taste

-I don't care where you put me: the thrift store, a market, or the grocery store-I have the annoying ability to choose the most expensive items in said space…every single time. It doesn't mean I buy those items, but it does mean that when I replace items or upgrade stuff that I'm not necessarily uncomfortable with a higher price point if the perceived value to me is a good one. And, if I believe the item will last FOR YEARS.
In general,

I don't care about brand named items

, but I DO care about good quality. Refer to the comment above this one.
So, how do I combine this reality with a frugal mindset and YOLO? Well, that took some time to learn but here is what I do.
Embrace a strategy

-There are certain events that I know I would like to participate in. For conferences, I pitch panel or session ideas in the hope that I will get a panel or session approved and get free admission to the event. This has happened on more than one occasion, including this year's upcoming Podcast Movement conference. I keep an eye out for media related opportunities in exchange for free attendance to conferences. I will be attending Type-A West here in Denver for free because of a media opportunity.
What Did I do Last Year?

Many of us may participate in similar activities year after year. If you know you love the theater and go regularly, look into the different low-cost or free opportunities to attend productions. If you love running in races start looking at the websites related to the races you would like to participate in and see if you can volunteer and participate in the race for free. I am volunteering for a really cool event in Denver called Fitness on the Rocks. After my shift I get to do "All the Things-for free."
What Didn't I Do Last Year?

I then look at what I didn't get to enjoy in the previous year and see if those events will be happening again and if I can figure out a way to do it for as little money as possible.
Cash Only

-I do NOT use credit cards anymore. I just use my debit card. I have to say that I absolutely LOVE my cash budget because once I decide to do something and pay for it-it's done. There is no spending hangover. I've lived like this for the past 2 years and it's great. I'm never going back. And, the thing with using cash is that I spend a lot more time thinking about my spending decisions and if they are in alignment with my overall financial goals. I've paid cash for: trips, fun stuff, clothes, etc. All the things. Such an amazing feeling. Not ever going back to credit cards. There's very little sense of delayed gratification as well because I now understand that whatever it is that I want, almost always can be purchased for a lot less than the stated retail price.
Embrace Free-

I love free to the point where it's a game to me. My friends love my endless pursuit for free stuff (they typically benefit from my discoveries as well) and it is INSANE how many opportunities there are to do cool stuff for free. Seriously. It's crazy. Especially during the summer. Not sure where to begin? Check out your city's summer programming and Meetup.com as a starting point.
Practice contentment

-I have 1st world problems. Seriously. Every single day I am so thankful that:

I have my health
I have an education
Access to food
Access to clean water
Access to resources-and people who will connect me to resources
I have a home.
Transportation
Keep it Simple-Even though I love experiences and fun events, I also love, love, love: riding my bike, reading, and going for coffee with friends and family. I love talking to strangers and exploring my town and taking pictures of murals. I actually spending the majority of my time doing these things. I also love; blogging and podcasting which is why I continue to focus my efforts on those activities. In fact, this weekend I was sitting on the patio of one of my favorite coffee shops when a four-year-old declared that she was going to have lunch with me. Her family (that I didn't know) was visiting from L.A. and we had a wonderful visit.
Work Harder-

I bet you're shocked that I added this to the list. But, really, there is a point where you just have to work harder for what you want in life. I wanted a car last year and I was NOT making a lot of money. I side-hustled like a ninja to earn the cash for my car. Many people are very resistant to the notion of hard work and just wish that they could get what they want in life the easy way. I've found that I appreciate what I had to get through hard work a heck of a lot more than the stuff that came to me easily.
Tell Yourself "NO"

-Sometimes, you just have to tell yourself "no." No, this isn't the right time for: a trip, the event, etc. It's part of the art of learning financial discipline. Credit cards enable people to say "yes" when really they should say "no." That's part of the reason why I love my cash budget so much. If the cash isn't there-the "no" is easy to say.
Be Future Focused-

As great as it is to embrace YOLO the reality is that your future is looming out there! Focus on saving money for retirement (that's why I love free stuff, that saved money goes towards my future). Pay off your debts, keep your financial life as simple as you possibly can. Save, invest, and save some more. And, when inclined, purchase some property.
I'm unapologetic about purchasing a Vitamix (a decision that took me two years to make) because I know that I will use that think weekly. I already had a blender that I was using weekly and wasn't happy with it. For the past two years I would check out the Vitamix, think about it, research the competition, weigh the pros and cons and then go through the same process again and again until I felt that I had truly thought through that spending decision.
Likewise, I continue to live in my tiny place (that I am finally beginning renovations on this summer) even though there are times when I would like to be in a bigger space (that's not garden level). But, I love my place and it has served me well financially and in the future when I rent it out it will help build my financial future.
I may have expensive taste, love to travel, and love to have fun-but, I'm always thinking about my financial future every time I make a financial decision. And, I think about the life energy that went into earning the money that I use for YOLO. When you think about your life energy exchange for stuff-that puts things into perspective.
The following two tabs change content below.
I am an obsessive foodie, but not self-righteous with it, love travel, meeting new people, helping you look good, and am freaked out by people who don't enjoying reading...something! Grab a Perrier, read my blog, feel free to drop me a line! Hope to hear from you soon.