Did I bite off more than I could chew?
Tomorrow will be the end of the first week of my year long Shop My Closet Project Challenge. The Debt Free Divas and I have challenged our readers (and DFD's listeners) to join in for a month long experience of using what we already have, being creative , and saving some money at the same time. I was pretty excited to see some other cool people join in! Thanks Sarah from Pretty Providence for the shout out and good luck with your 30 for 30 challenge!
To kick off your shop your closet challenge we encouraged everyone to
Organize you closets. How can you use what you have if it's a mess? 
Get rid of anything that is out of date, stained, or makes you feel bad when you wear them
Have fun putting different outfits together. Push the envelope a little bit. But no more than 25% beyond your comfort zone.
Start bringing out your spring/summer clothes. This is the time of year where you can mix and match materials depending on where you live.
POST PICTURES!! We want to see the outfits that you put together. Post them on our Facebook Pages: The Shop My Closet Project or  The Debt Free Divas. Be creative.
This week was a little rough. The trigger surprised me. A guy I used to really like posted something on Facebook, basically about his new relationship. This was a wonderful thing for him and I am super happy for him. Until I realized that I still kind of liked him because it the news made me feel a little depressed and I needed wanted a quick pick me up. I wanted to buy something that would make me feel good. Instead, I slipped into my cute faux snakeskin brown shoes with grommets and paired it with my Banana Republic Mad Men inspired shirt that I purchased this spring from Magical Goodwill. I did pair it with my lovely leather Madewell bag. And my Michael Kors belt purchased from Ross. As soon as I arrived at work, one of my colleagues complimented my shoes. Nice. Considering that they languished brand new in the box that they came in at the back of the closet for almost a year. I just won't bring that up.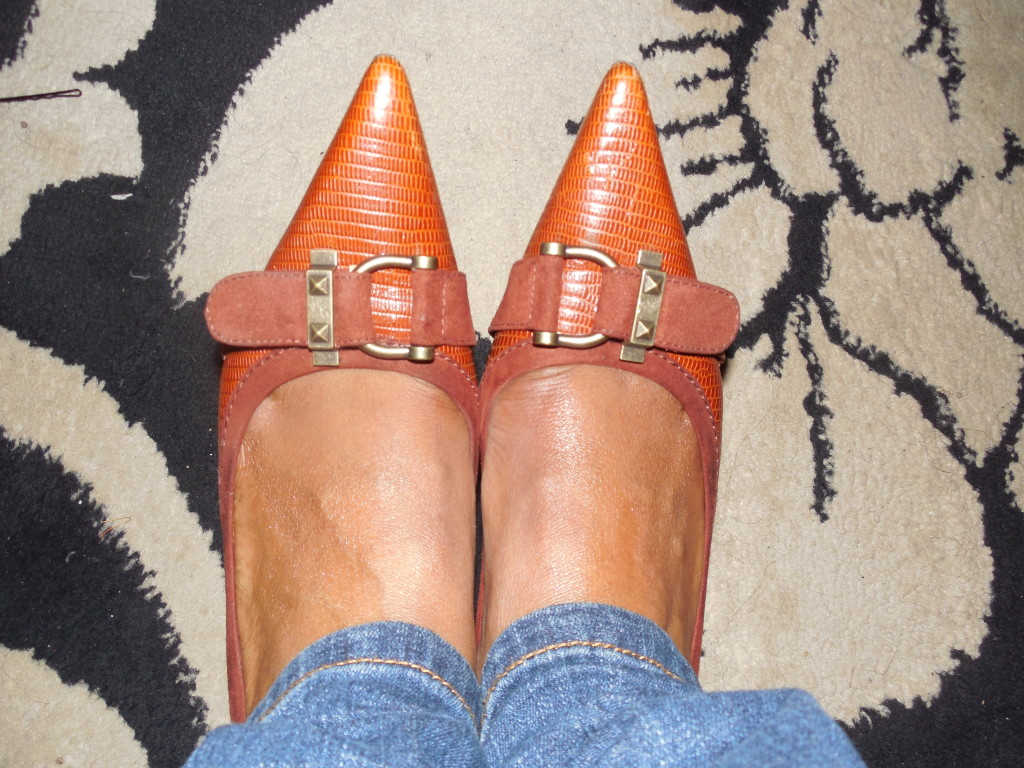 Luckily, I started the Hot Yoga Challenge and that day I did hot yoga instead of shopped. I got all of that angsty chi out of my head and body while losing the equivalent of two 64 ounce bottles of water from sweating profusely. I wasn't glistening. I am one of the largest girls in my class at that particular studio. Skinny b$tches. You'll plump out a little bit once you get that office job. Enjoy it now. Oops, that thought was supposed to stay inside my head.  Back to the guy issue. That little episode left me thinking about what other things do I do to lift my mood?  Apparently shopping is one of those things.  Now I wonder "Did I bite off more than I could chew" with this challenge? I don't believe so, but I am sure that there will be other moments throughout the year where I'll get stressed or overwhelmed. It's obvious that I need to think about how I cope with difficult situations. The Shop My Closet Project  represents a recalibration in how I deal with stress, my money, and ultimately my life I'm just left wondering if I'm ready to deal with that yet?
It feels like the universe is already mocking my efforts. When I returned home tonight this was in the mail.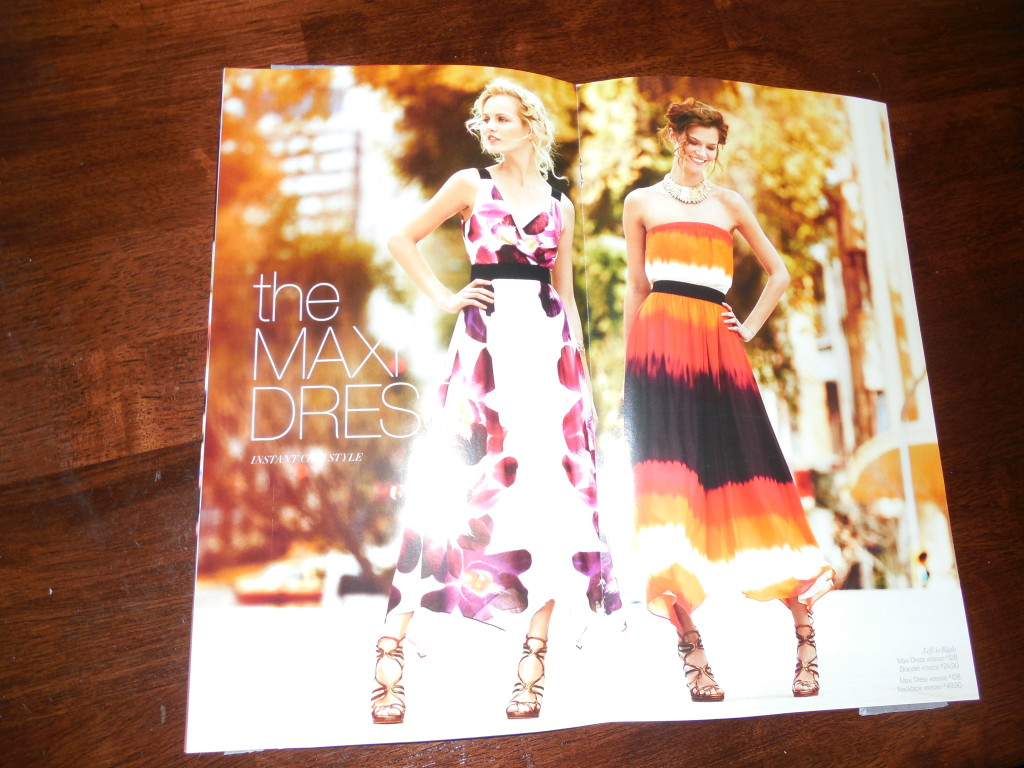 A circular from EXPRESS that also included several coupons that I wanted to redeem. Of course I want a maxi dress. Resplendent with flowers or in a bright Bronco orange. But wait, I have a maxi dress already and 3 maxi skirts. Obviously, I need to get off the mailing list immediately.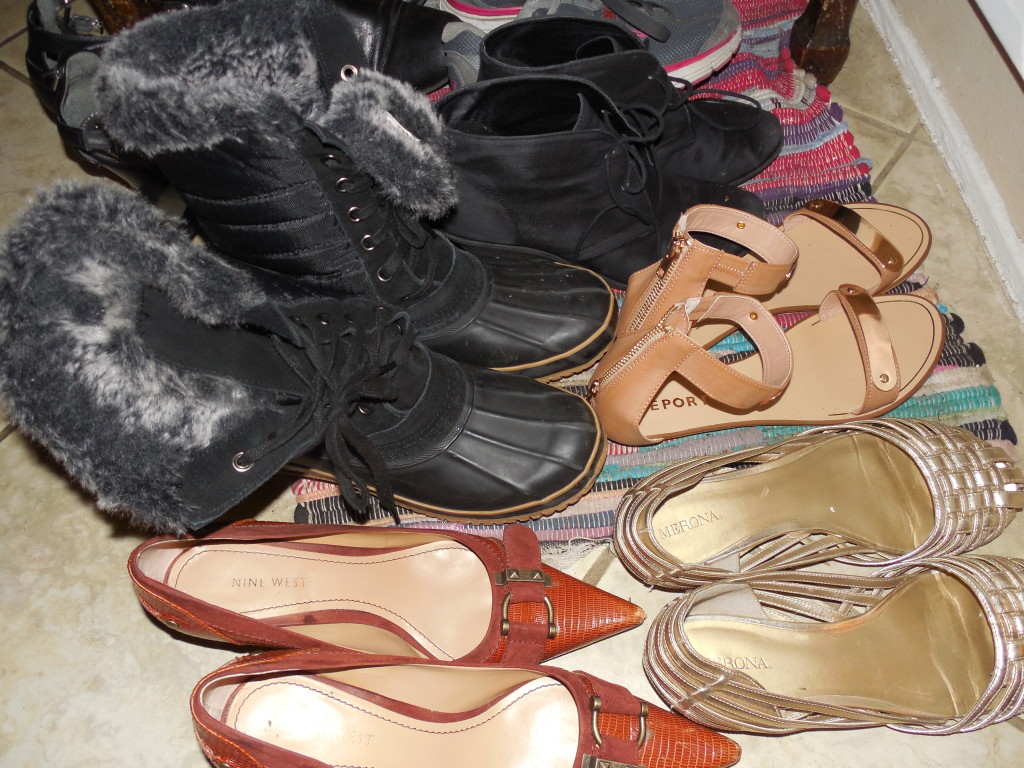 These are the shoes that are currently in rotation. Yes, it is still snowing in Colorado. We didn't really have winter, so now I'm over the snow. I just wanted to go snowboarding, but it was too warm this year…again! The sandals with the metallic detail are new and I haven't worn them yet. The gold shoes are from Magical Goodwill.  So far I think I'm doing pretty well. But, it has only been one week. Let's see how it's going in the Fall.
Other looks from this week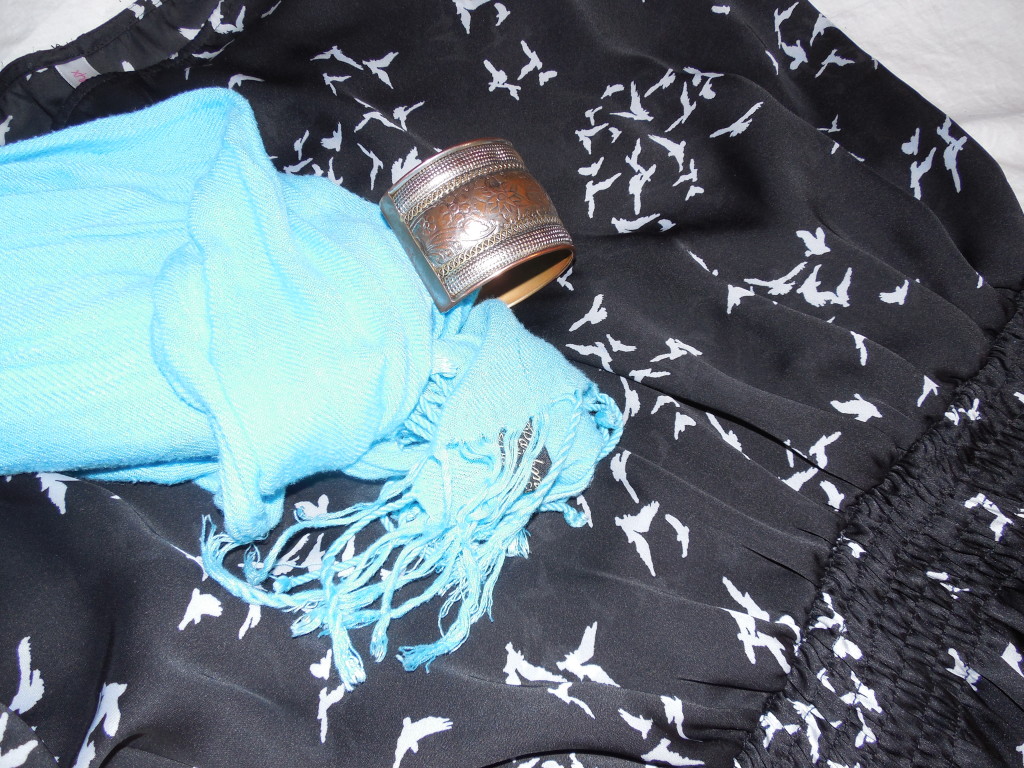 Blouse from Magical Goodwill, Bangle from Forever 21, Scarf from London street vendor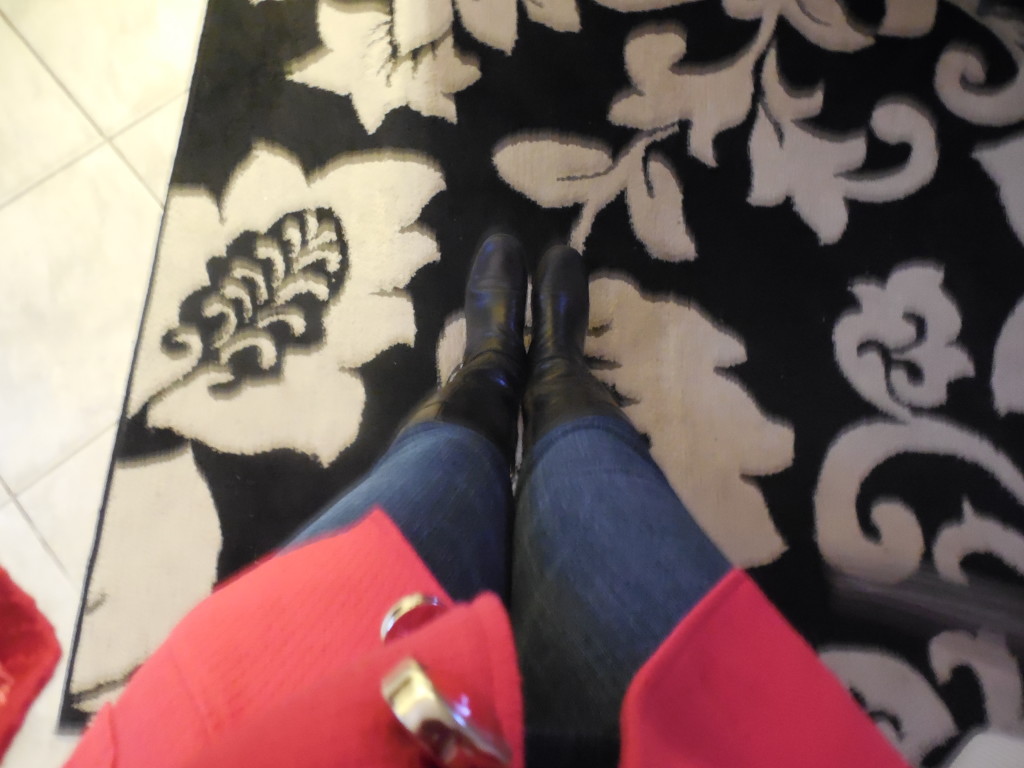 A little blurry! Red Tulle Coat-thrift store in LOHI, jeans Forever 21 (4eva21), boots-I forget!
The following two tabs change content below.
I am an obsessive foodie, but not self-righteous with it, love travel, meeting new people, helping you look good, and am freaked out by people who don't enjoying reading...something! Grab a Perrier, read my blog, feel free to drop me a line! Hope to hear from you soon.