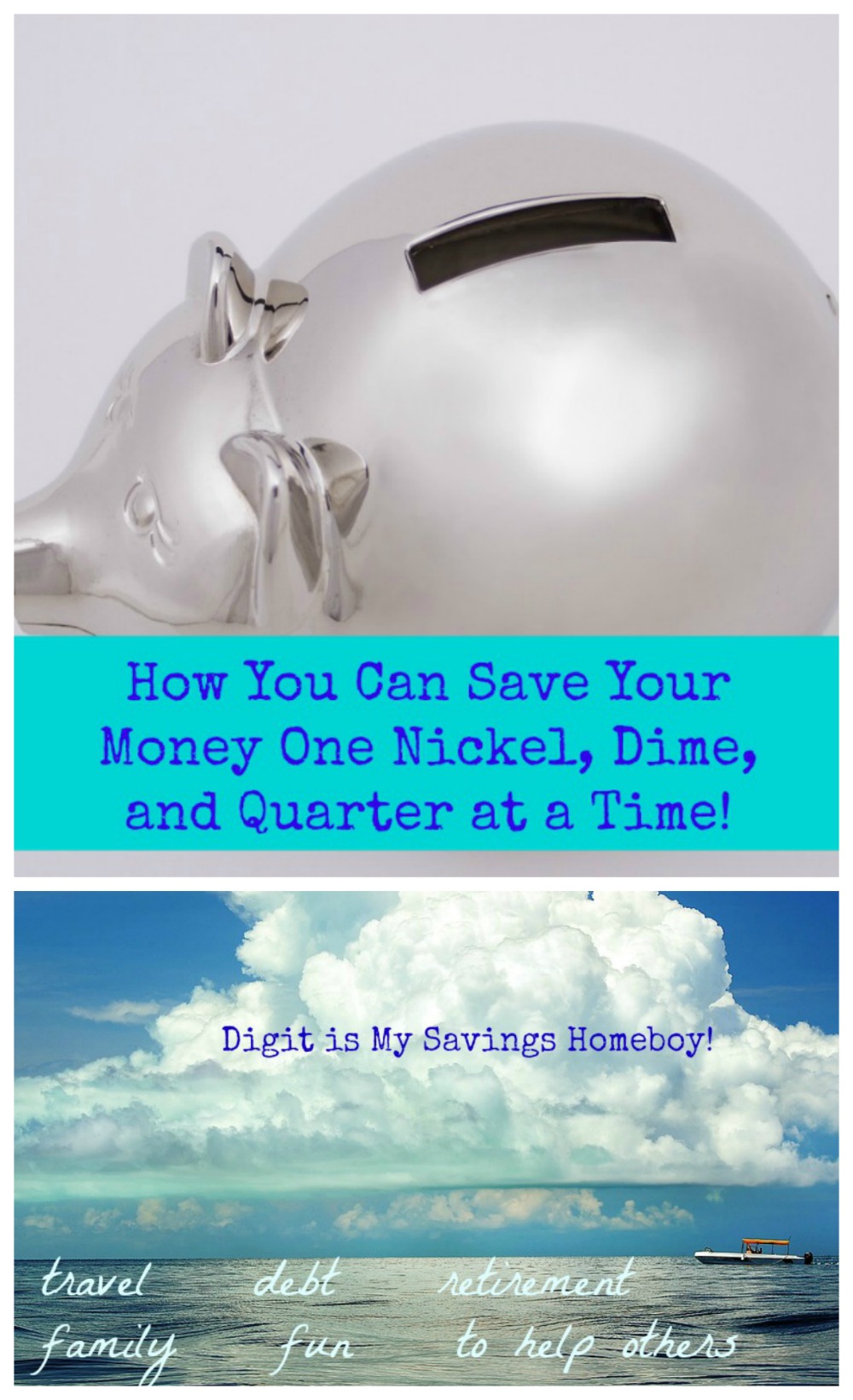 Digit is My Savings Homeboy!
*Please note: affiliate links are included in this post. If you click on the link I may receive a tiny, tiny amount of compensation.*
Do you struggle with saving money? Do you struggle with the actual mechanics of the process or the mental process of saving? I seem to be struggling with actual mechanics of the process. Of actually committing and getting my savings started. The weird thing is that I've saved a large amount of cash before…for a trip to Europe. I worked like a crazy person for 8 months at Marshalls in Boulder, Colorado and saved like a rock star for my first trip to Europe.
Haven't Done That Since
Why is saving so freaking hard for so many of us? You would think that saving in general would be a pretty straightforward process. But it isn't. It's so easy for me to spend…to save hasn't been so easy in past years. In fact, if feels like the world is conspiring against us. The minute I walk outside my front I am immediately confronted with spending decisions.
Should I take the bus or the light rail to downtown? COST: $2.25
I would like a cup of coffee from the local coffee shop. COST: $1.89
Should I drive my car…and will I have to pay for gas? COST: I don't know
Then, I freak out about places that I should avoid in order to not spend. #Target. As I move into another stage of my financial life as a freelancer I am becoming more and more concerned about saving money. I'm not just concerned about saving money on processes-I've got that covered. I want to accumulate money, in my bank account again. Especially because I'm self-employed.
Just as passive income has become my Moby Dick, savings has become my Holy Grail. Now that I've taken care of a large number of items on my Vision Board list that include the following:
Focusing on people in my life-Spend time with my Mom, Grandma, and my dear friends.
Taking care of my health and wellness-Have started training for a 1/2 marathon and am now a vegetarian due to developing an unfortunate distaste for meat. Am bummed about this as the last time this happened I was a vegetarian for 5 years. Oh well, I'll save money on food.
Growing my business-This whole year has been about risk. I've grown my business more than I thought I could given the 3 month hiccup during the summer when I wasn't working as hard as I should have. Things are now on a better trajectory and as soon as I return from Chicago I will be picking up the pace. Oddly enough, I'm really looking forward to it!
What About Savings?
What about it? It hasn't been happening the way that I would like it to. Let's be honest, it hasn't been happening at all.  So, I've decided to make some moves to grow my savings even if it's one penny at a time.
Fortunately, I've discovered Digit.co a savings app that you connect to your bank account and it takes tiny amounts of money out of your connected account-think loose change, and then deposits that change into an FDIC insured online account.
You can enable the app to alert you as deposits happen, let you know what your balance is, and just keep you in the savings loop. Given the number of times I go out for coffee, buy chocolate, and let small amounts slip through my fingers despite my best intentions I'm in love with the idea of growing my savings a nickel, dime, and quarter at a time.
How To Get Started?
Watch the quick cute video on saving with Digit.co
Connect one of your bank accounts to Digit.co
Your money will be deposited into an FDIC insured account
Digit will communicate with you and let you know how much you're saving every day or so. You will be told how much your account has in it, the amount you've deposited into your Digit account. You can turn off the notifications as well.
Text Digit to command it to: save more, pause the deposit, or more.
Invite your friends (shameless affiliate link invite) to save too and earn $5 a referral. It's a win win!
You may have noticed that I've brought up savings a couple of times in the past couple of weeks. I've also opened up a Betterment Roth IRA and a secondary investment account via Betterment.  Learn more about Betterment
 and see if it's a savings tool that will work well for you.
I am no longer interested in just scraping by, It's not cute anymore. It's unnecessarily stressful and kind of dumb because I have a pretty good handle on my spending. I love these savings tools as they are pretty painless. I'm seriously thinking about disabling my Digit settings and letting my my savings grow and then checking my account in September during FinCon16 to see how much I've saved. In fact, that seems like a fun project. Digit.co is my savings homeboy!
If you're struggling with saving money seriously look into these savings options. I'm a very excited about them, they are super painless, and every little bit helps. Remember, I'm the girl who loves to pick up change! I hope this works for you too!
Do You Struggle With Saving Money?
Have You Used A Savings App Before?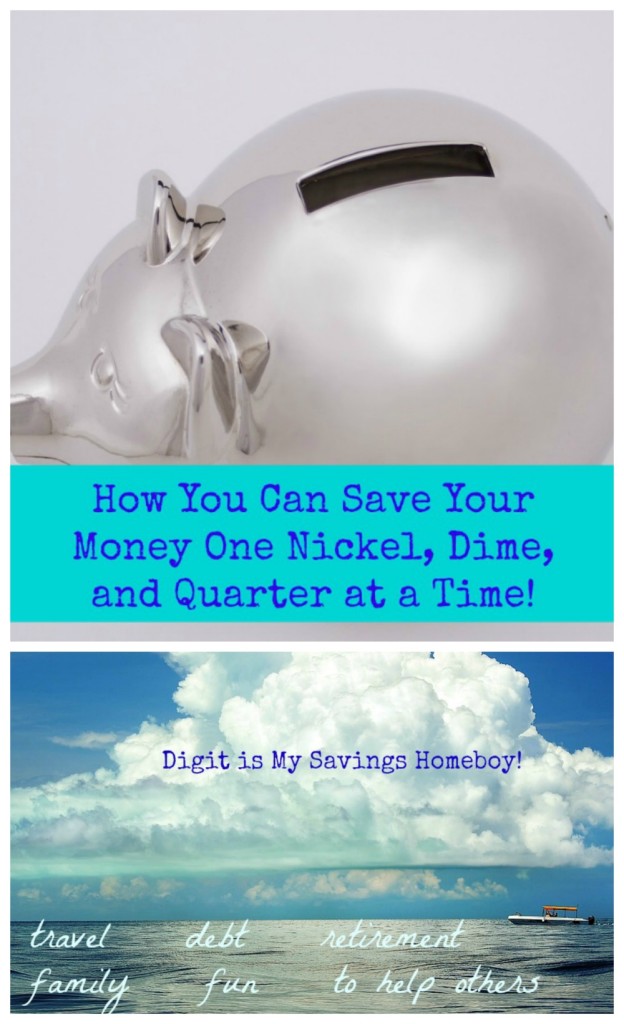 The following two tabs change content below.
I am an obsessive foodie, but not self-righteous with it, love travel, meeting new people, helping you look good, and am freaked out by people who don't enjoying reading...something! Grab a Perrier, read my blog, feel free to drop me a line! Hope to hear from you soon.