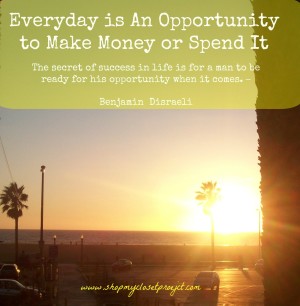 Everyday is a Day To Make Money…or Spend It
If you are a regular reader of personal finance blogs, you'll notice that personal finance bloggers are very enamored with SIDE HUSTLES! In fact, we spend a lot of time talking about ways to make money, hustling, and doing whatever we can to raise our incomes so that we can exceed our expenses and move forward.
I would like to reframe the whole side hustles conversation and change it to this: everyday is a day to make money…or spend it.
If you're looking at each day as an opportunity to make money it changes the way you view side hustles. Why? Because there are so many ways to make money. People buy anything and need help with everything!
So, in order to prove this point I'm to write a list of things people paid money for and a list of things people have paid for that they needed help with. I'm hoping for you to see all of the opportunities that are out there.
YOU PAID FOR THAT??!! 
Pet Rocks-

Why the hell would you pay for something that you can get by bending at the waist and picking up?

To deliver poo to someone

-This is a new one. I just don't know why you would want to ship poo to another human being. That's just nasty.
Bread or anything that looks like an Iconic Figure-

Usually you'll hear about people paying for icons that look like Jesus, or Mary.

Surgery to Look Like An Evil Villain From A Comic Book-

T

his is for real. A guy in Venezuela (a country known for extreme beauty) has undergone a number of surgeries to look like an evil villain. The said thing was he was fairly handsome and now he is terrifying to look at.

Watching Kids Play

-With their OWN toys on Youtube. Actually, companies have paid for product placements in those videos. But, I thought I would include this one.

Hugs or Cuddles

-We all need love, but…

Sex

-It's the oldest profession in the world….umm…yeah, that's all I want to say!
If you have other weird things that you've heard that people have paid for, please let me know in the comments below!
YOU NEED HELP FOR THAT? 
Having A Baby

-This one is actually great! All the rich people do this now. I'm just happy that this will help people who are having difficulties getting pregnant.

Planning a vacation

-People are sometimes too busy to plan their own hotel

Cooking their food-

Some people are so busy that they need people to cook their food for them (no judgement-I love to cook, and would consider doing this for someone!)

Pulling hairs from the body

-People pay to have someone else pull hairs off their body!

Adding Hair to the Body!

People get extensions for their hair or even for their eyelashes. They pay for someone else's shaved hair or even synthetic hair to add to their own. I've totally done this one! And so has half of Hollywood. Some people have thin hair, medical issues, or feel it helps them look better.

Driving

-There are people who don't drive or who don't like to drive and now we have an entirely "new" industry of slightly posh driving experiences.

To Fill Empty Seats-

You can get paid to sit in a seat?! I have to sit anyway. Might as well get paid for it LOL.
Again, if you can think of super interesting things that people needed help with and paid for, share them in the comments below!
When I am thinking about side hustles, I frame that search as "everyday is a day to make money." There are endless opportunities out there and it is amazing all of the interesting opportunities that are out there to make money.
But then there is a flip side.
Everyday Is A Day To Spend Money
Sometimes, just sometimes, I am nervous to go outside. I'm nervous because the siren's call to spend money sounds off as soon as I step outside my door.
It kind of goes like this…
It's a gorgeous day outside and so it would be great to stop at a coffee shop, grab a cup of coffee and a delicious cake to go with it. Then, as I continue walking I have to decide if I should stop by the grocery store or maybe go to the Mall to see if there is a new accessory that I could pair with one of my thrift store finds.
I decide to go to the library and settle in.  But, then I find out that I owe a fine. Crap.
That's enough for now!
The thing is we have to be so proactive everyday in order to fight the urge to spend. Some of the ways that I do this:
Eat before leaving my home
Take coffee with me
Bring a snack (o.k. I might be eating out a lot)
Planning a route that avoids places where I would want to spend money.
Planning my day so that I will avoid spending money
It's Enough To Make A Girl CRAZY!
So, I focus on balance. It's all about balance. I have cultivated a number of healthy money habits to balance out the ones that are unhealthy.
I focus on identifying money making opportunities on a daily basis and I indulge occasionally in a lovely cup of coffee and a delicious treat. I also focus on gratitude and emotional wellness. This approach has proven to be much healthier than other approaches to finance that I've taken in the past. I always focused on lack. Instead, I am focusing on what I have. It's a totally different way to approach my money and I feel a lot more empowered with my money since I've reframed my process.
Do You Think Everyday is a Day To Make Money?
Or To Spend It?
How Do You Create Balance?

The following two tabs change content below.
I am an obsessive foodie, but not self-righteous with it, love travel, meeting new people, helping you look good, and am freaked out by people who don't enjoying reading...something! Grab a Perrier, read my blog, feel free to drop me a line! Hope to hear from you soon.