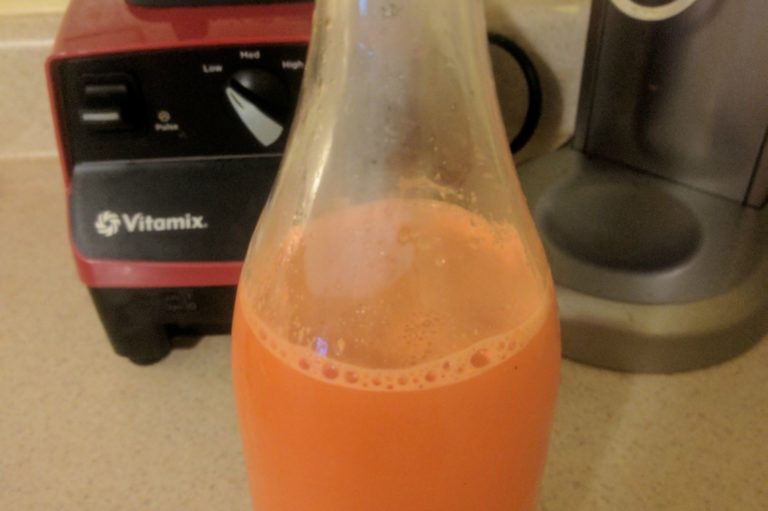 How to Make Fresh Carrot, Apple, Ginger, and Celery Juice
* In order for me to support my blogging activities, I may receive monetary compensation or other types of remuneration for my endorsement, recommendation, testimonial and/or link to any products or services from this blog. Please read my disclosure here.*
One of my favorite activities is cooking, eating, checking out markets, and exploring the local food scene in any town that I visit. Basically, I'm a crazy foodie. Recently, I decided to purchase a Vitamix because I kept finding that I was wanting to blend "all the things." And, every time I blended a smoothie with the machine I had…it was chunky in all the wrong ways. So, I began a two-year odyssey working through the ins and outs of buying a Vitamix. I finally bought one and made fresh juice with it. I love that machine!
Fresh Juice
Is actually pretty easy to make with a Vitamix. Really. I'm really trying to lose some weight but I'm also focused on lowering my sugar intake and eating and drinking foods that are pretty close to organic or natural as I can get them. Making fresh juice was one of the main reasons I bought my Vitamix and I'm pretty happy with the results of my first try.
Gather Ingredients
My first juice was a combination of the following ingredients: carrot, apple, ginger, lemon, and celery. The portions are listed below.

1 apple
3-4 celery stalks
1 or 2 big nobs of ginger
1 lemon, 1 apple
5-6 medium sized carrots
Nut Milk Bag
High-Speed Blender* I use a Vitamix but any high-speed blender that can break down carrots will work.

Chop all ingredients-This should take no more than 3-minutes
Pour around 1 1/2 cups of water into the blender
Add the chopped veggies/apple/ginger to the blender. Add the juice of one lemon to the mix.
Pulse until everything is broken down to small sizes, high-speed blend.
Gather nut milk bag, a large pot, and strainer (not necessary-but made things easier)
Pour blended mixture into nut milk bag.
Twist bag and then press until all juice is drained out and veggie/fruit mixture is dry and crumbly.
Pour juice back into blender
Then pour through a strainer into a bottle.
The juice was sweet and tangy due to the ginger and so wonderfully fresh. I was also really happy that it wasn't sugary sweet.
This slideshow requires JavaScript.
It took me 2-years to decide to buy a Vitamix…because it's EXPENSIVE. I would like to walk you through my decision-making process and let you know if I'm happy I dropped $400 on a blender. Yes, you read that right-$400 bucks.
Kitchen Appliance Longevity

-I've had blenders of some sort since I began cooking for myself in college. Now, let's be clear, I was probably blending drinks when I was in college, but my point is that I had a blender. And, I've replaced my blenders and other kitchen appliances over and over again. In fact, by now I've spent more than $400 replacing lower quality electronic appliances throughout the years. I wanted to purchase something that I would use for many years to come and wouldn't need to replace for as long as possible.
How I Use Blenders (now)

-Ok, I still make drinks! But, I also made: hummus, tapenades, soups, fresh juices, smoothies and soon-nut milk. For less than a dollar, I made fresh hummus. I rocked out a delicious tapenade recipe (it's a fresh olive spread) my point is that I am now able to able to make what I used to buy for more than it costs to make it with my blender.
Return on Investment

-I've used the blender almost every other day which means that I will break even soon. If we assume that each time I purchase a smoothie, bottled fresh juice it costs around $6.25 then I'm thinking I need to use the blender about 64 times in order to reach the break-even point. BTW that ends up being $400 🙂
Next
7-Year Warranty

-I looked at a couple of other blenders that were cheaper. But, they also had much shorter warranties. After using my Apple Care warranty every single year (and then some) I love the longer warranty.
Made in the USA

-I am a huge supporter of good quality products made in the USA. In fact, I buy Colorado regularly and I love supporting businesses that are doing great work.
Only Negative

-When I made hummus it blended perfectly. The beans got underneath the blades once the hummus was blended. Basically, once the hummus hits the right consistency-the blender will have a lot of blended beans underneath and the blades won't really rotate…because they won't need to.
Overall, I'm very happy with this purchase. Have you purchased an expensive kitchen appliance? Was it worth it or no?
Resources
The following two tabs change content below.
I am an obsessive foodie, but not self-righteous with it, love travel, meeting new people, helping you look good, and am freaked out by people who don't enjoying reading...something! Grab a Perrier, read my blog, feel free to drop me a line! Hope to hear from you soon.