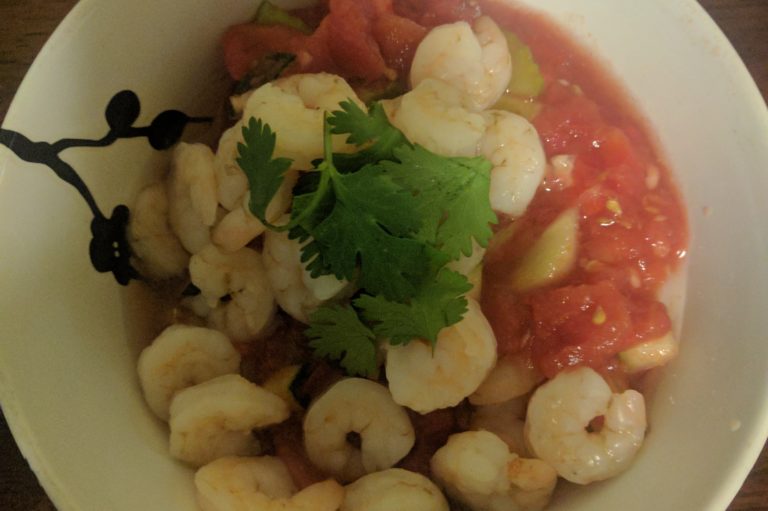 Frugal Healthy Food: Gazpacho
* In order for me to support my blogging activities, I may receive monetary compensation or other types of remuneration for my endorsement, recommendation, testimonial and/or link to any products or services from this blog. Please read my disclosure here.*
One of my favorite topics to talk about is food. I am a hardcore foodie who also happens to be pretty frugal. One of the non-negotiables in my budget is good food. I believe that eating healthy is one of the reasons why I rarely get sick and why I feel so good in general. And, let's be honest, for me eating isn't just to fuel my body-it's a an experience for my senses. I love to look at a beautifully presented dish, wonder about how it was sourced, and I also think about how can I make the same thing…for less? Summertime is a great time for inexpensive and delicious food.
It actually drives me crazy when people insist that it's not possible to eat healthy food and be frugal. It is, but sometimes you need some recipe inspiration, tips, and tricks. I've got you covered!
The following gazpacho recipe is an easy to make, delicious meal or starter for people who love tomatoes. If you don't like tomatoes or eating cold things-it's not for you.
Gazpacho
There is nothing better than a refreshing bowl of gazpacho. No, it's not salsa. It's like salsa's half-sister. Here's how I make it.
5-6 tomatoes ripe (any kind but I used cluster tomatoes last time). Get on sale, don't forget to check your iBotta savings app to see what's on sale. New customer? You'll get $10 added to your account after you make your first savings.  I usually spend around $1-$2 for loose tomatoes.
1 can of chopped tomatoes (no sugar added) always check canned tomatoes because companies have been adding sugar to them. Yuck. I usually get good quality canned tomatoes for $1.00-$2.00. I try to grab as many as possible when they are on sale.
1-2 cloves of garlic-I usually get 2 cloves for a $1
1-2 stalks of celery or 1/4 chopped fennel-Celery is usually around $2 but I typically prefer to buy fennel from Trader Joe's for $2.00-$2.50 I love fennel and that's a pretty good deal.
1 small red onion or green onion if you have that instead. I wouldn't recommend using white onion as that might be too strong an onion taste. The red onion is usually less than a $1 for a pound.
Cilantro* this is optional but for me it's a non-negotiable. Cilantro is around 2 for $1.
1/2 a jalapeño or red chili flakes (to taste)-I usually have jalapeno and chili flakes. I normally spend less than a dollar on the jalapeño.
1/8 cup of veggie broth* Or, I use 1/2 a tsp of Better than Boullion to give it a more nuanced flavor. You can leave this out but I like it. Better than Boullion is NOT cheap-It ranges in price between $3.5-$5.00 I uses this in a number of different recipes and will typically buy a couple of these when they are sale.
Total: $7.50 on the low side for the ingredients. A couple of things I would like to point out:
I always have the following ingredients on hand: garlic, red pepper flakes, cilantro, canned tomatoes, Better than Boullion, fennel, and red onion. Basically, I end up buying fresh tomatoes to make this because my pantry usually has the other items on hand.
$7.50/3 servings=around $2.50 but, I would say that it's cheaper than this because I'm using portions of what I already have on hand.
This usually ends up being around 3 servings for 1 person or 1 serving for 2 people depending on the size of the bowl that you're using.
To Make:
From start to finish this should take no longer than 10-12 minutes.
Grab your blender. I have a Vitamix but any decent high-speed blender will do.
Chop up the tomatoes-add to blender
Add canned tomatoes to blender
Add the broth or Better than Boullion
Pulse a couple of times (don't blend) you want it chunky
Pour into the container that you will store the gazpacho in.
Add the celery or fennel.
Add the Salt (to taste) and Chili flakes
Let sit in the fridge overnight. I think the flavors taste better the next day.
To Serve:
Add one of the following items on top of the gazpacho

Chopped avocado
Fake crab(krab) that you can get for $1.99 at most stores
Cilantro
Nice drizzle of good quality olive oil (not optional) makes it taste so good.
If you're trying to free up cash, spend less, or prioritize your money towards what's important:
Debt-repayment
Investing
Savings
Etc.
Take the 5 Days to $500 Challenge today! You will receive 5 days of straightforward tasks to help you find, free up, and save your money. No need to hoard ketchup packets, or stop going for coffee.
The following two tabs change content below.
I am an obsessive foodie, but not self-righteous with it, love travel, meeting new people, helping you look good, and am freaked out by people who don't enjoying reading...something! Grab a Perrier, read my blog, feel free to drop me a line! Hope to hear from you soon.