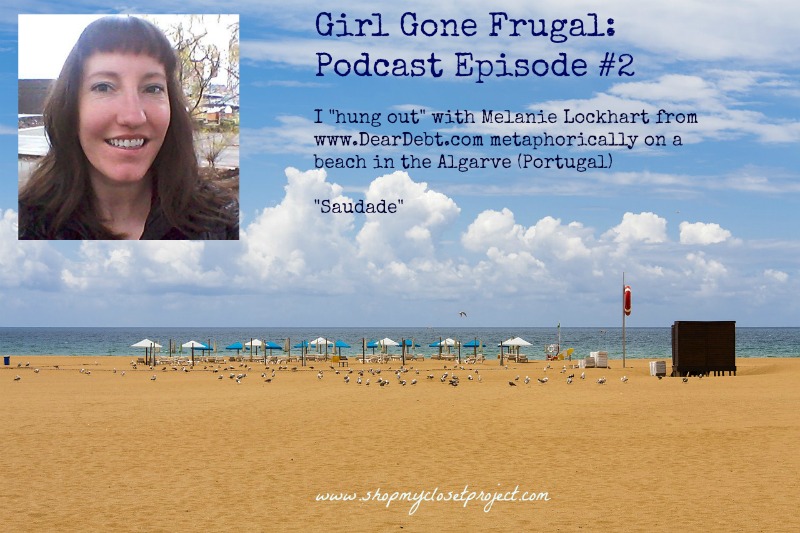 Girl Gone Frugal Podcast Episode 2: Hanging Out with Melanie from Dear Debt!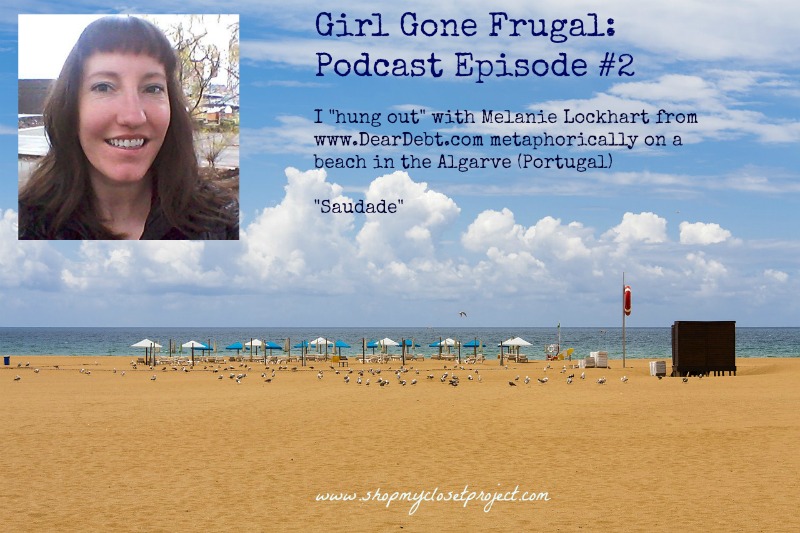 *2/1/2016 Girl Gone Frugal has changed its name to The D.O.N.E. Society*
Recently I had the opportunity to have an awesome conversation with Melanie Lockert from the awesome blog: Dear Debt. Melanie has created a welcoming space and community for those of us paying off debt and dealing with the issues that come with that process.
As Melanie blogged about her debt freedom journey her life and mindset changed. She is now working full-time as a freelancer and making more money than at her previous job. She's basically-a BADA@@!
CLICK BELOW!
Girl Gone Frugal Podcast 2 (Show notes):
There is a slight static quality to my part of the recording. I am waiting to invest in equipment for the podcast-I want to have at least one month done before investing in new equipment.
Please excuse my "WOWS!" and slightly manic laughter. Apparently I was in a great mood that day LOL!
Word for the day "Saudade"
Finding out some fun things about Melanie that I didn't know from before
Melanie's story and how she began blogging
Melanie's life before blogging and the professional pivot to freelancing
The advice that Melanie kept getting from other bloggers when she announced her intentions to become a freelancer
We discuss the role of networking in freelancing
Melanie's debt repayment process and the tip that she gave that I am now using (you'll hear my excitement and a WOW! When she shares it)
The amount of work you're doing vs. Income coming in
Letting clients go in a respectful way or DON'T BURN BRIDGES
I get a little metaphysical
The response to Melanie's professional change (from friends and family)
Advice for people at a life/professional crossroads
You're not the "only one." And thoughts on the Personal Finance Community
Melanie's debt repaid so far this year
Recording The Girl Gone Frugal Podcast gives me the opportunity to highlight the different paths that people are taking to live their best lives.
Melanie's journey is far from over but it's fantastic to see how she is surviving and thriving as she embraces freelancing and grows her professional brand. I am excited to see what the future has in store for Melanie and look forward to following her journey.
I had a great time speaking with Melanie and I hope you've enjoyed this podcast. Please check out (and support )Melanie's blog at www.deardebt.com
The D.O.N.E. Society

For Information on The D.O.N.E. Society Click on the link HERE! 
Join My D.O.N.E. Society Closed Facebook Group to Hang Out and Support Like-Minded People Working Towards Their D.O.N.E. Moment!
The 31 Day D.O.N.E. Challenge Begins on  March 1, 2016
CLICK BELOW!
Podcast: Play in new window | Download | Embed
Subscribe: Apple Podcasts | Android | RSS
The following two tabs change content below.
I am an obsessive foodie, but not self-righteous with it, love travel, meeting new people, helping you look good, and am freaked out by people who don't enjoying reading...something! Grab a Perrier, read my blog, feel free to drop me a line! Hope to hear from you soon.