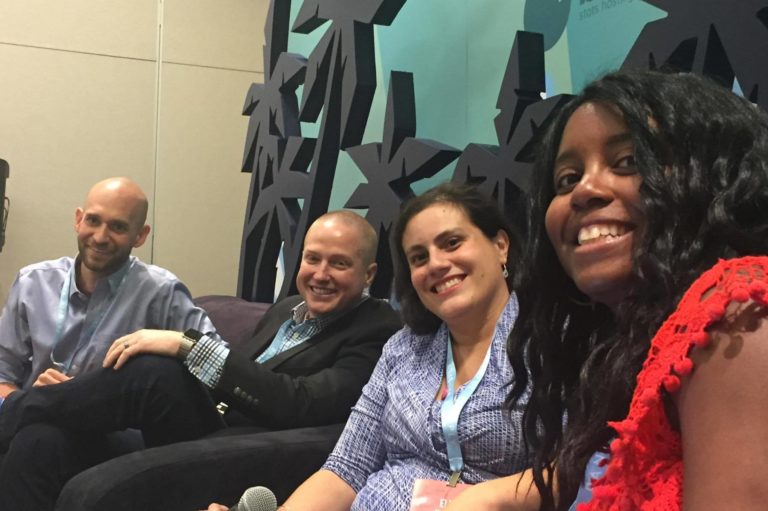 How to Pitch and Land Your Panel to Your Next Conference
* In order for me to support my blogging activities, I may receive monetary compensation or other types of remuneration for my endorsement, recommendation, testimonial and/or link to any products or services from this blog. Please read my disclosure here.*
Like many people, I occasionally suffer from "Imposter Syndrome." That feeling that I'm not an expert at the things that I think I am…you know what I mean? One of the ways that I've low-keyed dealt with this issue has been by pitching or participating in panels presenting cool topics that will help attendees build a better business.
I stumbled on this Imposter Syndrome eradication process accidentally. A couple of years ago my Mastermind group and I set some goals for us both as a group and individually. One of our goals was to pitch a panel on the importance of Mastermind groups. We ended up presenting this topic at a small conference (emphasis on small) in Chicago and at Type-A Parent Conference the year that it was held in Atlanta (2015?).
How This Works
First, decide which conferences you would like to present at and your perceived ROI (return of investment) from attending that event. When figuring out the potential ROI for presenting at a conference here are some of the things that you should consider:
The potential for growing your paid clientele base or attract opportunities that pay CASH. Please note: I am not a fan of exposure. I think of being naked in the winter when I hear that word. But….the next thing you should consider is…
Exposure

-Huh? While I'm not a fan of exposure there is a caveat to this. There are moments when you may be able to get in front people who can move your business from meh to amazing.  Many conferences bring in people that are aspirational to their attendees. I have a friend who is doing really well in her business…and because of conferences, she has had the opportunity to meet and travel around with Tony Robbins. Yep, that Tony Robbins. And, no, she's not a personal finance blogger-she's in a totally different business space. Think the MLM model.
Immediate Return Of Investment

-Will you be able to earn back the money you paid to attend the conference either during the conference or immediately after the conference? At this point, I'm unwilling to attend any event that I don't zero out or leave with more money in my pockets during or immediately after attending the event.
Take time to factor the amount of time that you may be away from home, the distance traveled, and the amount of time you will miss out on money-making endeavors.
Now the Pitch
Once you've figured out the potential ROI for a conference that you would like to attend spend some time thinking about the topic you would like to pitch. The first time you do this it may feel a little overwhelming but it will become second nature as you continue pitching to present your panel.
Look at the previous year's panels to see what has been presented…and what hasn't. Then begin crafting your idea. Have other people in your niche expressed interest, curiousity, or asked questions about the topic?
Look at business/social media/etc. trends from the previous year and look at your current business model to see if you're ahead of most of your cohort for that trend. This year I pitched panels about podcasting and monetizing from a blogger perspective. This ended up being a really well received and well-attended panel at Podcast Movement 17 and I am thrilled with the response.
You don't have to be making bank in order to present the topic. Sometimes it feels like only people making $100,000 a month are the ones who get the opportunity to present. Remember there is a ton of value to attendees to hear the stories of people who are still relatable to them.
Invite additional panelists who balance out your perceived deficiencies. Basically, if you know of people who are achieving outcomes using the ideas that you would like to share AND you have ideas that would help those guests-by all means balance out your panel and be of service to the other panelists. I surprised one of my panelists with one of the systems that I use to grow my passive income. This person plans on trying out my ideas!
Have  Strategy
Don't just pitch to pitch. Begin looking at conferences a year before they happen. Yes, one year. Typically, conferences will put out a call for sessions about 6-9 months before the event actually happens. Right now I know that it's highly unlikely that I will be pitching any out-of-state conferences for the upcoming year.
Why?
I have some business outcomes that I'm hoping to hit before I pitch another big conference. Read-I am focused on growing my: email list, income, etc. Basically, measurable outcomes that will be life-changing for me and inspiring for others.
I'm sick of traveling to conferences LOL! I would like to stick closer to home and focus on growing my business for the next 12 months. With the exception of FinCon and visits to see my Grandma-I have no desire to go to another out of state conference.
I would like to work on certain aspects of my business that I would like to speak on as an individual speaker-not as a panelist.
Local conferences offer more opportunities to share your expertise-without the loss of time and income.
There is no reason why you can't build your personal expertise one well throughout pitch at a time. Get on it today! Remember, these conferences begin planning out their content 6-9 months before they actually happen.
What Conference Do You Plan on Pitching? 
The following two tabs change content below.
I am an obsessive foodie, but not self-righteous with it, love travel, meeting new people, helping you look good, and am freaked out by people who don't enjoying reading...something! Grab a Perrier, read my blog, feel free to drop me a line! Hope to hear from you soon.