I spent $100 on a Party-Why I feel Good About It!
You're judging me aren't you? I feel your judgey eyes piercing me. You have debt Michelle, you're supposed to be saving Michelle, what in the heck are you thinking Michelle? Well let me tell you some more information.
This is the second time that I spent $100 on a party and I didn't regret it then and I don't regret it now.
Why?
Because it's for a fundraiser. This fundraiser happens to meet all of the criteria that I look for in terms of what I would give my money towards:
Education

-I am a huge supporter of education and its power to help people achieve their dreams. The party that I paid for will give the scholarship recipient a full ride 4 year scholarship to college PLUS money for housing and books. This is a no brainer. I have to support this.
Fashion

-I get to dress up in a cocktail dress and wear a fabulous hat or a fascinator. How many opportunities do we get to do that?
Open bar

-I feel like this one is self explanatory. Mint juleps anyone?
I don't belong to a church so in lieu of a 10% tithe I donate to organizations and charities for causes that I believe in such as: education, helping the homeless, food pantries, and encouraging Americans to travel abroad.
The $100 dollars that I spent to attend this party is substantially under the 10% monthly tithe that most people allocate funds towards  on a monthly basis.
So, what is this event? It's called The Derby Party. And it is held every year the same day as the Kentucky Derby. Everyone dresses in gorgeous dresses and suits and wear hats, fascinators, and drink mint juleps. At 4:00 p.m. everyone watches the 2 minute race and then continue to party on.
The first time I attended I wore a $4 Anne Taylor cocktail dress that was worn maybe once before I snatched it up at Goodwill. I was asked all day long about that dress and loved telling people where I got it. My hat was $12 dollars and my shoes were from my closet.
I loved every minute of that event. There were thousands of people going downtown for the event and people were honking at everyone because the looked so nice!
Here is a video from the first year that I attended. It will explain the event a little further.

I will continue to contribute to organizations that are in line with my values and don't regret for a moment paying the $100 for the event. I should state that I am frugal in a lot of ways that help balance out the cost and I purchase the ticket before the prices go up…yep, that's the inexpensive ticket.
I also look for ways  to contribute to charity whenever I am involved in some sort of transaction. For example, I donate to food pantries when I'm at the grocery store. Or, I purchase a good or item that donates a percentage of its proceeds to charity.
I'm wondering if you attend events with high entry fees? Do you feel guilty, awkward, uncomfortable going to these types of events when in debt?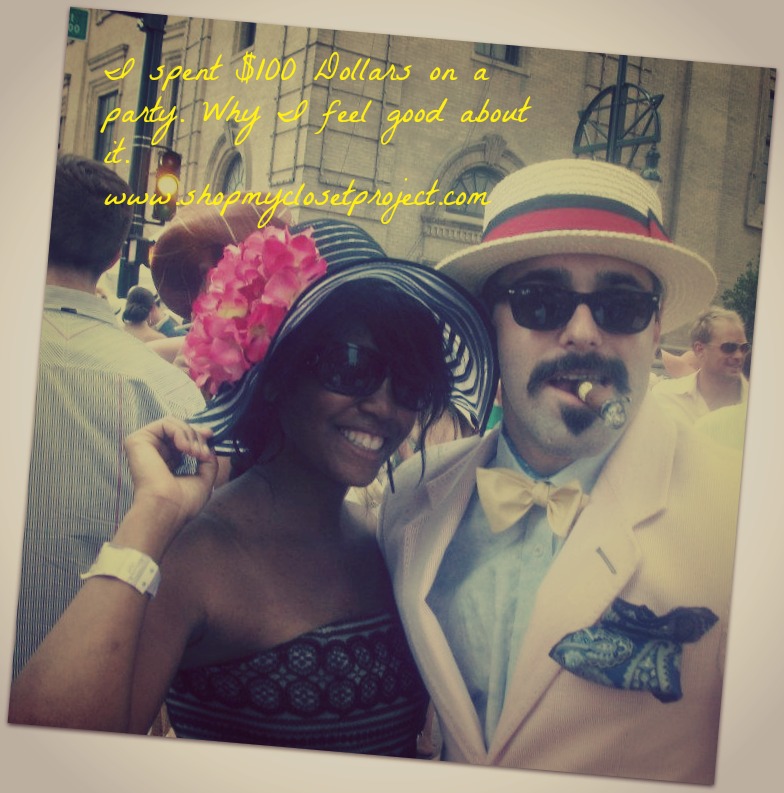 This isn't the best picture of me but I think I'm several mint juleps into the event 🙂 $4 cocktail dress btw-Magical Goodwill. Check out Thredup.com and use my affiliate link to get $20 off your first order. ThredUP is an online thrift store with high quality items on it!
The following two tabs change content below.
I am an obsessive foodie, but not self-righteous with it, love travel, meeting new people, helping you look good, and am freaked out by people who don't enjoying reading...something! Grab a Perrier, read my blog, feel free to drop me a line! Hope to hear from you soon.