It's getting real-Financial Goals for 2013
It's that time of year again, when we review the year that is ending. We look at our weight loss goals. If we met someone, did we move, did we get that job that we had been hoping for? Then, after we answer yes to some of those questions and no to others we go through a period of self-reflection. Right now, I'm in that moment of self-reflection and for the goals that I didn't meet it's kind of an "oops, I dropped the ball" moment. A moment like this isn't pretty. Because you have to get raw with yourself and be honest. I didn't meet any of my financial goals except for getting a raise. That was a huge deal as it took 3 years to get that raise, but what about my other goals? I looked at my lists for 2012 and realized that a huge mistake had been made. The goals I didn't achieve weren't too big. But, these goals weren't broken down into smaller pieces. And, to be really honest…I was lazy.
What were the financial goals that I didn't meet?
1.) Pay off my credit cards-I have been paying them down slowly and basically not using them. But, I was and still am in the position where I could accelerate the payments to pay them off faster. I am looking at the leaks in my current budget and working to eliminate them. I would like to finish paying off my credit cards by September of this year. Even with some pretty large events coming up, it's possible to do if I focus.
2.) Fully fund my emergency account-I already wrote a blogpost about not having a fully funded emergency fund. I am single, don't have pets, and no car. What in the heck is going on?? I was shopping too much. I look cute, but, broke stops being cute after awhile. Just like wearing a miniskirt without leggings in the winter.
3.) Cut down on paying of fines (library) and fees-I have an unreasonable love (read obsession) with reading and the library. I read at least 3-5 books at any given time-and I'm a speed reader. So, I finish books pretty quickly. Since I take the bus to work, I have plenty of time to read or  to study. As I was going through my receipts I was appalled at the number of library fines that I paid this year. I finished the year with a lovely fine for  $51.25 that I paid two weeks ago. Typically, I pay around $5-10 every couple of weeks or so. But, this is a huge problem. Got to get this resolved. So, my goal is to eliminate the library fines. It's ridiculous.
4.) Fund my primary savings account (separate from ER fund) and my ING Savings. I've decided to take these accounts off my Mint.com electronic record so that I can continue to save without being  tempted to spend. I have a specific amount in mind for both accounts as well as for my emergency fund and believe that I can get them funded in those amounts by October.
5.) Create an extra income stream-I have two specific ideas on how to create income using my blog (outside of ads) and I am hoping that I can get both ideas to work. Currently, I am working on a plan and figuring out when to launch each idea. I can't wait to share them with you and I hope you like them!
6.) Save for two major life events-A wedding that I am a bridesmaid in and a reunion-both in Europe. Yep, you read correctly, my british sister from another mother is getting married. She has 6 birth sisters and me in her wedding. I cried when she asked me. This is huge, and I will be going end of story. Happily, I won't have to pay for accommodation and am looking for tickets now. I also have vacation time, so I won't lose any pay. I used to live in Europe and have a pretty good idea on how to save money there so I will be using all of my saving money skills. I do have some! The second event is a reunion. I travelled for a year with Up With People; an intercultural, educational program that (when I participated) had 5 groups a year that travelled the world, volunteered, stayed with host families and performed in the different communities that we went to. The group that I travelled with is amazing and we are very close. We weren't able to go to the official reunion so we voted on having an unofficial reunion. We voted between Denver and….Lucerne. Don't laugh, Denver kept beating Lucerne. I am biased and think Denver is the best!  Then, we did a final vote and Lucerne won. I will be staying in a hostel with one of the girls who travelled with me. The cost for the hostel (plus breakfast) is 165 swiss francs or $180 (private room with two queen sized beds and a bathroom) this is a great price for Switzerland. All of us are sooo excited. This is also non-negotiable and is also my birthday week. I will have vacation time for the trip as well. I believe that both trips will cost (including flights) under $3000 (flights, food, accommodation, and activities. Also, since I don't shop when I'm in Europe I save a lot of money. It's too expensive and I can get the same stuff here but a lot cheaper.
7.) Believe, focus, and execute-The goals that I didn't meet were usually a result of not believing I could do it, focusing, and executing my plan. You have to believe 100% that the goal is achievable and worth working towards it. The moment self-doubt and fear start to show up, then belief in yourself begins to waver. Focus seems so straight forward but in this busy life of ours it is so easy to get distracted. I am trying to tap into the focus that I had when I was younger. Quite frankly, I was kind of scary. When I decided that I was going to do something, It was going to happen come hell or high-water! Finally, I need to execute my plan for success and stick to the plan that I create for myself. It seems easy enough…we shall see.
Right now I am looking at finances and figuring out where I am at financially. This isn't a super sexy way to start off the first day of the New Year. But, it is a great way to reboot my fiscal situation and having a sense of what I need to do and what I need to focus on will hopefully be a recipe for success.
As you read this post do you see a little of yourself? What didn't you achieve last year? Why do you think that is? What could you have done differently? Be honest! Do you think I like admitting that library fines, shopping, and good food are the reason I'm in debt…and a little fatter this year! If you rocked financially last year what did you do that helped you achieve your goals? Are you saving for a trip? Creating a Christmas fund? Saving money to help your child pay for college? Setting money aside to help a relative? What are you doing to be successful in your financial life? Share your thoughts, and give the rest of us some ideas. Or, let us know what didn't work that you thought would work. Looking forward to hearing your comments. Do you need some extra money to kick off your 2013 financial goals? Please sign up to win $100 to apply towards your finances in the New Year!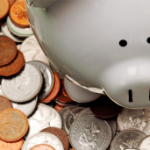 If you are a blogger please check out the following link: http://www.savingadvice.com/articles/2012/09/23/1012021_snowflake-giveaway-project.html
If you are interested in participating in the Saving Advice giveaways please check out the sign up information.
The following two tabs change content below.
I am an obsessive foodie, but not self-righteous with it, love travel, meeting new people, helping you look good, and am freaked out by people who don't enjoying reading...something! Grab a Perrier, read my blog, feel free to drop me a line! Hope to hear from you soon.