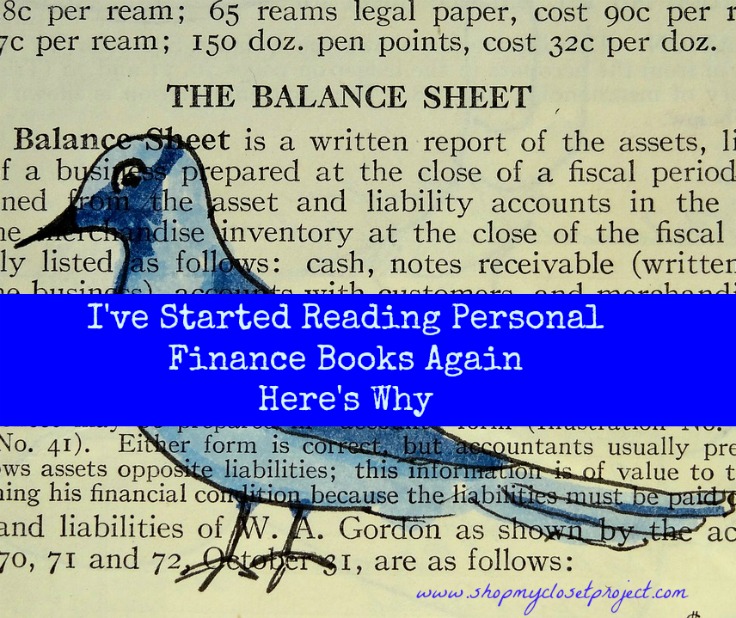 I've Started Reading Personal Finance Books Again-Here's Why
*Please note, there may be affiliate links in this post. If you click on them and make a purchase I may receive a teeny, tiny amount of compensation*
I began my blogging journey in 2012. I had a lot going on-A LOT. One thing that I was obsessed with was getting my financial house in order. The road to your goals has many twists and turns and I never would have guessed that I would now be working for myself in 2015.
That Was Unexpected
I spent a lot of time in the past three-four years working on something unexpected…myself. In fact, I've found my journey to debt freedom and money sanity has been a very holistic one. I believe that until you deal with the sh$t in your head, the stories you tell yourself about money, what you do and don't deserve, you won't be able to change your money. Why do I think this? You will continue to repeat your habits until you figure out why you do what you do.
That's Hard
It's hard to own your sh$t. Don't get me wrong, I had life happen. I had situations I never could have imagined pop up and smack me in the face before, after, and during my money journey. But my money habits were a lifetime in the making.
Emotional shopping and eating
Lack of financial knowledge
Internalized disbelief-that I could ever have money
Yeah, I had a lot to deal with. I was always reading abount money (love that topic) and then I shifted to reading about self-improvement, relationships, and self-love. My focus shifted and I prioritized those issues.
I'm Glad I Did
I cleaned up the bad habits, the lies, and the fears that roadblocked me from being successful with money. Now it's time to start focusing on my money journey again. And I've begun doing something that I had gotten out of the habit of doing.
I'm Started Reading Personal Finance Books Again
And I'm loving it. I'm loving re-reading books that I devoured before such as:
You're Broke Because You Want To Be by Larry Winget
The Average Family's Guide to Financial Freedom
Dave Ramsey (even though I can't listen to him anymore-too grumpy).
Even though I've read all of these books before they are re-igniting my debt freedom focus. I can't wait to tackle my debt because I believe that this time-finally, I will conquer the debt beast. How do I know that it's finally possible?
I've been on a

cash budget

since last Spring. I've only used a credit card 3 times since April.
No more clothes shopping

…with my money. I'm sharing my ThredUp love (and affiliate link) with my people so that they can get a $20 credit towards their first purchase and I get $20 as a referral bonus. I.Love.ThredUp! In fact, my goal is to spend no money on clothes in 2016 and I'm pretty sure that will be super easy to do. I can't believe I used to spend around $4000 a year on clothes. Sigh.
Cut my grocery costs

by hundreds of dollars a month. Hundreds. I'm spending no more than $200 a month and I'm eating good food. I've also become acquainted with the grocery app iBotta (developed in Denver) that has literally upped my grocery shopping game. I've finally figured out how to rock the app and now have $16 bucks that I've received in rebates in the past 3 weeks. Sorry coupons, but you've lost me. I will write a post on iBotta soon because there is a little bit of a learning curve- but any app that helps me save on vegetables, fruit, and grocery staples is the app for me. Here's my affiliate link if you want to set up your account. You'll get a dollar from me, but the better part is all of the long-term savings you'll earn. iBotta saves you money! (affiliate link)
I'm Happy-

life isn't perfect…far from it. But, I'm loving spending time with my friends and family. I've gained clarity on what's important to me. Family, friends, learning, experiences, growing my income, losing weight, and killing my debt. That's it. I don't care about what other people think anymore-I'm just not interested, I just care about doing what's best for me.
No More Distractions

–

I've eliminated almost all of the distractions that made it difficult to focus on debt repayment. 
I love personal finance books because of the journeys they share, the information given, and the inspiration that I receive whenever I read them. My biggest issue now is cash flow instead of managing bad habits. Part of why I'm not traveling for the next six months is to make sure that I stay focused and on task while I shift back into debt repayment mode. I love that I've started reading personal finance games because I'm reconnecting with what made me fall in love with blogging.
If you have a book that you think I would enjoy please share in the comments below! With the exception of Rich Dad, Poor Dad I am up to reading pretty much anything!
Wish me luck!
Michelle
The following two tabs change content below.
I am an obsessive foodie, but not self-righteous with it, love travel, meeting new people, helping you look good, and am freaked out by people who don't enjoying reading...something! Grab a Perrier, read my blog, feel free to drop me a line! Hope to hear from you soon.