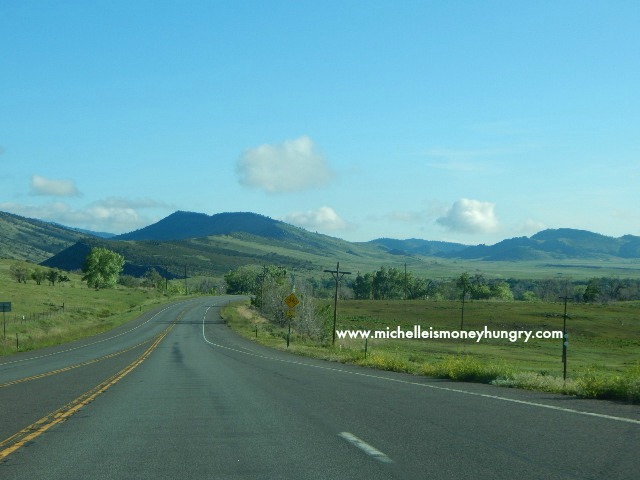 So You Want To Move To Colorado? Money Things You Need To Consider Before Moving!
* In order for me to support my blogging activities, I may receive monetary compensation or other types of remuneration for my endorsement, recommendation, testimonial and/or link to any products or services from this blog. Affiliate links will have an asterisk (*) next to them. Please read my disclosure here.*
Every day I read about more and more people wanting to move to my lovely state of Colorado. In fact, so many people are moving here that I decided to relaunch my blog Colorado Luv Hub to share my love of the state and discuss all of the wonderful things living here offers its citizens. So you want to move to Colorado? Here are some money-related issues that you need to consider.
But, I also started to notice that people don't seem to have all of the facts about life in Colorado so I thought I would share some thoughts about living here and things you should think about before making the big move.
Colorado is NOT Cheap
Since I live here I am used to the prices and economize in a lot of ways that keep my expenses pretty low. But, Colorado as a place to live is not cheap. There is a lifestyle that people are living and even though it absolutely doesn't include fashion it includes a lot of things that people might not be paying for before moving here.
In fact, when I was in Australia which is notoriously expensive I found groceries and other items to be similar in cost to what I pay in Denver. That's alarming.
So here are some thoughts on lifestyle costs you might need to consider if you move here.
The Colorado Lifestyle Includes:
I am not saying that everyone does everything on the list that I'm about to share. But, most people will do a couple of things on this list.
Going to watch sporting events

-Denver Broncos, Denver Nuggets, Colorado Rapids, Colorado Avalanche, or the Colorado Barbarians (there's a huge rugby league) I haven't even included the local college teams. We love to watch sports. So, it's highly likely that you will end up going to a sporting event several times throughout the year.
Weekends in the Mountains-

We go to the mountains A LOT. If you are fortunate enough to have a place to stay or a friend with a place to stay in the mountains you will spend time there. That cost includes: activities, eating out, gas, and equipment
Day Trips To the Mountains

-Again, we go to the mountains A LOT. You will have to factor in gas, food, and meals for day trips.
Gear

-We participate in a lot of activities which you may need to: borrow, rent, or purchase gear for. I have: A snowboard/snowshoes/jackets, a bike, golfing stuff, and a few items for camping. Gear is huge here. Click this link to check out the price of this North Face jacket. You'll see what I mean!
Happy Hours

-The warmer it gets the more we hang out on patios outside and go to happy hour.
Skiing

-I should lump this together with a couple of the other line items but you have to factor in ski passes which aren't cheap. I am also hoping that the ski train will come back!
But wait, there's more!
Going to the Theater/Museums/etc.

-There is a thriving theater and arts scene in Colorado. We have the second largest theater complex in the U.S. (located in Denver)  I have seen: Wicked, The Book of Mormon, Lenny Kravitz, the Blue Man Group, The Color Purple,  and the list goes on at our theater complex. I plan to see Motown with my mom next month. Those tickets add up
Watching Live Music

-Red Rocks ROCKS!! We are finally getting a lot of great music. I missed seeing Prince two years ago because I was out of the country. Those tickets were $200+ yes…I would have paid it-it's Prince and he was in a 500 person venue.
Eating Out

-I will be the first to admit that when I was a kid the food in Denver was…BLAH! Awful and boring. Not anymore. I can't believe how good the food scene is here. I can't keep up with the high-quality food that is being produced and sourced locally. We have a number of chefs in the running for the Jame's Beard award this year which is astonishing to me to think about.
Participating in Athletic Events (Seriously)

-This is not a stereotype.  You will have friends who are running, biking, and doing triathlons. You will then be compelled to do at least a Glitter Run. Really.
My podcast about all things Colorado!
Housing Is Expensive In The Denver/Boulder Metro Area
Housing is very expensive and somewhat difficult to get in the Denver/Boulder metro area. In fact, last week The Denver Post reported that Denver and San Francisco have equal rates of inflated costs when looking at housing. Not cool.
Zillow even reported that in order afford housing the average person should be making around $35 dollars an hour. And, according to Rentjungle.com the average rental is around $1484 a month in the Denver Metropolitan area and around $1776 in Boulder.*Boulder is now the most expensive place to rent in Colorado. One bedroom apartments average around $2,000 a month.*
Housing is expensive, it's super competitive and to be honest-most people want to live near Downtown or along the light rail lines. All of those options are expensive.
Please keep this in mind before you just pick up and move.
The Job Market Is Competitive
Do NOT come here without a job unless you have free housing for at least 3 months or at least 3-6 months of expenses set aside. It is very, very competitive. Be willing to do some things in the interim until you find the job you really want.
If you're the type of person who can get a feel of a new town quickly, will look for opportunities daily, and aren't shy about networking-I think you will be fine. But, if you prefer not to hedge your bets-I have just the tool for you to aid in your job search.
For those of you who work in technology-related fields (or, support roles) sign up for Hired.com.
Colorado has a thriving and growing tech community and companies are constantly looking for qualified individuals to fill available jobs. We current have the lowest unemployment in the United States-in the past 40-years! This is both good and bad. It's good for you because we need qualified people to get our work done! If you're interested in working in one of the following roles:
Or, in a role that is related to this type of work-sign up for Hired.com today! Not ready to move yet? Hired will help you find a job in a community near you!
If you love to eat like I do-get started saving on your groceries and other purchases with the Ibotta Savings App. You could even place your savings into a Colorado or Bust fund!
Ibotta is a Colorado-based company that is also always hiring people (it's growing crazy fast). When you sign up with my affiliate code and redeem your first savings you will receive $10 towards your first payout.
I LOVE this app-and you can sign up for it now. Sign up for Ibotta today and start saving!
Should You Move to Colorado?
I've lived in a lot of different places, but love living in Colorado. But, I grew up here and I think that part of why I love it is specifically because the majority of my personal history is from here. Likewise, it is highly likely that if I grew up elsewhere I would feel just as deeply for that place. That said, I've noticed that the following people always live in Colorado for a short amount of time-and then move home.
People who grew up next to the ocean or in a rainy place. Eventually, Colorado's arid climate and lack of water drives these people crazy.
New Yorkers-If you need a ton of people around you…Colorado won't be the place for you.
Your family lives in another state and you're super close to them. I have a friend who is moving back to the mid-West because they miss their family. I also have a number of friends who have moved their parents to Colorado. This is a big deal-especially once kids arrive.
You aren't into "the Colorado lifestyle" Like every place that you live in-there is a lifestyle. If you're not excited about hiking, happy hours, beer, dogs, skiing, time in the mountains, training for a race, or some combination of these interests-Colorado will eventually get old real quick.
But, you may still enjoy it for a year or two.
This Advice Is Transferable 
This advice is not just for Denver, it's for moving to any new city that you're unfamiliar with. Take the time to do your due diligence.
Look at the cost of living
Think about the time of year you would like to move
What are you willing to do to make money? Legally. Jeez-people!  How hard are you willing to work to get things up and running?
The actual cost of the move
Grocery costs-We have the following stores: Safeway, Albertsons, King Soopers, Trader Joe's, Whole Foods, Vitamin Cottage, and Sunflower Market
There are a ton of ways to save money living in Colorado and I will share that information in another post. Click here to get my free guide to Moving to Colorado. Just drop your name and email in the box at the end of that page.
Are You Thinking of Moving To Colorado?
Click HERE  to
Buy My Epic Guide to Moving to Colorado!
(only $4.95)
Also, Check Out My Other Blog-
it
's all about Colorado!
Get Your Colorado Starter Kit (Winter Edition)
The following two tabs change content below.
I am an obsessive foodie, but not self-righteous with it, love travel, meeting new people, helping you look good, and am freaked out by people who don't enjoying reading...something! Grab a Perrier, read my blog, feel free to drop me a line! Hope to hear from you soon.