Spring Fashion 2013-A Preview
Last fall I was half-heartedly excited about shopping my closet. I mean come on, I named my blog   "The Shop My Closet Project." And while the name was to encourage myself and my readers to use what we have and embrace contentment, simplicity and frugality. I forgot about the fact that I really, really love fashion and being fashionable and enjoy picking up fashionable items to make me feel pretty. It's a constant battle with myself as I want to always put my best foot forward. If I go to a mall I hear the siren's call to spend. The sales, colors, and energy of being in the mall makes everything so enticing. Now that the election, the Mayan Apocalypse, and the Holiday season are over I am now able to FOCUS. So, I am working on just shopping my closet but keeping myself fashionable. This is tricky because Spring is coming. I DON'T HAVE ANY CLOTHES! Oh, wait, yeah I do. Let's see what the trends are that I think you will embrace-and should already be in your closet.
1.) Flat shoes
Yep, I was a bit surprised myself. This is great as I already have tons of cute flat shoes in my closet. Even better, flat shoes in metallic or with a little bling on them.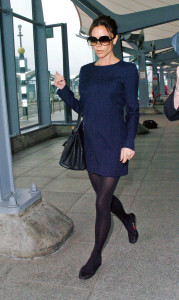 Victoria Beckham wearing ballet flats. I didn't think she even wore flat shoes!
2.) Black and White
This trend never gets old for me. Most of us have black and white in our closets so think of ways to combine these colors in a bold way.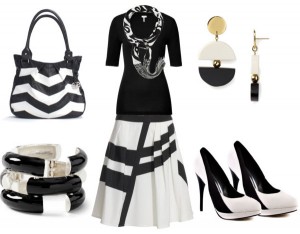 The designs on these pieces also help make the outfit "pop."
3.)  Shades of Blue
I am in love, love, love with blue.  There is an amazing deep rich sea blue out there that is so wonderful to wear.  I makes me feel calm and happy when I put it on. Almost like when I look at the sky or the sea.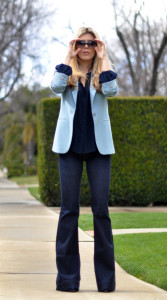 4.)  Head Scarves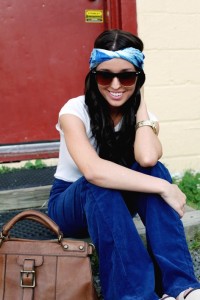 I really like how a scarf can make your hair tidy and very ladylike!
5.) It's in the details-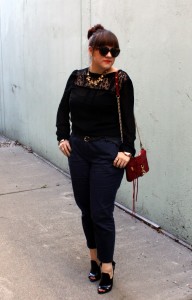 '
This outfit is fantastic. The shoes are fierce. The purse is sassy, but most importantly the blouse is to die for. The blouse has the kind of detailing that shift an outfit from drab to fab. The sunglasses are also saucy.
6.) Being Confident! Always on trend.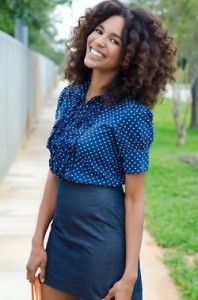 Confidence always, always, always trumps whatever you're wearing. Unless you're wearing mom jeans.
Trends that I'm on the fence about
1.) Leather-Love it, but in order to have a buttery soft leather skirt you're going to have to pay some serious money. I'm just not in the mood to do that. But, if you've got the cash hey, go for it.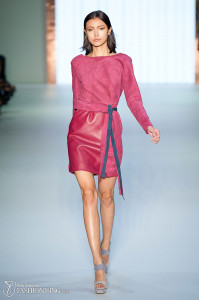 2.) Ruffles-It could go wrong really quickly…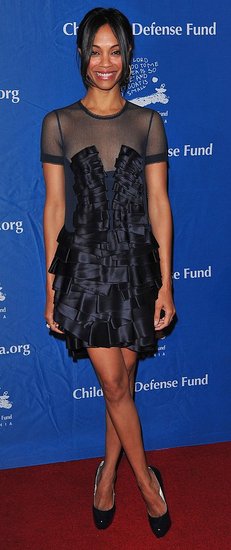 So, begin looking in your closets. Have some fun. Put some outfits together. We still have some months of cold and snow. But, on the days when the sun shines brightly and spring teases you, you will be fashionable and ready.
The following two tabs change content below.
I am an obsessive foodie, but not self-righteous with it, love travel, meeting new people, helping you look good, and am freaked out by people who don't enjoying reading...something! Grab a Perrier, read my blog, feel free to drop me a line! Hope to hear from you soon.