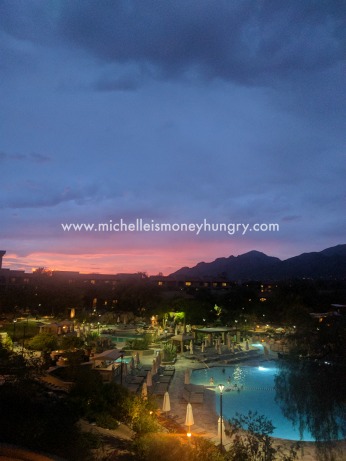 The True Cost of Attending My Reunion
Last week I spent 4 days at a reunion in Tucson for a program that I participated in a billion years ago. For four days I was loved on by an amazing group of people that I traveled around the world with for a year. It was magical. And, as I reflect on the gift that I gave myself to attend this once in a lifetime event…I can't help but wonder…what if?
What If
I had continued to take on debt? How would I have paid for this event? Would I have even gone given the financial pressure that my past uncontrolled debt and spending gave me? Would I have charged on a credit card (my financial heroin) and suffered a spending hang over for months (or even years) later? Probably, because that had been my pattern for a long-time. Damn the consequences. Spend money that I didn't have without a sense of intention. I am sure that my old-self would have gotten further into debt and left that reunion with a sense of dread and buyer's remorse.
That would have sucked.
Fortunately, for the past three years, I have worked very hard to commit to a value-based budget with a specific focus on using cash for my wants and needs. One of the most important areas in my life that I've focused on during the past 3 years since I quit my job and took the leap-has been spending quality time with the people that I love and cherish.
Since focusing on and becoming clear on what my values are I've reallocated my spending towards those specific areas of focus which include the following:
Location based freedom

-I had to lower my overall budget so that I could explore working for myself.
Time with people

-It has been reported time and time again that people are experiencing high levels of loneliness and depression. Prior to quitting my job, I was very depressed and lonely and I swore that I would do anything to spend time with people. I would never (if I could help it) commute again or spend time focused on activities that were out of alignment with how I wanted to live my life.
Good Food/Fitness/and Experiences

-I'm going to combine these because they speak to my focus on health, wellness, and living a great life in general.
Travel

-Has continued to be one of the most important parts of my life. Even though the majority of this year's travel has been business related, I love being able to experience new places and meet new people.
Service to others

-In addition to really zoning in on who I would like to help with my business, I missed volunteering. I'm now in the process of preparing to volunteer at my high school as a reading mentor and I can't wait to help encourage teens in my city to embrace reading and love it as much as I do.
Making a ridiculous amount of money

-This is a newer value that I will shout out from the rooftops. Broke sucks. Money is a tool. A lot of money is a GREAT tool. Just saying.
Once I became crystal clear on what my personal values were, I also became very clear on what I didn't want to spend my time and energy on (even though I used to).
Endless Shopping

-I still do love getting new things from time to time. But, the stuff that I currently have is really nice. Until I've loved it and used it for as long as possible, it's a waste of time and money to go shopping. Also, I've just gotten really bored with it and enjoy the efficiency and convenience of online shopping.
Labels

-Even though I used to LOVE shopping…I was never really into actual labeled items. This continues to be the case.
Keeping up with The Joneses

-I've become really suspicious of the Joneses. I want to see their bank accounts. No longer will I blindly believe that everyone has money…because they look like they do. I used to look like I had money and I didn't. I'm staying in my own lane and keeping focused on what's best for me.
Being clear about what I valued made it easy to attend my reunion because it was in complete alignment with what I considered to be important.
$1,000
Was, what I spent in cash.
$300+ for my plane ticket (booked late-epic fail)
$300+ 3 nights and 4 days at nice resort (including food)
It was worth every penny and I would pay it again. The time that I spent with my friends: dancing, singing, reminiscing, and catching up was priceless.
We rebooted relationships that have been years in the making. Being 100% clear about my values made this a no-brainer decision.
#blessed
The following two tabs change content below.
I am an obsessive foodie, but not self-righteous with it, love travel, meeting new people, helping you look good, and am freaked out by people who don't enjoying reading...something! Grab a Perrier, read my blog, feel free to drop me a line! Hope to hear from you soon.