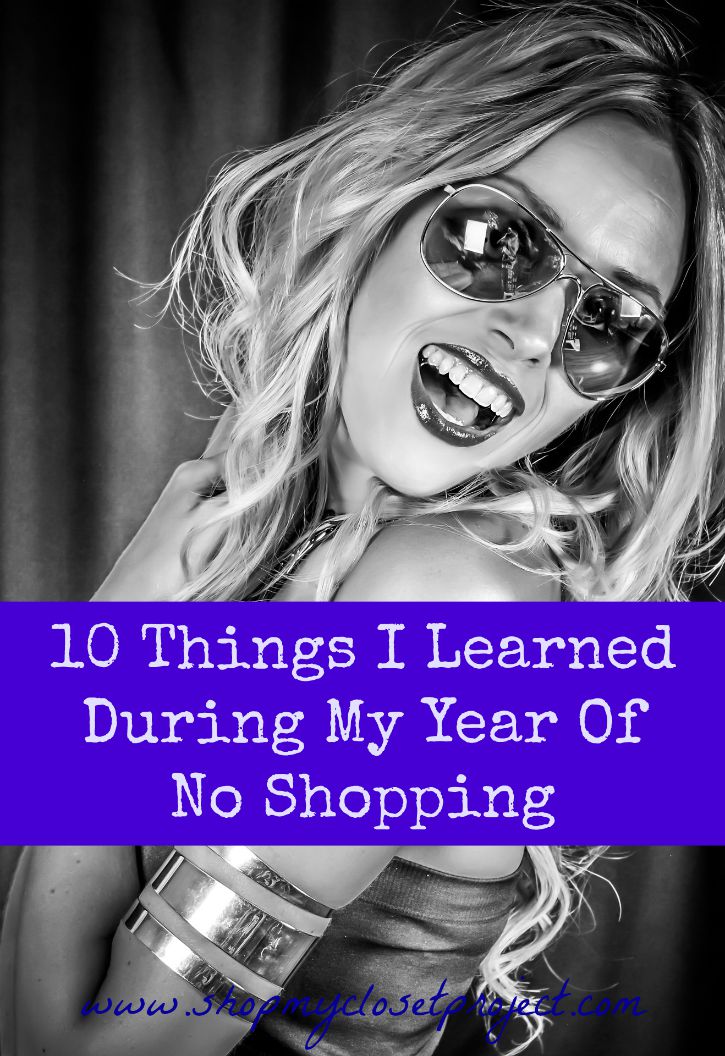 10 Things I Learned During My Year Of No Shopping
* In order for me to support my blogging activities, I may receive monetary compensation or other types of remuneration for my endorsement, recommendation, testimonial and/or link to any products or services from this blog. Please read my disclosure here.*
I wanted to share 10 things that I learned from my year of not shopping. I hope these insights will help you approach your fashion shopping differently. Some things will surprise you! Ok, here it goes.
10 Things I Learned
Quality before quantity

–HANDS DOWN!-I had a ton of clothes going into this year no shopping. Some items were of very good quality, others were cheap. After having a number of items disintegrate, explode off of me, or develop holes I am now sold on buying the best quality items for the lowest price possible.
Set a yearly budget for fashion shopping

-I'd never done this before. Before starting the challenge I'd figured out how much I was spending on average each month. I multiplied that by 12 and it was around $3300 for the year. This year I have a budget that will range between $1500-$1800. Update 8/18/2015-I now spend less than $500 a year on clothes-easily. I've also discovered ThredUP an online thrift/consignment store with amazing clothing and accessories! Get a $10 credit if you use the link below in the next 30 days..  I still can't believe that I cut my fashion spending to less than $500 from the $3000 a year average that I was spending-and still get fashion compliments. Receive $10 dollars Today!
Get rid of 1/2 of your stuff-

You have too much stuff. Really. I gave away a substantial amount of items this year. I just didn't need it and wasn't using it. I wanted to free up space in my closets-so I got rid of what I wasn't using. Have you heard of the 80/20 rule? Basically 80% of the time you use only 20% of the stuff that you own. I believe that after this experience.
Do a wardrobe assessment-

See what you already have and work that wardrobe! People shop a lot of times out of habit and boredom.  They end up with multiples of the same item. Don't do this-save your time and money. Know what you have. I discovered that I had a number of duplicate items. Now, I will only buy duplicates in different colors if I'm absolutely obsessed with the item (hey, it has happened more than once!)
Let your clothes air dry whenever possible

–I never did this during my year but I've heard that it will extend the life of your clothing. I will be doing this with my special items purchased this year.
You just need one trendy item–To make an outfit "pop"-People go overboard with items that are trendy while trying to stay "on trend." Just keep it simple.
Coloradans love saddle bags

–This one is random, but I live in Colorado. I actually also love my saddle bag because I ride my bike a lot.
Skinny jeans work with everything-

They are the perfect pant to pair with tunic shirts, sweaters, riding boots, and so much more! Btw-I have a booty and am still able to rock these.
You can never have too much underwear

–I feel very comfortable with this statement. LOL! I had a HUGE bag of Underwear that I purchased before I started the challenge. I am so glad that I did that. And, I had so much that I still had new pairs at the end of the year.
The most important takeaway is the following

-People notice what you wear-but promptly forget. Everyone has felt the rush after getting a compliment on a great outfit. I think that rush is also what fuels some people's shopping addictions. Let me tell you that  I had a number of people comment on the SAME outfits throughout my No Shopping Year as if they had never seen them before. The only difference in the outfit would be a different accessory or a change of shoes. NO ONE CARES ABOUT WHAT YOU WEAR. SERIOUSLY. Don't waste your money to be the most fashionable person around. If you're under the impression that people are noticing your fashion. Basically, speaking-they aren't. Sorry-it's true.
Fashion is an outward representation of how you would like to present yourself and to a certain extent how you feel about yourself. Spend a month observing how you feel in your clothing. Do you feel good? Do you feel uncomfortable? Awkward? Sexy? Frumpy? Whatever you're feeling acknowledge it and make sure that you are mindful about how you are presenting yourself.
Currently, I am embracing minimalism and this challenge has helped me connect with why I was shopping so much.
I named my blog The Shop My Closet Project as a nod to using what I already have and becoming a person who spends intentionally and with a nod to my values, saving money, and to how I want to present myself. For the past 365 days I focused on using what I had, being grateful , and taking proper care of my clothing. It was a wonderful experience.
Would You Do A Year Long
No Shopping Challenge?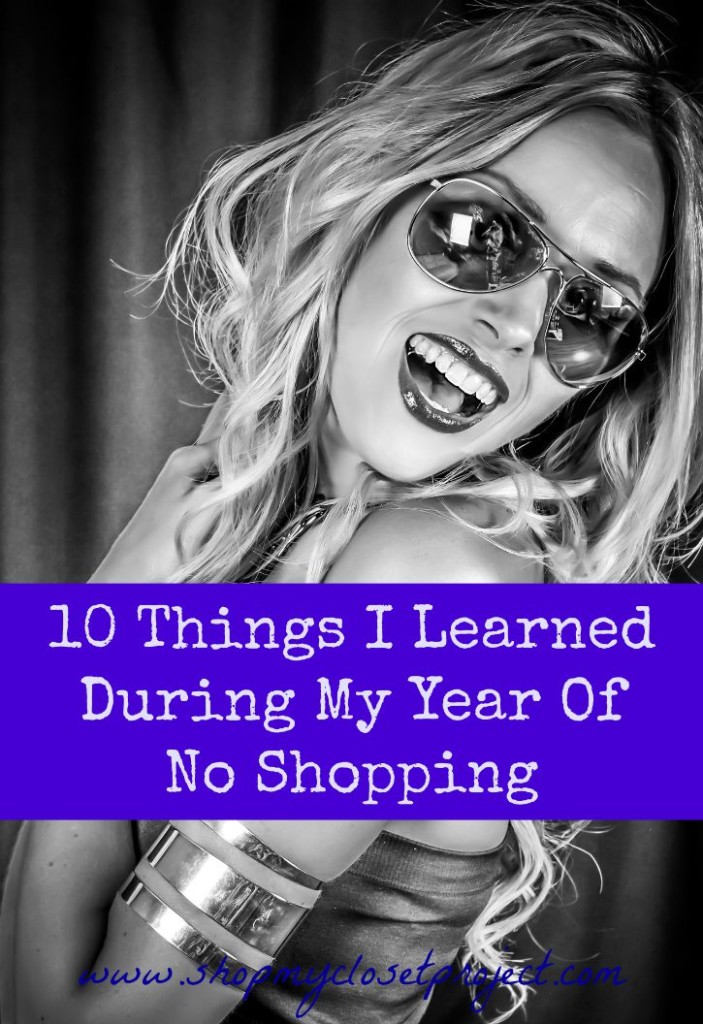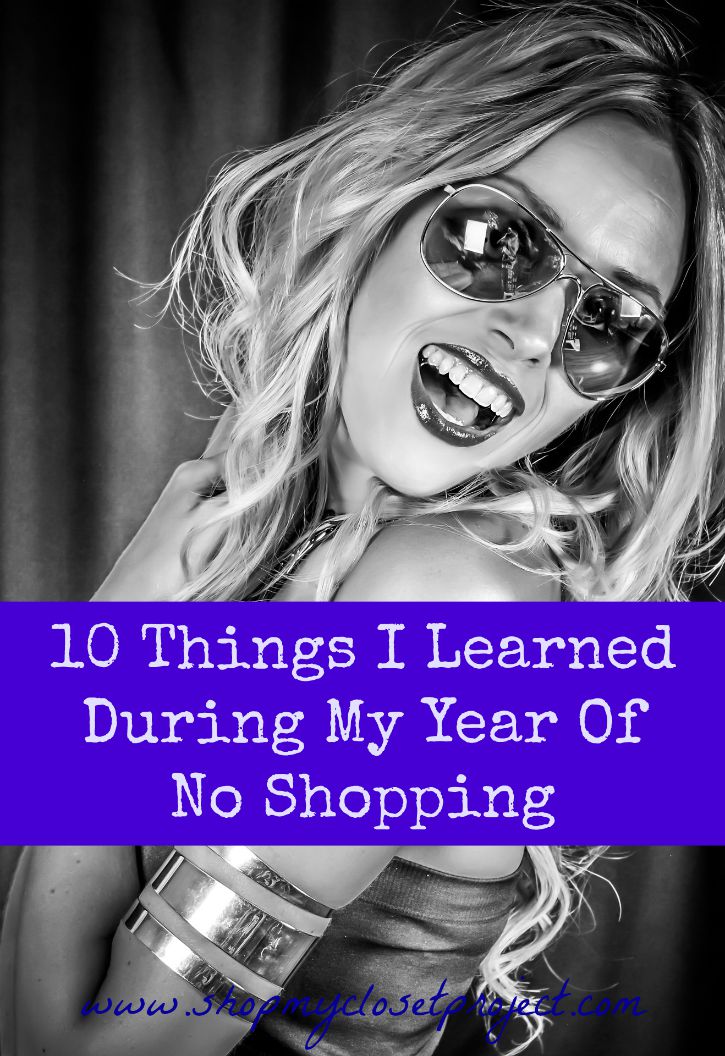 The following two tabs change content below.
I am an obsessive foodie, but not self-righteous with it, love travel, meeting new people, helping you look good, and am freaked out by people who don't enjoying reading...something! Grab a Perrier, read my blog, feel free to drop me a line! Hope to hear from you soon.