A 30 day challenge-Shop your closets for the month of April and share some pics!
Please join the Debt Free Divas and I in a 30 day Shop Your Closet Challenge! Use what you have and be fashionable while doing it! So, what is the challenge?
Spend the next 30 days shopping your own closet

You have to be "on-trend" and fashionable
You must wear something different everyday (or, at least switch up your jewelry)
Sit down and figure out  what you've spent so far this year on fashion. Multiply it by 4-as there are 4 sets of 3 months in a year.  What could you have spent that same amount of money on? Write down all of the things you think of.
Have fun with the challenge and share some pictures. We want to see you rock your style! Post them on The Shop My Closet Project or the Debt Free Divas' Facebook pages.
Each week will have a theme. This week's theme is "Organize your closet" How can you shop your closet if it's a hot mess? Spend some time putting your closet together and getting rid of anything that doesn't fit well, is stained, or represents a time in your life that has passed that you don't want to be associated with. Since it's time for spring cleaning this is probably already on your list of things to do.
During the 4th Week there will be a Rafflecopter prize giveaways!  We will pick some of the best photos posted for you to vote on as well as having random drawings through Rafflecopter. Current Prizes include:  A 1 hour Coaching Consultation with the Debt Free Divas! Let's get your financial house in order. Also, a free Shop My Closet Consultation via Skype or FaceTime. We are looking to add a few more prizes to that list so keep checking it out!
Guys please participate too!
Closet Organization-What to consider
Put like things with like. I usually pair sleeveless shirts, then short sleeve shorts together, then skits, jackets, and finally coats.
Don't get too caught up in color-coordinating the closet.
Start switching out your colder weather items at this point in the year. Sweaters will slowly make their way to their storage containers.
I have begun to pull my Spring-Fall clothes out and my wardrobe already feels new…in addition to the new items that I purchased this week. Ahem.
Empty hangers should be grouped together.
Pants and skirts should be hung using the appropriate hangers
Let's help you shop your closet and extend the life of your wardrobe.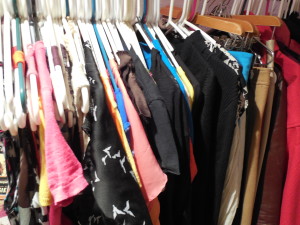 Part of my newly organized closet!
When I first started this blog the idea of shopping my closet for a year floated through my mind.   As time passed by I did shop my closet  but I still went shopping. Tweaking and refining a wardrobe that was more than adequate. I just didn't feel like telling myself "no." Why would I? I don't own a car, don't have kids, bought an inexpensive home, and brought my lunches to work regularly. Why would I tell myself no when there were so many compelling reasons telling me that I should say "yes" to my wants. But, my financial house is not in the order that I would like it to be in.
What do I have?
I do have a retirement account that is starting to do well

I do own a home
I do have an education
Life Insurance
I have my health!
Great family and friends
Debt-ahem!
What don't I have that I want financially?
A fully funded Roth IRA  (yearly)

Investment properties
A healthy cash reserve
"Passive" income generation
No Debt!
After I spoke with Toni and Tyresi ( I don't think I spelled her name right!) I sat down and looked at the money that I had spent so far on fashion…this was after having spent $105 at a high end thrift store after lunch where I bought I Rock and Republic blouse (gorgeous), a red Tulle jacket-LOVE, and a fantastic sleeveless patterned summer dress (drool). The thing with shopping is I love creating new looks, I love the thrill of a piece that just calls to me kind of like when there is a cafe con leche cupcake that is being offered for free. I knew that the day of reckoning had come. The voice in my head had started to shout at me that things weren't changing fast enough. Then, I realized that I was already on track to spend a lot of money this year on clothes. On Saturday as I walked around and bought undies ,socks, and SPANX for a wedding that I'll be in and a lovely embroidered tunic top I knew that the party was finally over. I had to begin telling myself "No." Because if I don't tell myself "No" now, then what would happen to me in the future?
You may have noticed that I have been doing some challenges such as the Vegan Challenge, 10,000 steps a day (haven't talked about this one on the blog) No More Buying product as chronicled in the "Using all my sh$t" posts, No More Complaining (Secular Lent),  and having some success in completing these challenges. Those successes have made me realize that now it's time for the metaphoric big guns. It's time. To stop. Shopping. And time to Shop My Closet. For.the.next. year. Yep, that's right for the next freaking year. Nope, this isn't an April Fool's Joke. This is legit. Let me show you the money I've spent so far this year and you'll see why I've decided to do this.
In the past three months I've managed to spend $660 dollars on fashion related items. Shirts, coats, shoes, underwear, socks, sunglasses, earrings, and scarves. For some people this will be a lot of money for others this is nothing. But, it is March 31st and I have nine more months to go. At this rate I would spend $2, 624 dollars by the end of December. Most likely more!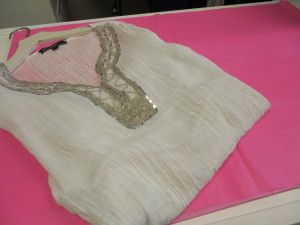 Last fashion item bought in 2013…besides the SPANX! Not as exciting. I love this blouse.
What does $2, 624 dollars represent in my world? These are actual things that I could do with that money.
Buy an inexpensive car using cash.

Go on a three day weekend to NYC with my mom:
$400 for 2 tickets
$400 for hotel
$150 for food
$50 Super Shuttle
$150 tickets to US Tennis open.
Total: $1150
PLUS a weeklong trip to Nicaragua:
$550 ticket (1)
$80 bed in gorgeous dorm at small boutique hotel that I looked at
$100 food,
$400 (Yoga, RV, Deep sea fishing, Surfing Lessons)
 $80 pick up and drop off at Managua Airport
Total: $1130 and $344 dollars would be left over
Fund  half of my ROTH IRA contribution for the year.
I could pay off a couple of small credit card balances
I could finally do some home improvement projects that I've been wanting to do since I bought my place in 2007!!!
$500 new windows in my bedroom (labor and windows)
$200 the cute security bars on the outside
$1,000 wood installation in my bedroom
$1,124 work on my bathroom (new shower head, handles, and new tiles on the bottom of the floor. Getting the shower re-caulked.
I am afraid that I will fail doing this challenge (and the hot yoga challenge) because I don't want to tell myself "no." But, I'm going to try! The irony is that when I was in my early 20's I found it really easy to delay gratification because I hadn't experienced the other side yet. I hadn't discovered having an income, being a professional, feeling like a grown up who could do what I wanted. Now, I'm just over having the same conversation over and over again about what I want while not really committing to the process. A lack of commitment to the process is usually why people don't succeed at the goals that they have set for themselves. I am an example of that when it comes to finance.
Here is how the Shop Your Closet Project Challenge will work:
You have been challenged to Shop your closet for the next 30 days.
I will shop my closet from April 1, 2013-April 1, 2014. No joke.
I will post pictures of my favorite outfit once a week on Friday.
I will try to use as much of my wardrobe as possible. The dresses that I stopped wearing, the heels, skirts, and lovely blouses. I've worked at the same place for years and it is pretty casual. I used to dress up quite a bit. Then as I got deeper in the dumps I stopped dressing up as much as I used to. The problem is I love to dress up! And, I am feeling pretty good about life in general.
I'm hoping there will be some spillover into other parts of my life. The No Product Challenge is going well so far (except the travel sized product that I bought for my trips)
If I am given a gift of clothing I'll let you know. But, that hasn't happened in years so I doubt that will happen.
TMI alert-In case you're wondering I won't be buying any new underwear because I still have a giant bag of brand new stuff from last year with tags still on them that I obviously haven't worn. I bought them when I went to Houston last year for a conference. I bought so much that I was pulling out of the bag new pairs every month and still have some left over. As well as socks. Add to that the the new bag of undies and socks that I bought this weekend-there is no need to buy any during the year.  I even have new bras that I've never worn! There is a pair for every occasion. HAHA! I am being serious!
I would like to donate some of the money that I save over the year to a charity in April.  Not sure which one yet, will keep you posted
I've also tasked myself with earning the amount of money that I overspent this month on clothing. I have no idea how I'm going to do it.
The Shop My Closet Project will also be nice to do in terms of sustainable practices and being kind to the earth. I do buy a large number of items from thrift stores and will point out where I got each piece in my outfit in the pictures that I post on Fridays.
***I am not the first to do a challenge like this and I hope that I won't be the last*** Maybe my struggles will encourage another person to take the leap just like other people's stories encouraged me.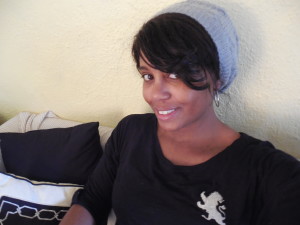 My Pic
One of the people who inspires me! She wore the same dress for a year and donated over a $100,000 to an amazing charity!
The following two tabs change content below.
I am an obsessive foodie, but not self-righteous with it, love travel, meeting new people, helping you look good, and am freaked out by people who don't enjoying reading...something! Grab a Perrier, read my blog, feel free to drop me a line! Hope to hear from you soon.