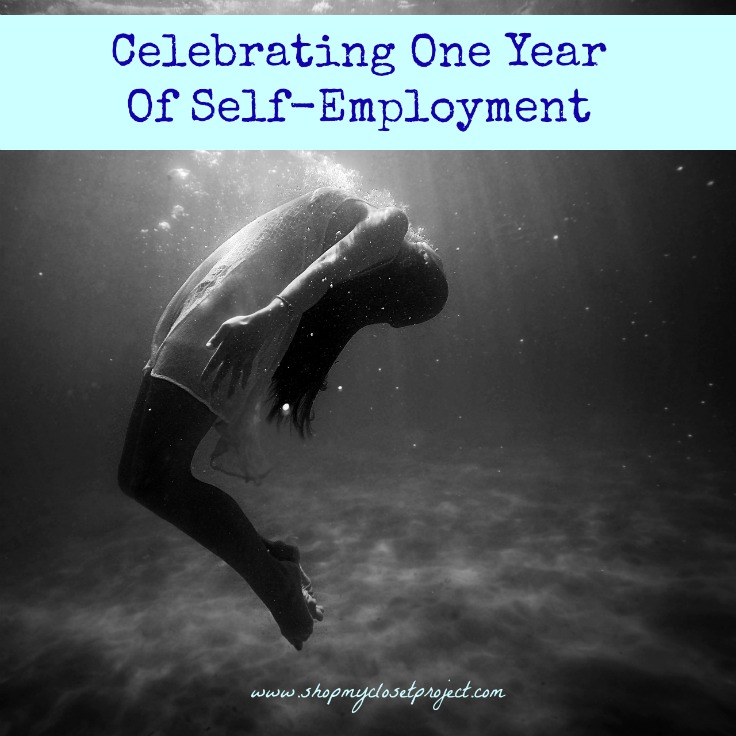 Celebrating One Year Of Self-Employment
* In order for me to support my blogging activities, I may receive monetary compensation or other types of remuneration for my endorsement, recommendation, testimonial and/or link to any products or services from this blog. Affiliate links will have an asterisk (*) next to them. Please read my disclosure here.*
I am typing this post up while looking out the window and watching the snow. A major snowstorm hit Denver overnight and if I were still working my old job I would have been on the highway for about 4 hours each way to go to work. Halfway to work on the highway I would have received a notice that the university was closed.  How do I know that this would happen? Because it happened today and it happened every year that I worked my job.
What I Used To Do
I used to be a Student Service Coordinator at a major university. For many, many years I truly enjoyed what I did and loved the people that I worked with. In fact, I still really love the community of people I worked with and the student population that we supported during their time in our program.
However, that job was so freaking stressful. Here's what I used to do (this is not a comprehensive list):
Admissions-

All issues that encompassed the admissions process.
Data entry

-Hours and hours of entering student related data.
Phones

-I actually hate talking on the phone (even though I'm pretty freaking talkative). Hate talking on the phone, hate it.
Emails

-Responding to emailed questions/queries all day long
Events-

Planned events ranging from horseback riding, snowboarding, and visits to the theater. In fact, I produced around 60-80 events every year for years. 
Manage student related issues

(separately or with a team)

Issues included but weren't limited to: mental health, dental, family issues, services for the students' children, dismissals, arrests, and immigration related investigations (had to assist when they came up). Did I mention that these were adults?
IMMIGRATION-

This was was what I was most concerned with in terms of my job duties. This took up a huge percentage of my time and kept me up at night. All of the stuff that the American public DOESN'T understand about visas ranging from: tourist visas,  student visas, and fiancee visas and more-I actually UNDERSTAND because I dealt with it for 10 years. I was becoming more and more concerned about the responsibility of managing international students coming into the U.S.  Now don't get me wrong, I was just a tiny cog in a very big wheel…but, I was getting a bad feeling and I didn't want to be dealing with anything that could eventually compromise U.S. security-I'm serious.
I was in a building with hundreds of students from different countries and I loved that! I began to hate having people coming up to me and saying the following "Michelle I need." Not "hi"  not "How are you?" but, "Michelle I need."  I developed an obsessive love of the movie Office Space and when I bought a Red Swingline Stapler I knew I was on the edge. So, I fired myself.
Celebrating One Year Of Self-Employment
I honestly can't believe it. I made it through one year of taking care of myself. It has been a hot mess. In all the ways that you would imagine starting a business from scratch could be after lazing about in a foreign country. I should also mention that I was inspired to work for myself as a result of my blogging journey. If you're interested in starting a blog click on the following link.
Working for yourself is a frightening process. You've basically leaped from a metaphorical airplane and are sewing your parachute as shoot through the air, frantically hoping that it will be ready before it's too late to pull the cord.
Money never seems to come in when you want it to, and you're frantically wondering when your check will arrive. Did the check get sent to your home address or your p.o. box? Are the checks good?
In the beginning I was filled with doubts

:
I'm an imposter, other people have the expertise to do this. Maybe you have to be a millennial to really "get" this process?
How am I going to find work?
A Year Later I've Learned
A little bit of crazy is good!
I did need to work harder.
I am capable of doing anything that I put my mind to.
It might be messy, but I can take care of myself.
Without community nothing will happen (Mastermind Group/FinCon/Friends/Family)
Be audacious and dream big.
That I CAN help people again without losing myself in the process (yay!)
My mental and physical health has to be prioritized before anything-and that's a good thing!
There are people who wish me great success and to make sure to surround myself with them.
To think about and consider what the difference is between entrepreneurship and self-employment
2016
I've spent a lot of time thinking about 2016 and if I should continue to working for myself.  I've spent a lot of  time thinking about the pluses and minuses of self-employment. Is it worth it? Am I doing for the right reasons? What do I need to do to have better financial outcomes during my second year?
And I've decided that 2016 will be a make or break year in terms of what I believe for myself and how I approach working for myself because it's a business and I'm not an imposter-I can do this thing. So, I am celebrating one year of self-employment and feel so proud of myself!
I will continue on. Work harder and smarter and prove to myself that I can handle this process. I can't wait!
How did I get into freelancing for myself? I started a blog, I changed my life, and imagined more for myself. It hasn't been easy but I'm making it happen. If you're interested in starting a blog check out my post on How To Start A Blog, Change Your Life, and Find Your Tribes. I use Bluehost and if you click on my affiliate link you can host your blog for $3.49 a month. See How You Can Set Up a WordPress Blog in 15 Minutes 
Please note: I may receive some compensation if you use purchase a package through this link
The following two tabs change content below.
I am an obsessive foodie, but not self-righteous with it, love travel, meeting new people, helping you look good, and am freaked out by people who don't enjoying reading...something! Grab a Perrier, read my blog, feel free to drop me a line! Hope to hear from you soon.