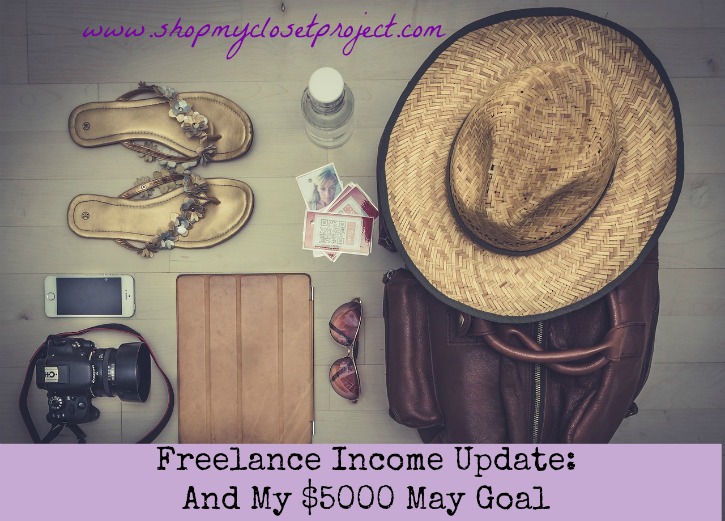 Freelancing Income Update: And My $5000 Goal For May
I've spent some time thinking about whether or not it would be a good idea to share my initial freelancing income. I know that there are several different schools of thought concerning sharing income earned or developed through online endeavors. I personally really love reading people's income posts and a general break down of how they earned their (I don't need a super exact one) so that I get a vague idea of the potential earnings trajectory working in this way.
I am competitive to a certain degree and consider those earnings posts as a call to action. Challenge accepted. I love those posts because it shows that the kinds of earnings I would love to make are possible. I've also noticed that each person who shares their income earned has different ways of making that money.
The other school of thought that I've seen concerning sharing income is that it can trigger a feeling of "what is it that they are doing and making happen that I'm not?"  I find that to be a deeper issue of self-confidence and owning and being proud of what you're making happen for yourself. If you make $150 dollars more than what you've made a month ago-what's wrong with that? Shouldn't you applaud those efforts? What if you had never tried something new? You would still be in the place that you were in before.
Another school of thought that I've seen is that people are being bragadocious about their earnings. I would say that to a certain degree that's true, but if I worked my butt off and made thousands over what I used to make I would be feeling pretty damn good about myself and want other people to read what I was doing and work hard to figure out the formula that works for them.
So, with all that I am saying that I am mindful of the emotions that sharing income can trigger. My goal is to encourage people to figure out their money making composition and rock their side hustle or freelancing goals. I also want to show how much incomes can fluctuate up and down from month to month. Here it is!
Freelancing Income Update:
February-$150
I returned to Denver on February 24, 2015. I made $50 that night doing a quick and fun side hustle. Yes, I did a side hustle the night that returned. A little crazy but I was serious about making this work. I also received some miscellaneous money that month so money flowing in was around: $150
March-$1850
First month truly looking for virtual work and growing my business. I did sign on a couple of clients BUT would be paid for most of my work in April. I didn't really begin working until about the middle of March. Please refer to my post on Freelance work and timing. I talk about the timing between pitches, working, and payments.  I also received a tax return so money flowing in totaled: $1850 with the majority of that being tax return money.
April-$700 
Second month of freelancing. I am now receiving payments for work done in March. I only had 2 clients at that time.  In the month of April I have continued to sign on more clients. I also have a very large payment that was for a side hustle (think LARGE) that has been delayed. So my earnings in May will reflect that delayed payment.  Money flowing in for April: $700 (clients/freelance writing). This is fun to look at because I have been working basically full-time hours for at least the past 3 weeks and won't receive the majority of that money until May.

*I also lost a client*
May- $4300

or Where the Magic Begins To Happen (hopefully)
Estimated amount of money flowing in (including the delayed payment) around $4300. I should mention that this amount is more than what I was making at my old job. The key is to see how I can continue to grow my business and  maintain a high level of consistent service for my clients. So, my goal May is to try and earn an additional $700 dollars on top of the projected income.  Once I take the tax out I am still bringing home the amount of money that I used to.
Again, there is no guarantee that next month will stay as high as May is projected to be. My goal is to work as hard as I can, but you never know. I do think there is value in showing how money flows in when starting from scratch which is basically what I've done. Also please note that I haven't worked since December 16, 2014 so I was pretty freaking motivated to get money flowing in.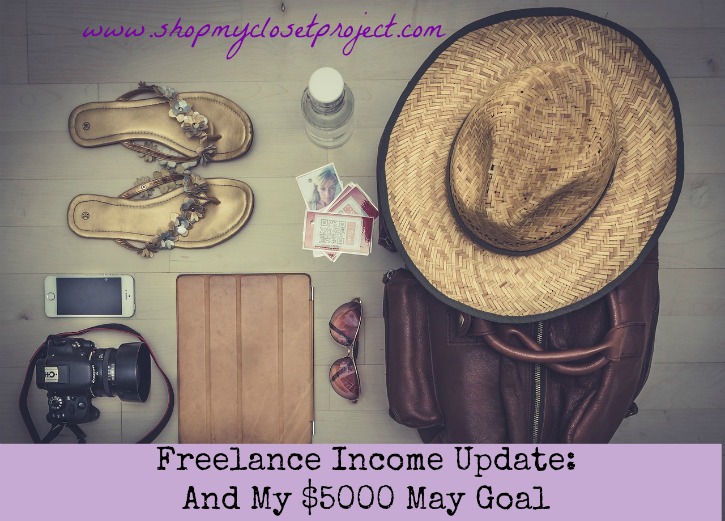 The following two tabs change content below.
I am an obsessive foodie, but not self-righteous with it, love travel, meeting new people, helping you look good, and am freaked out by people who don't enjoying reading...something! Grab a Perrier, read my blog, feel free to drop me a line! Hope to hear from you soon.