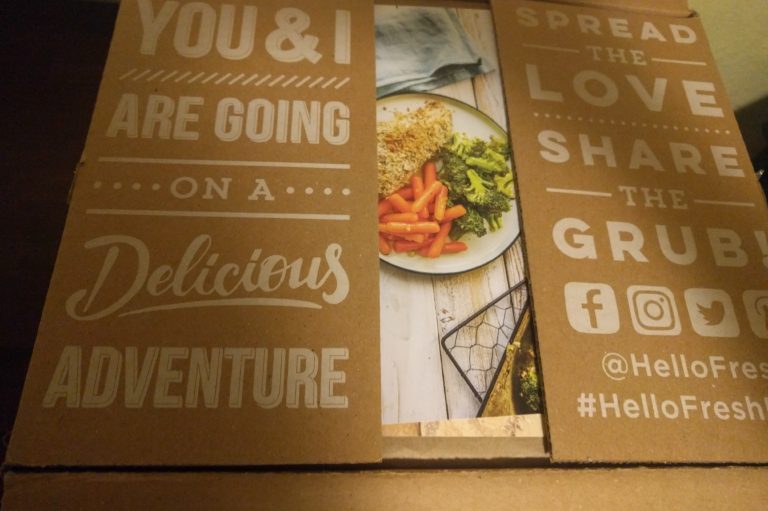 A Hello Fresh Review for the Single Woman
* In order for me to support my blogging activities, I may receive monetary compensation or other types of remuneration for my endorsement, recommendation, testimonial and/or link to any products or services from this blog. Please read my disclosure here.*
I'm going to start this review by saying that I really wanted to dislike Hello Fresh and every other service like this. You know, meal delivery of some sort with fresh ingredients that you would cook up at home. It almost pains me to admit that I actually LOVE Hello Fresh. I love it. Seriously. And, as a person who was skeptical about using a service like this, and am a really good cook-that's saying something. Here is a Hello Fresh review for the single woman.
Hello Fresh
What is it exactly? Basically, subscribers receive a weekly box with 3 different meals that the subscriber can cook during the week. Want to check out Hello Fresh? Here's my affiliate link. Sign up with my link and get $40 off your first order if you're a new subscriber!
What comes in the box?
Each meal has it's own box. Items inside boxes depend on the recipe. Here are examples of items that have come in my boxes depending on the recipe.

Veggies
Spices
Soy Sauce
Sesame oil
Garlic
Fresh herbs
Rice/Orzo/etc.
Meat/poultry/fish on the bottom of the box with an ice pack if you have the Classic plan.
Ice packs to keep the items fresh.
My deliveries typically arrive later in the day on Mondays via UPS. Sometimes they arrive early enough to cook one of the meals that evening. Other times if UPS is having a busy day the box may arrive later in the evening. I'm making this point in case you're wanting to cook a meal on delivery day. Your box may or may not arrive early enough for you to use it.
What I Dislike about Hello Fresh
I thought that I would share what I dislike about Hello Fresh first because there are basically three things that I don't love.
The Ice Packs

-I hate the ice packs but for a reason that may surprise you. They aren't easy to dispose of because not all of them are actually ice. Some of them are some weird ice like product that shouldn't touch your skin=probably shouldn't be in your sink or in your pipes.  I think that Hello Fresh probably wastes a lot of money on getting ice packs when they could probably create a ice pack pick up program and give subscribers a small discount for that. Basically, I wish they would have a van drive around and pick up ice packs placed next to customer's doors the day after delivery.
Not Earth Friendly-

Let's be clear, I don't care if it's Hello Fresh, Blue Apron, Plated, etc. These services rely on a ton of packaging, ice packs, delivery, etc. There is a carbon footprint and waste that is associated with these types of services that made me pause for a second. Because I'm crunchy like that. I would love it if all of these services addressed recycling the boxes that these meals arrive in-in their informational videos.
I tend to like SPICIER meals

-Ok, this is of course very personal. I actually do roll with a mini hot sauce in countries known for bland food. The meals are fantastic. But, they aren't as spicy as I tend to make my food on a daily basis. Fortunately there is a very easy fix to this-I add additional spices when I feel like the meal is a little too bland for my liking.
I also wish they would mention that Olive Oil has a low smoke point and to be aware of that when cooking with it. Olive oil is used in a number of their recipes so just a head's up. If you have some on veggies you're about to broil-it may become smoky in your home.
What I LOVE About Hello Fresh
I am a pretty good cook. And, I'm a serious foodie. I wasn't sure how a service like this one would add value to my life in terms of meal planning, etc. Want to check out Hello Fresh? Here's my affiliate link. Sign up with my link and get $40 off your first order if you're a new subscriber!
Saving Time and Mental Energy
Hello Fresh actually saved me time during the weeks that I used the service. I just returned from a trip and had a box scheduled for delivery a couple of days later. I should mention that I did do a big grocery shop when I returned because I'm doing a grocery challenge for the month of May. But, that was one less errand that I had to run (especially during the weeks previously when I didn't do a big grocery shop).
I didn't have to think about dinner recipes. Even though I'm a good cook sometimes I don't have the energy to think up a menu. Even though this post is specifically geared towards single women, I would also make the case that if you're dealing with significant others, a demanding job, or family-the ability to cook a great meal without thinking about what that meal would be, would be a huge mental energy saver.
All I had to do was decide which meal I would cook and then cook it. Boom. That easy.
The Recipes
Are great. Seriously. I tried both the Classic box (has meat entrees) and the Veggie Box and I really liked the recipes sent with both boxes. Here is a list of some of the recipes that I received:
Grilled Cheese and Veggie Crumble with a Chimichurri sauce-I loved this one.
Turkey Chiles Rellenos-Loved this one
Cumin Spiced Steak-Loved this one.
Hunan Cumin Beef Stir-Fry on Jasmine Rice-Loved this one
Winner Winner Chicken Orzo Dinner-I liked this one but had to spice it up a little bit.
In general, I found the recipes to be pretty easy to follow and fairly well thought out for the novice cook. I will admit that I took cooking short-cuts because…I know how to cook LOL! I also liked that the meals had multi-layered flavors, basically different flavor profiles and textures which is how I like to eat.
Recommendations
If you decide to use Hello Fresh here are a couple of recommendations that I would give to would be users.
Go to Whole Foods, Sprouts, or any place with

bulk spices

and pick up some spices if you don't have any in your house. It's cheaper to do it this way.
Remember-

Flavor your food to your taste.

I know that I like spicier food. Because of that I tend to add chili flakes, Korean Red Chili, etc. to different parts of my meal.
Season your meat

-There were a number of recipes where the meat wasn't really seasoned=possiblity for bland food. When I noticed that I just seasoned my meat to my taste.
The Cost
I typically spend about $200-$250 on groceries a month with the goal of eating healthy, fresh, organic food. This amount also includes my coffee shop visits. I decided that if I were to use a service like this, that my overall food budget shouldn't change.
It didn't.
I ordered the Classic and Veggie plans both were the 2 person option for $59 a week. What worked out really well was that the meals were for two people=leftovers.
In essence, I received 6 meals in each box. I ate the leftovers the next day and was perfectly happy. Let's be clear, my other meals that came from my pantry I made sure were A LOT less expensive, but, it all balanced out in the end.
No, I would not (and do not) plan on using Hello Fresh weekly. But, I will definetly use it the week after I return from a trip, have guests, or experience a high mental energy week where I just want to eat good food and not think too much about how it gets to my home. Overall, I had a great experience with Hello Fresh and look forward to using it again.
This slideshow requires JavaScript.
Have you tried a meal delivery service before?
What did you like or dislike about it? 
The following two tabs change content below.
I am an obsessive foodie, but not self-righteous with it, love travel, meeting new people, helping you look good, and am freaked out by people who don't enjoying reading...something! Grab a Perrier, read my blog, feel free to drop me a line! Hope to hear from you soon.