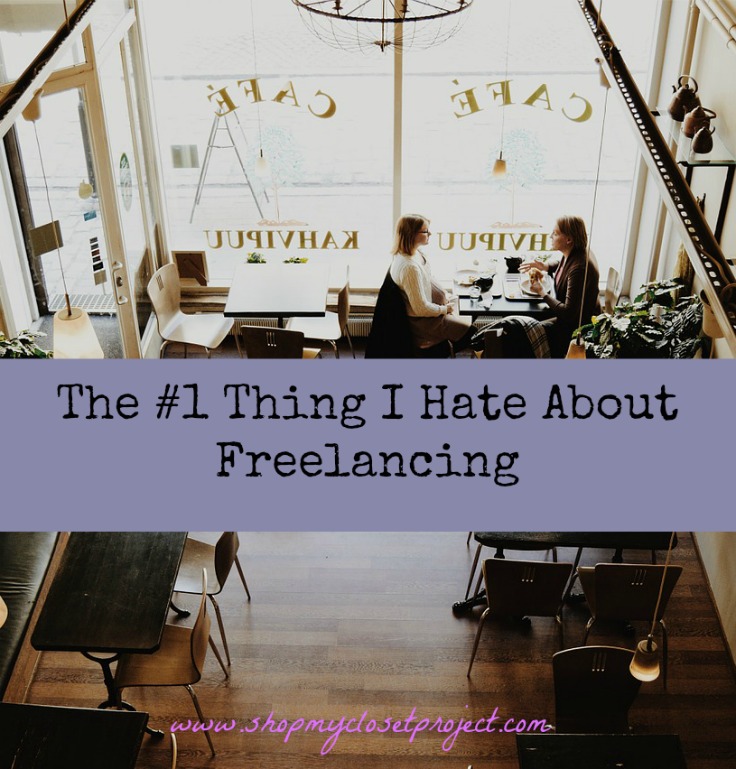 The #1 Thing I Hate About Freelancing
* In order for me to support my blogging activities, I may receive monetary compensation or other types of remuneration for my endorsement, recommendation, testimonial and/or link to any products or services from this blog. Affiliate links will have an asterisk (*) next to them. Please read my disclosure here.*
I truly love freelancing. And even though it's not my ultimate "end-game" freelancing will give me the space and energy to work towards my big goals. I became a freelancer because of my blogging journey. If you're interested in starting a blog click on the following link.  Seriously, I am not one of those people who talks about how I miss going to the office, and all of the meaningless chit chat, endless questions, and rush hour.
I Don't 
I don't miss any of that and hope to never have do any of that again in my life. That said there is one HUGE, HUGE downside to freelancing that comes with the territory. I had noticed a couple of other people talking about this recently (Stephanie O'Connell) and thought that I would also pipe up because this is the one issue that I am focusing on with laser vision for 2016.
Inconsistent Money Flow
I.Hate.This. Let's be clear you're able to make a crazy amount of money as a freelancer. There really is no limit to how much you can make. However, managing your incoming and outgoing cash flow will be the number one task that you need to learn how to manage and pretty quickly.
The money that you make as a freelancer is dependent upon several things:
Who You're Working With

-I am currently working on several writing related projects. The range on those projects is between $70 an hour  (with a minimum number of hours a week) to around $150 a post. This is not as high as some people are making. Not even close.  But, this is the highest that I've made and I only began the switch to freelance writing since about October. It's December. The businesses I work with are a mix of SUPER DEEP POCKETS and mid-deep pockets. That helps frame what you will ask for pay.
Where You're Focused

-It's all about hustle and focus, let's be honest. I am seeing results based on where I am focusing and how much I hustle. I've made the switch to the following: Freelance writing, helping businesses set up their websites/social media/need coaching on that process. I no longer manage social media for other organizations…unless it's going to pay really well.
Your Network

-Part of why I was able to grow my freelance writing so fast was because of my network of people. I belong to a Mastermind Group, and I attended 3 conferences this fall with the intention of expanding my network.  As  a result of that I was able to pick up several gigs from each conference attended. And, I have fabulous friends who are already making money as freelance writers and are kind enough to share their: expertise, concerns, and advice. I ALWAYS, ALWAYS listen to what they have to say.
Your Side Hustles

-I always have a side hustle happening. Even when I was working at the university. Currently I am working two side-hustles that I ABSOLUTELY LOVE!! The great thing about these two side hustles (besides the fact that I have a ton of fun doing them) is they pay bi-weekly. Automatic deposit. Boom. Also, one of the gigs is an ongoing brand ambassador program that I work on, I get paid, get free food, and get to stay in the mountains for big events.
Your "Ask"

-I have begun to slowly but surely ask for more money for my work. This is a non-negotiable. I want to make more money, but I have to be comfortable asking for more money too. I am requesting more money for: work that I do, sponsored posts/links, and anything that I will hustle hard to get done for you. It's not enough to ask for more, I also have to do more for the client.
How To Manage Inconsistent Income
I also touched on this for a guest post that I wrote for Artisan Talent in Chicago. Here are some to the tactics that work:
Have an Emergency Fund

-This feels like a no brainer but with the U.S. savings rate around 5% I have to throw this out there. You will constantly be working on managing your emergency fund and you probably will never have as much as you would like. Seriously. I'm aggressively working on my emergency fund because I've already blown through it this year. Ouch!
Well Stocked Pantry

-People laughed at me when I was stocking up my pantry and my personal products last year. Well, I'm loving the fact that with the exception of toilet paper that I had to pick up starting in August, I've stayed out of the stores because I have a ton of stuff in the house. In fact, I have enough for probably another eight or nine months. I'm  aggressively working through my food pantry and will be replenishing my food pantry in January.
Lower Your Overall Expenses-

I am aggressively working on lowering and in some cases eliminating my overall expenses. In fact, I'm not paying for clothes in 2016! I'm going to use what I have or use my referral link for ThredUp.com (Here's $20 from me to you, my affiliate link loves you!)  to refer myself to free clothing when I need to freshen up my wardrobe.
Double Your Bill Payments

-In many cases you can pay more than you owe on your bills. I am in the process of creating a secondary emergency fund by paying more than I owe on the following: Electricity, internet, mortgage, car insurance, etc. In fact, I think this is a good habit to be in regardless of wether or not you're a freelancer. My goal is to be at least two months ahead on all set and recurring expenses.
Cash Budget-

I switched to an all cash budget last spring. And, with the exception of 2 or 3 purchases I haven't used my credit. This is initially really, really hard to do, but has been an amazing way for me to manage my money.
Set Weekly Earnings Goals-

I have a weekly earnings goals that I've set for myself. In fact, I am increasing my weekly earnings goal starting in January. Currently, my goal is to earn a minimum of $1250 a week. Which is a total of $5000 a month. This includes all freelance income, side hustles, and blog earnings. Starting in January my goal is to earn a minimum of $1500 a week for the first quarter of 2016, then I will increase that to $1750 for the second quarter of 2016. Having a weekly goal helps me to stay focused and look for more earnings opportunities. My goal is to earn a minimum of $10,000 a month by December 2016. I think it's totally doable with focus and determination!
Grow Your Passive Income

-If you're in the position to create and grow passive income then I strongly, strongly urge you to focus on this. There is nothing better than waking up with money in your bank account. Bloggers, podcasters, and anyone with a digital footprint have the opportunity to do this. In fact, I no longer spend money on clothing because I've done so well with my ThredUp referrals. I also encourage people to share their own links so that they can grow their affiliate income. I earned $300 in passive income and referral credits in November. This is with very, very little effort on my part because I was out of state hanging with my Grandma for November. I have earnings goals for my passive income and am really focused on P.I. as part of my long-term earnings goals.
Eliminate Your Debt

-Some people begin freelancing because of an unexpected job loss or just lose it and leave their old position. Either way there are a large number of people who end up freelancing with out all of their "ducks" in a row. Just work hard, really hard on eliminating your debt.
Focus On Your Savings Goals

-Squirrel away your money in a focused and sustainable way. Set up an online savings account with Betterment (affiliate link-save your money for retirement. Don't eat dog food!). Remember to save for: retirement, emergencies, taxes, and miscellaneous expenses.
No one is completely prepared for the transition to freelancing. I spent many years observing what other people did and I still wasn't prepared for the reality. Quite frankly, every person's freelancing journey is very specific to each person's financial life.  Spend some time looking at  YOUR big picture and then work your a@@ off. Finally, if you find that freelancing isn't for you-don't suffer in silence! Start looking for a job that will meet your needs and make you happy.
What's Your Least Favorite Thing About Freelancing?
Or, Your #1 Fear If You're Not Freelancing Already?
How did I get into freelancing for myself? I started a blog, I changed my life, and imagined more for myself. It hasn't been easy but I'm making it happen. If you're interested in starting a blog check out my post on How To Start A Blog, Change Your Life, and Find Your Tribes. I use Bluehost and if you click on my affiliate link you can host your blog for $3.49 a month. See How You Can Set Up a WordPress Blog in 15 Minutes 
Please note: I may receive some compensation if you use purchase a package through this link
The following two tabs change content below.
I am an obsessive foodie, but not self-righteous with it, love travel, meeting new people, helping you look good, and am freaked out by people who don't enjoying reading...something! Grab a Perrier, read my blog, feel free to drop me a line! Hope to hear from you soon.