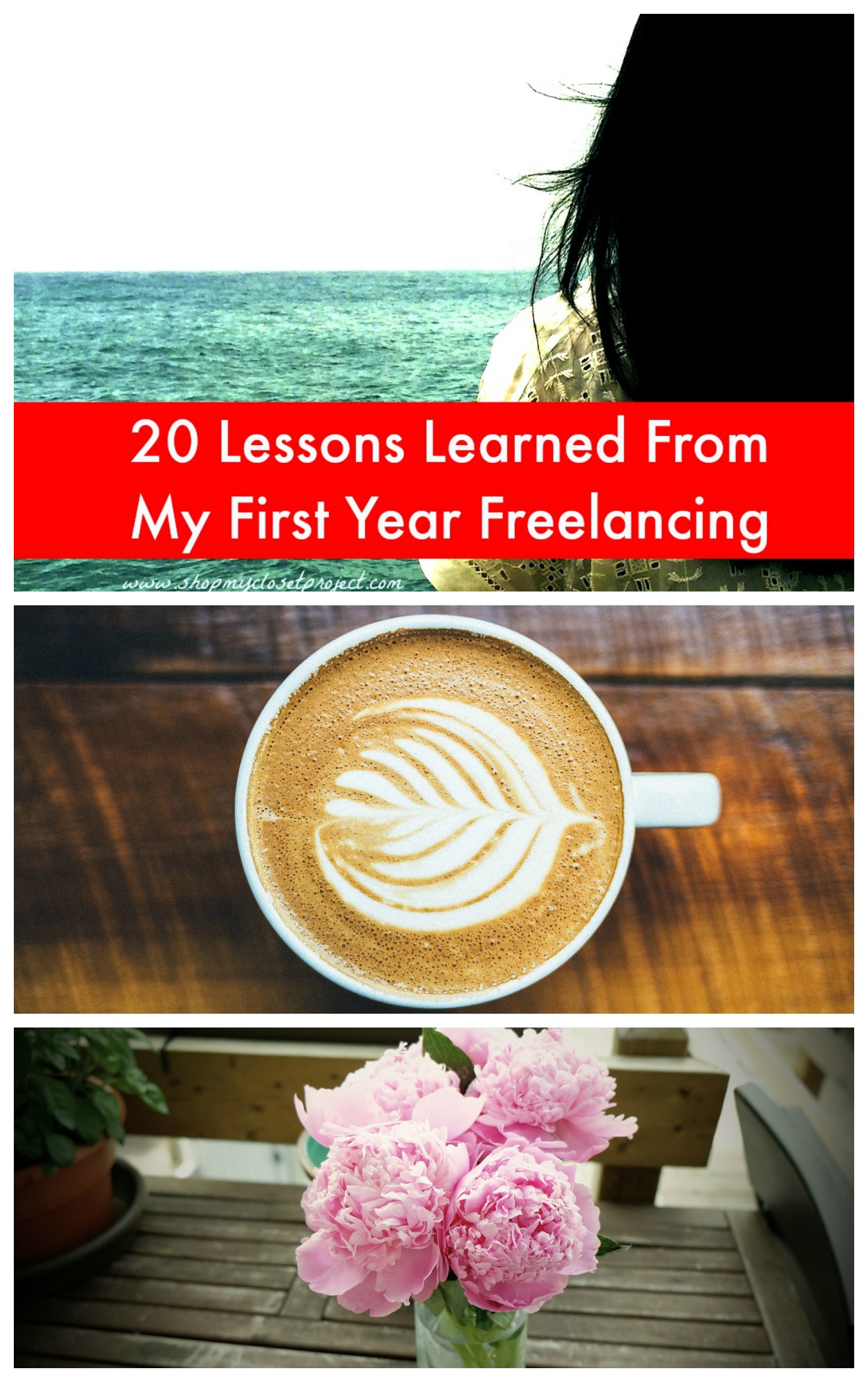 20 Lessons Learned From My First Year Freelancing
* In order for me to support my blogging activities, I may receive monetary compensation or other types of remuneration for my endorsement, recommendation, testimonial and/or link to any products or services from this blog. Please read my disclosure here.*
It is now officially a week after my one year anniversary working for myself. It has not been a perfect year. In fact, it has been a bit of a hot mess. I have learned a lot about myself, my problem areas, my strengths, and my weaknesses. I've learned that I can imperfectly take care of myself without a regular job.
I've just figured out my earnings for the year and figured out the difference from what I used to earn from my old job. I earned $20,000 less than what I was making before. However, I also cut my expenses prior to quitting my job by around $13,000 and I continue working on decreasing my spending every day!
I should mention that I was out of the United States for 2 months and traveled extensively during the fall. I basically worked for 9 months last year based on the time I spent traveling. Considering that I started freelancing from scratch I feel pretty good about the results that I had I didn't really have money coming in until April.
I learned a lot along the way and I wanted to share with future freelancers some of what I learned in the hopes that it will help you out as you decide if working for yourself is for you.
I became self-employed as a result of my blogging experience. If you would like to start a blog click here for more information.
The following are 20 lessons learned
from my first year of freelancing
 

Always have two computer chargers

-I had 2 chargers break this year and fortunately was able to get my replacements for free. I have a MacBook Air so those chargers were $80 a piece. Each time my charger broke it was when when I had a deadline THAT DAY or was broke and waiting for a check to arrive.
 Say Yes!-

I said "yes!" to a number of opportunities that ended up either being a great opportunity that helped me grow my business substantially or a good opportunity to figure out what I didn't do well or didn't enjoy doing…for other people LOL!
Love Your Low Paying Clients

-Your low paying clients are a valuable part of your business. I had a number of low-paying clients this year and I appreciate them so much. I was able to learn the in's and out's of running a business while working with them. After I learned those lessons I was able to raise my rates and grow my business.
 It's Ok to Change Your Business Model

-There were a number of different services that I offered when I first started freelancing, I discovered that I didn't like providing certain services and as a result of that I decided to shift my business to a different model and am a lot happier!
Try, Try, Try again

-If you are uncomfortable with pushing yourself when things don't work out, self-employment is probably not for you.
Try, Try, Try again

-I had to say this twice because it's so crucial. There is a level of perseverance that you have to have tap into in order to continue on.
Squirrel!

It is really easy to become distracted by just about everything. I really had to figure out how to stay focused without anyone telling me what tasks I should be working on. It's not as easy as you think.
Network Like a Boss

-People who work for themselves, especially virtual entrepreneurs run the risk of becoming recluses. It doesn't matter if you have a bricks and mortar business or virtual you have to connect with other people in order to thrive on a personal level and in order to grow your business. I made a special point of attending social events, networking weekly, and I even ran a Meetup group that had nothing to do with my work. That Meetup group also provided me with: new friends, leads, and something fun to do.
Organization is Key

-You have to be 10x more organized than you would ever expect. I just spent the last week organizing: my home, my closets, drawers, and and my business. I learned the hard way that disorganization will affect: getting projects done, the ability to pitch for new projects, and having a clear idea of what was going on with my business.
Set Goals

-The months that I didn't have clear goals my business suffered. In fact, it's a good idea to set audacious goals that you might not meet but will keep you focused. I've already spent time setting audacious goals for 2016. If I meet half the goals that I've set it will be pretty awesome!
 Prioritize Your Retirement

-Freelancers, employees, etc. have to prioritize retirement. Fortunately there are options online to piece together a retirement package. Check out what I've done to recreate the benefits package that I used to have when I worked for someone else.
Side Hustles Matter

-I was lucky enough to find a couple of side hustle that I absolutely loved. I am still working them and have become friends with my co-workers. The great thing about these side-hustles is that they pay well and pay pretty quickly. These side-hustles helped my finances stable as I grew my business.
Join a Mastermind Group

-My Mastermind group helped keep me focused and on task for the majority of the year. In fact, I noticed a huge difference in my focus when we went on hiatus from the end of October until the beginning of January in my productivity. I am so happy that we will begin meeting again in January and I am hoping to join a mastermind group for podcasters in January (wish me luck!)
Take Risks

-I took risks all year long. Working for myself in and of itself was a risk. Changing my process was a risk, going to conferences was a risk and for the most part those risks paid off.
Entrepreneur or Self-Employed

-You will have to decide which one are you. I went into freelancing not to be self-employed but to clear the space in my life, in my head, and professionally to become an entrepreneur. Whatever you decide to do is ok, but knowing your long-term trajectory will help you when you're making business related decisions.
Have a Business Bank Account

-I have a dedicated account for my blog The Shop My Closet Project and another account for my income related to freelancing.
Run Your Numbers Weekly

-I now run my income and outflow on a weekly basis. It seems a little intense but I am able to make adjustments to my business and pitch more if I'm finding that I don't have enough money flowing in.
Emergency Funds are Your Best Friend

–My emergency fund dwindled pretty quickly last Spring. I am now in the process of replenishing my emergency fund. Have an emergency fund will help you manage the inevitable drop in income that happens when you're waiting for your checks. I am still trying to figure out why businesses still use physical checks and whenever possible I request that my pay be sent via: Paypal or Chase Pay. I actually had two checks (from different businesses) lost at the same time. The first check I discovered in a pile of snow and I had to bake it in the oven in order to deposit it. The other check is still missing at this point and I will let that client know to cancel the check and add that pay to an upcoming check. I also use Digit.com to save money a little bit at a time.
Opportunities Are Everywhere-

It is unbelievable how many ways there are to make money. It is unbelievable how many people need help with their business. It is also unbelievable how many ways there are to help people via online tools such as blogs or podcasts. I am in the process of monetizing my website and the #1 rule is that whater I share with my readers has to be of value and helpful. It's a win-win. 
I can do this! 

I spent a lot of time dealing with situations that made me feel like I won't capable of doing things like: working for myself, meeting the one, losing weight, etc. This year has helped me rediscover my inner bada@@ who can do anything that I put my mind to, it's a pretty awesome feeling.
I've been honest in saying that this year hasn't been perfect. It has been a hot mess. I've waited for more checks than I care to admit, I needed a bigger emergency fund, and my credit has taken a hit.
Despite the negatives I've:  begun speaking at conferences, grew my rates from $12 to $70-$150 an hour, have begun growing my passive income (which is a huge goal of mine), and have already been invited to attend a HUGE event in January that will be a great experience personally and professionally.
If you asked me if I would put myself through this experience again the answer would be "Heck yeah!" I will share my goals for 2016 on Wednesday.
Have You Thought About Freelancing?
Are You A Freelancer Share Your Thoughts!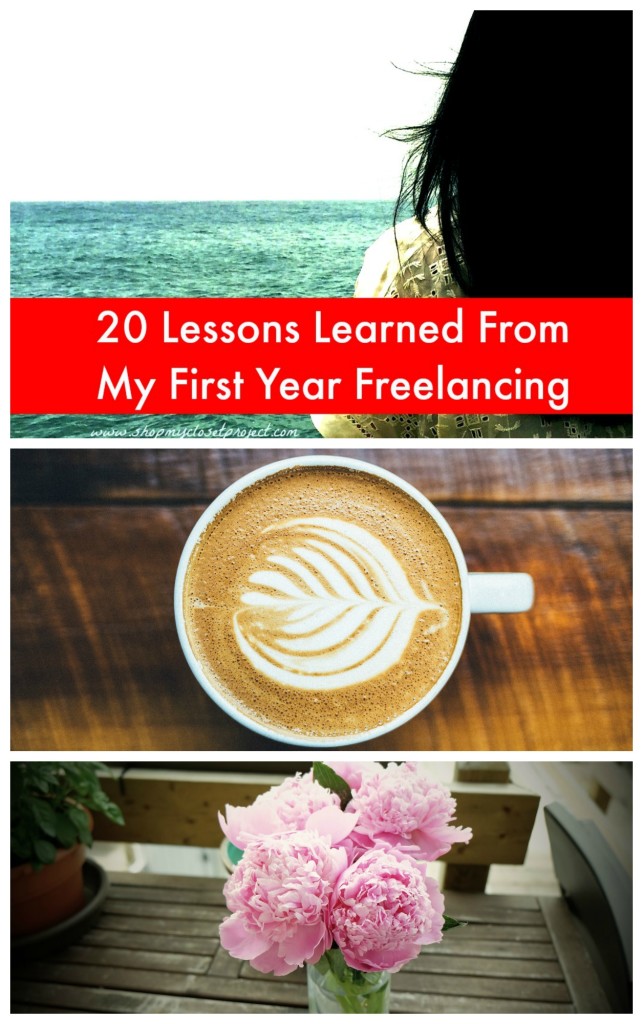 The following two tabs change content below.
I am an obsessive foodie, but not self-righteous with it, love travel, meeting new people, helping you look good, and am freaked out by people who don't enjoying reading...something! Grab a Perrier, read my blog, feel free to drop me a line! Hope to hear from you soon.