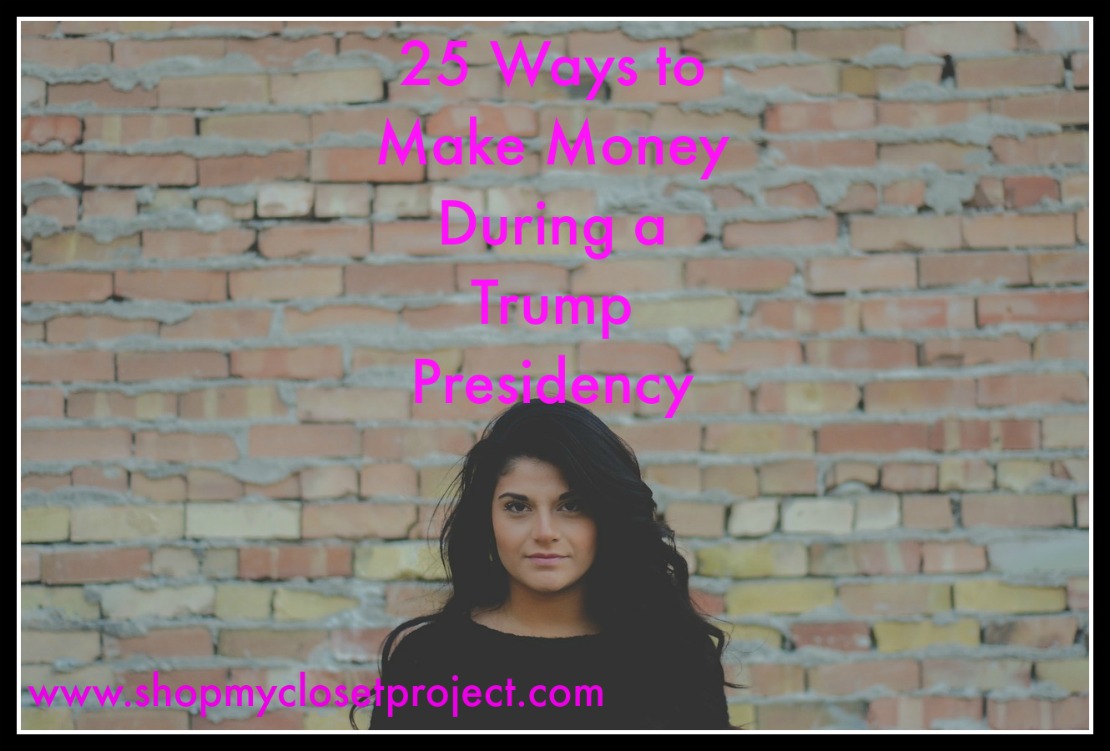 25 Ways to Make Money During a Trump Presidency for Progressives
* In order for me to support my blogging activities, I may receive monetary compensation or other types of remuneration for my endorsement, recommendation, testimonial and/or link to any products or services from this blog. Please read my disclosure here.*
Without throwing other people under the bus, kicking puppies, killing the last unicorn, or benefiting from other people's suffering.
Yep. I went there.
Recently I read an article about how to earn money during a Trump Presidency. I had a couple of issues that with that article:
Almost all of the ways described to make money involved benefiting from other people's misery. For example, catering for jails…because they will have more people in them?
Starting a charter school….because we will have fewer public schools?? I'm not a fan of charter schools in general. And, have already committed to homeschooling my future in-vitro babies.
I also didn't like that this post was on a black website. I just felt grossed out that the suggestions for making money were based on decisions that would impact people of color negatively for years.
I decided to offer a list for the more liberal person in mind.
Let's Do This 
Financial Educator-

People may lose their jobs, experienced raise freezes (already happened), or we may go into a Recession. By the way, Recessions happen BUT it might be worse than originally predicted due to the perceived unpredictability of the President. People may need to think about their finances in a different way or learn new financial skills. And, to be honest-no one is talking about the change to the economy.

People's jobs are at threat due to automation.

This is the economic story that no one is talking about. All of American manufacturing cold return to the U.S. and the numbers of people employed won't even scratch the surface of our employment needs. A bit of a downer, but it won't ever be said that I didn't say anything. Looking to get out of debt? Read The Total Money Makeover. Uncle Dave may make me crazy-but his system works.
 Communications Coach

-There will be a lot of people who find themselves speaking in front of a crowd. This may be an uncomfortable experience for them and getting some coaching on communicating with clarity will help further their agenda.
Job Transition Coach

-People may decide to change their job for whatever reason. Help people with that transition by coaching them on interview skills, helping them with their resume/cv, etc.
Politician-

So…the mid-term elections are just around the corner and many people will be looking to fire or hire political leaders. If you feel like you've got the passion for the job…look into running. But, the process begins now. Not sure where to start? Check out The Art of the Political Campaign.
Healthcare Information Specialist

-No one has a freaking clue on what's going to happen with healthcare. All we know is that it's going to change. Be the person who follows all of the changes and educates people on what's going on.
Immigration Rights Educator-

If you know the ins and outs of F-1, K-1, H-1B, or other visas help educate immigrants, communities, and friends, and family about the changes coming their way.
Conflict Facilitator

-Where were these people during the election?? Help people communicate the difficult things they need to say.
Website Developer-

I've already had 3 people reach out to me and ask about starting a website. Their projects ranged from an advocacy project to online entrepreneurship and they all needed help with a website.
Frugal Living Trainer

-For the person who is not naturally frugal and finds themselves in the position where they need to be.
American Constitution Educator

-Obsessed with the Constitution? Share your knowledge so that Americans can understand how the Constitution and its amendments guarantee rights that Americans grew up believing in. Get a copy of the Constitution, the Amendments, and the Bill of Rights today!
Police/Citizen Safety Facilitator

-Develop a curriculum where you work with police and citizens on developing community policing programs.
Voting Systems Analyst

-Pull back the layers on how our voting systems work.  Share that information with progressive leadership.
Public Speaking Coach

-There will be people thrust into public speaking roles who will need help getting their most important points across.
Leadership Trainer

-Not everyone who is called to be a leader is comfortable with that role. Help them own their new role.
Tax Law Specialist

-For business owners this type of support may be super helpful. There will be a number of tax changes that will be coming down from the Administration that may affect businesses in a positive or negative way.
Water Rights Advocate-

Fighting for water rights and #NODAPL is sewn on your jacket? Share your knowledge with communities that need an advocate. Flint, Michigan is still waiting.
Green Energy Advocate

-Believe in Green Energy? Educate people on the benefit to using green energy. More importantly-teach people how they can save money by going green.
News Fact-Finder-

If you're the person who triple checks ALL Of the facts coming at you via the news, then you're the person that both the Media and the President needs to hear from. #NOAlternativeFactsPlease
Russian Tutor

-I'm teasing…but, not really. Also, it's always good to know another language.
Spanish Tutor

-Teach entrepreneurs or politicians how to speak Spanish so that they can communicate with immigrants from Spanish speaking countries.
YouTube Channel Trainer

-There will be people (on both sides of the aisle) with a platform to share. Help them learn how to set up a fantastic channel.
Chinese Tutor

-Because…it's always good to learn another language.
Concealed Carry Instructor

-I know, you're probably a little shocked by this one. But, there are a number of  people getting their concealed carry license. They may be people who are a bit uncomfortable or nervous about the process. They will need some support as they learn this new skill.
There are a number of ways to make money during the next couple years. Fortunately, there is a way to earn money and stick with your principles. Likewise, if you're a more conservative person I imagine that there are ways to earn money that are in alignment with your values. Mine…are just more liberal and live and let live.
The following two tabs change content below.
I am an obsessive foodie, but not self-righteous with it, love travel, meeting new people, helping you look good, and am freaked out by people who don't enjoying reading...something! Grab a Perrier, read my blog, feel free to drop me a line! Hope to hear from you soon.