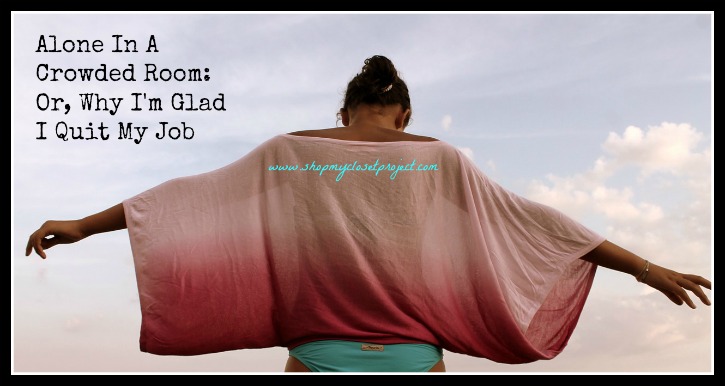 Alone In A Crowded Room or Why I'm Glad I Quit My Job
I finished working my long notice at my job of 10 years on December 16, 2014. On December 17, 2014 I was flying to Hawaii and then eventually to Australia for a much needed rest and to take some time to figure out "what's next." I had committed to the idea of working as a freelancer but wasn't sure how that would look for me. I'd spent a lot of time observing super successful freelancers in the blogosphere and had a pretty good idea about what they were doing to create that success and wanted to create my own success.
There were a number of reasons why I decided to leave my job and the biggest one was that the way I was working-with a long commute, lack of energy, and increasing isolated was starting to scare me because eventually there would be a point of no return where I wouldn't be able to imagine a different life. A life with people, dinner parties, and love.
Working in the way that I was I increasingly felt alone in a crowded room and so I decided to quit my job. On the very rare occasion I was asked about being lonely if I didn't work in an office I would say I wasn't worried about that and the reason was that I was already lonely.
For the past 10 years I worked a wonderful job (even though it drove me crazy towards the end). I worked with basically the same people for the past 10 years and still consider them friends. But, the things that I wanted in my personal life I just couldn't manage because I was tired.
And it began to get very annoying because no one understood HOW FREAKING TIRED I WAS. And, I'm glad they didn't because in order to understand they would have had to work the same ridiculous schedule that I worked for years. Let's review it:
Old Work Schedule:
4:30 a.m.-5:30 a.m. Wake up, try to exercise,clean, or do something for me
6:40 a.m.-I typically left my house at this time. Dreaded the commute.
8:30 a.m.-Arrive at work 1/2 late even though the bus I was on was supposed to arrive at 8:00 a.m. For the past 3 (?) years there has been extensive construction on the highway that I was commuting on. Started everyday anxious because I arrived later than I wanted to. I would work through several lunch hours a week if I arrived late to balance it out. This was a bummer because I usually would hike or go to yoga during lunch hour 🙂
8:30-5:00 p.m. work
5:15 p.m.-Leave for home
7:00 p.m.-Get home shattered. Prepare dinner if it wasn't prepped already (usually it was) try to figure out what I was going to wear for the next day, and just vegged out in front of the t.v.  I also would blog at this time. **All social events that I wanted to participate in would have finished by now or would have started already. I would have been at least an hour late for most things I was hoping to do**
11:00 p.m. Usually this was when I would go to bed. *So I was averaging around 5 hours a sleep a day and would explain the high level of exhaustion I was dealing with towards the end.
This schedule doesn't reflect the following: all of the car accidents that delayed me getting home until around 8:00 p.m., the events that I worked for my organization that would finish around 10:00 p.m. or took place on Saturdays.
My old schedule also reflects a stunning amount of lost personal time. My increasing social isolation really became apparent to me as my friends got married, had children, or just had the time to do the things that were important to them. It was very hard to articulate to people why I was so tired. Maybe if I had a typed up schedule to show them they would have understood!
Most people tend to go to happy hours right after work, exercise groups, or other activities where they meet their friends. I just wanted to go home. On the increasingly rare occasion that I would go to happy hour or some other social situation I would get home around 9:00 p.m. or 10:00 p.m. and still have to unwind and prepare for the next day. Then, I would wake up at 4:30 a.m.-5:30 a.m. Towards the end of my old job I just couldn't do it anymore. So, I stopped going out.
I didn't have time for myself and my financial situation complicated everything because I felt obligated to continue working my job so that I could get out of debt. Everyday I had to rally. Do you know how it feels to rally every single day? And on the rare occasions when I just couldn't take it anymore and would meet friends for a drink I would literally have to look in the mirror and say "You can do this."
Who wants to rally every single time you go out?
So, I slowly just stopped going out because I was just done. Then one day I had enough and I wanted to take my life back. Freelancing presented its own special set of challenges like the fact that I didn't have the energy to grow the business before I quit. Which was somewhat crazy. But continuing to live a life where I was alone in a crowded room was no longer working for me. Life was not meant to be lived like this. So-I quit my job.
I'm Glad I Quit My Job
It has been hella intense financially, but, in terms of my ability to meet people and grow my network it has been the best decision I could have made for myself in a long-time. The Denver/Boulder metro area has huge numbers of people who work for themselves, or work outside of traditional workspaces. I go to coffee shops a 2-3 times a week to work outside of the home and am surrounded by tons of people doing the same. I have begun meeting people in my neighborhood at my coffee shop. In fact, my coffee shop is considered to be one of the top 24 coffee shops in the U.S. (I would agree-it rocks)
I've begun going to Meetup groups again, will begin running in a running group (it starts at 6:00 p.m. at a local bar) and will be joining a kickball league. I'm attending networking events, and will begin volunteering in the next week or so for a cool organization that I've been wanting to volunteer with for years. I go to the gym, go to yoga, and have already started reconnecting with my friends and spending more time with my mom.
I've spent more time with myself. Meditating, exercising, and just doing the things that are important to me. Like cleaning my home! The thing is, my situation wasn't unique. Many American workers find themselves increasingly working more for organizations that require them to work harder without increasing their pay and many people live far from where they work. It has been quite overwhelming and a bit of a heady experience reconnecting with old friends and putting myself in the position to meet new people.
I NEVER (not ever-NEVER) want to be in that situation again. Life is short. I don't want to squander this precious gift. There is a book that many people in the personal finance blogosphere recommend and it's "Your Money or Your Life." It's super boring, but the most important part of the book is this:  "every hour you work (or do something) it's an exchange of what the authors call "life energy."
You can't get lost life energy back so I would encourage you to think about what's important to you. Think about how you can facilitate the life that you want for yourself. I would also read the following book "Take time for your life." It was hugely instrumental in helping me see where my time was going and helped me figure out what I wanted and what I needed to live my best life.
Have You Ever Felt Alone in A Crowded Room?
What Do You Think You Can Do To Change That?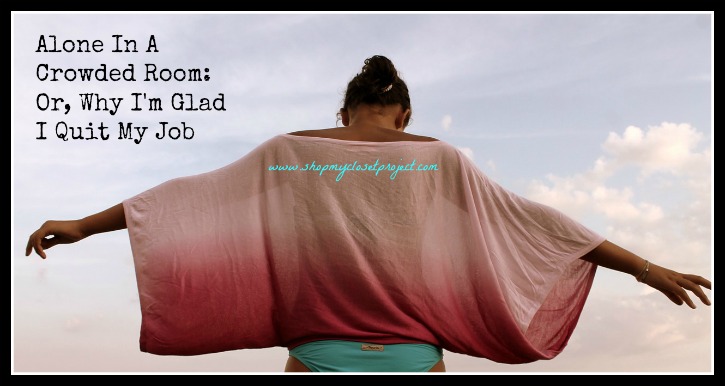 The following two tabs change content below.
I am an obsessive foodie, but not self-righteous with it, love travel, meeting new people, helping you look good, and am freaked out by people who don't enjoying reading...something! Grab a Perrier, read my blog, feel free to drop me a line! Hope to hear from you soon.