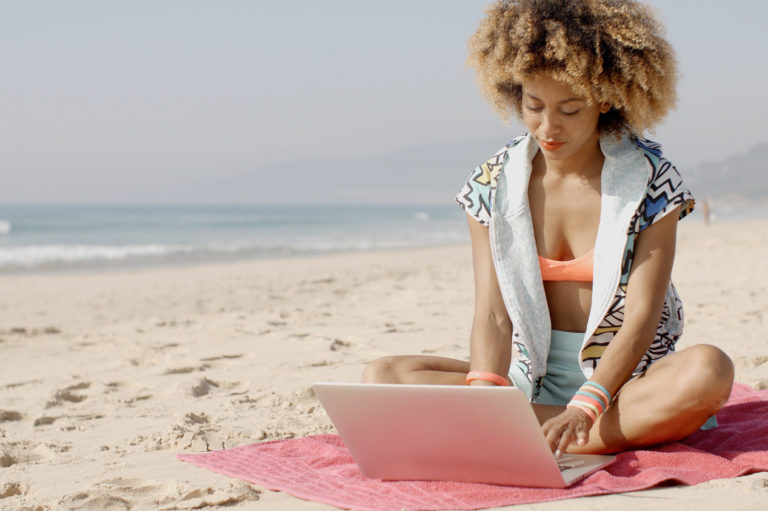 The Importance of Blogging Intentionally To Make More Money
* In order for me to support my blogging activities, I may receive monetary compensation or other types of remuneration for my endorsement, recommendation, testimonial and/or link to any products or services from this blog. Please read my disclosure here.*
For the past 5-years I have hung my virtual shingle weekly. Sharing my thoughts, ideas, and suggestions about all things personal finance. Each week I would go with the flow, use an editorial calendar that was somewhat thought out and then share my posts. I was not blogging intentionally, I was going with the flow.
I was very happy with how things were going. I didn't aggressively monetize my online endeavors but I was able to figure out how to make thousands:
And, in-kind earnings (think…awesome free stuff)
Then, I began to notice something big. A number of my blogging friends were pulling ahead of me financially and as leaders in different blogging spaces. There was one huge difference between what they were doing and what I had been doing for the past 5 years…they were
Blogging Intentionally 
And, I was not. But, upon reflection, I realized that by taking the very action of publishing posts weekly…I had already experienced intentional blogging. The thing is that my intentions have changed. Over the years I've learned how to:
Over the years I've learned how to:
Grow my pages views

…and then I got hit by what I thought was the Pinterest algorithm change. **In retrospect, the issue was that I wasn't writing content that readers were looking for. There was a lack of intention behind my writing other than sharing my various financial stories stories.
Create community

-I had (and continue to have) regular readers checking in for my posts.
How to make affiliate income

-I love making affiliate income. It's kind of addicting.
Maintain and update my blog

-And a ridiculous amount of computer and website related tech.
Grow social media profiles

-It's not as easy as people think!
Create opt-ins

-that help people with different things in their lives.
Record, edit, and improve podcasts

-Yep, I did.
Write successful pitches

so that I could speak at conferences!
Ask for what I wanted

. From both myself and the Universe.
I could keep on working on this list…but, you get the idea. By focusing on my intentions I've learned a ridiculous amount of information that has helped me personally and professionally.
Mid-Year Evaluation
For the past 6-months, I've spent a lot of time focusing on what my intention will be moving forward. What is my next challenge with this blog? Well, I've gotten really clear on what my next challenge(s) will be for the next 12 months. After blogging since 2012, I'm unapologetically owning the fact that I want to make money from my blogging. I've spent years and investing a ton of time, money, and energy learning and refining my craft.
It has taken me awhile to zero in on the right way for me to approach this with this specific website. But, now I'm very comfortable saying: Michelle is Money Hungry LOL! It doesn't make sense in terms of my personal financial goals not to make money in every possible way that I can.
The Goals
Grow my page views

-It pains me to admit this but, I wasn't very excited about my old concept for the past 12 months…especially when my page views took a huge hit. I thought it was the Pinterest Algorithm change…it wasn't…it was my blog content. I've re-worked my content and I've had my highest page views in the past 5 months.
Grow my email list

-This has been challenging for me because I haven't been fully committed to the process. And, I haven't created enough resources for my readers. That's changing.
Grow My Affiliate Income

-Because I have made affiliate income each month to some degree or another, I know that it's possible to do. The shift that I'm working on now is amplifying the amount of income that I'm making. I want to experience the daily "cha-ching" of affiliate income notifications. Fortunately, I have a great resource to help me with this. I purchased Michelle Schroeder-Gardner's Making Sense of Affiliate Marketing course. And, I learned her strategy for growing her passive income. Over the years I spent a lot of time observing and trying to figure out…how she did it! I had a pretty decent idea, but not the whole picture. Glad I got the course.
Earn More Freelance Writing

-Ok, I'm going to be 100% transparent and say that I love writing but HATE the business side of freelance writing…if I have bad clients. I've had phenomenal clients and bad ones. When they are good, freelancing is so freaking easy. When they're bad. Life sucks. So, why do this again? Because I want to make as much money as I possibly can moving forward. I've worked very hard on my underearning/average earning mentality. Basically, I was afraid to push myself…what if I couldn't do it? Yep, it's completely ridiculous. Fortunately, I have my friend Holly's course Earn More Writing. She went from zero to over $250,000 a year freelance writing. Now, writing that much might make me crazy, but, I'm willing to do anything legal to pay off the rest of my debts.
It's Ok
To want to earn money doing something that I love to do. I had to come to terms with that because I felt a certain guilt. But, that guilt was out of alignment with my personal and professional mission: Helping myself and other single women gain control of their money, live debt-free, and grow their networth. Why was I blocking my blessings? I've come to believe that every way that I've learned to how to make and attract more money to me is an opportunity.
And, that I don't have commit to making money in these ways forever. I have the right to change my mind whenever I feel like it. 
Ways to Make Money 
That my blogging platform has opened up to me and that I plan to explore moving forward.
 

Freelance writing

-Again, I enjoy writing BUT the business side makes me crazy when I have annoying clients. Moving forward I will institute a one strike rule with my clients. If they are late (think more than 2 weeks) with a payment twice..they're fired. Because there are an endless amount of organizations needing content out there in almost every freaking niche. If I'm working with enough clients, there is no need to hold onto clients that don't respect me enough to pay on time.  I plan on focusing on four specific niches, so there should be a ton of organizations to help out. 
Sponsored content

-I'm specifically interested in getting sponsorships for my podcasts. And will begin reaching out to sponsors next week.
Public Speaking

-I've already begun doing this, but I haven't done this with the intention to actually make money from it.
Grow My Passive Income

-I love passive income. Seriously. Now, it's time to really work it!
Create Digital Content

-Again, I've already made money with some digital content that I've created.
Coaching

-Because of my experience working at the university, I will admit to being extremely reluctant when it came to growing a coaching business. I resisted, but, I kept finding myself coaching people with crafting their vision for the business. Several of these people are well-known bloggers…who have done really well after working with me on clarifying their business vision or working through a business related roadblock.
Targeted Facebook Ads

-Again, I've created Facebook ads in the past, but without the Facebook Pixel (which helps people get their content in front of the right people). I just added the pixel to my website and look forward to working on this skill.
Unexpected Mentors
Throughout the years I've had a number of mentors who have shared their time and wisdom with me. About how to achieve the goals that I'm focused on. These mentors went from making basically nothing to making life-changing amounts of money. The one thing that I noticed from all of them was that when they got super intentional, they were able to focus on the tasks that ultimately made a difference in their blogging journey.
This conversation could also be connected to the whole idea of Manifesting vs. The Law of Attraction. I'm looking forward to manifesting my future outcomes.
A Word About Timing
I originally shared this post at the beginning of July. There are a couple of reasons why that's significant to me (and ultimately to other bloggers).
July is my birthday month

(this is not the part that would be important to other bloggers LOL!) Anywho, I spent the past couple of weeks thinking about what I would like to have happen by this time next year. I reworked my goals, looked at what was (and, wasn't) working and created an action plan moving forward.
It's

my completely unscientific opinion that going from now until about mid-January

it's a great opportunity for bloggers to grow their blogs with strategic content. Think about what your readers will be looking for from now until January? Publish your targeted and SEO rich content earlier than you think you should and then market it (share on social/Pinterest/etc.) But, in what I've observed watching other bloggers who've grown their blog numbers-the autumn months are a gift!
What are your plans for your blog moving forward? Are you being intentional about what you're doing?
The following two tabs change content below.
I am an obsessive foodie, but not self-righteous with it, love travel, meeting new people, helping you look good, and am freaked out by people who don't enjoying reading...something! Grab a Perrier, read my blog, feel free to drop me a line! Hope to hear from you soon.