Blogger, Virtual Assistant, or Social Media Manager-Is This REALLY a Good "Look" For You?
At the end of 2014 I quit my job and began my journey to self-employment/entrepreneurship. I had spent a lot of time side hustling, watching people grow their virtual businesses, and had provided assistance to clients as well. So, when I set off for my epic adventure in Australia I felt that I had a good idea of what I could offer to others in terms of services. I also had a good idea of where I should look for clients (so I thought) and I liked that there was a low barrier to entry to become: a blogger, virtual, assistant, or social media manager. What I hadn't considered was wether or not these roles were really a good "look" or fit for my personality, would I like Business to Business roles vs. Business to Consumer.
Free Webinar
As a result of my experience and by request of my D.O.N.E. Society Facebook Members I am running a free webinar on Wednesday, March 30, 2016 at 7:00 p.m MTN titled:  Blogger, Virtual Assistant, or Social Media Manager: Is This REALLY a Good "Look" for You? Sign Up Now!  We'll talk about blogging as a profession at the end of this post
Business to Business (B2B)
Let's take a few minutes to talk about B2B vs. B2C and what you need to consider when figuring out your digital business model. To be honest, no one ever said to me "Michelle-being a virtual assistant or social media manager is a B2B model of business and that there are certain aspects of that you should consider.
Um, like the fact that I was running a business providing services to other businesses and how we established my role in the beginning would make all the difference to how the other business perceived my value in the transaction. I'm sad to say that because I didn't assert my role as a BUSINESS owner in the beginning of our transaction I was perceived as an employee and it led to me feeling like I had a boss again and feeling continuously frustrated when we needed to talk about important issues.
There is an entrepreneurial mindset that I hadn't tapped into because I was still kind of bemused by the fact that I was my own boss. For realz!
There was no denying that I had the skills to do the tasks that I was contracted to do for these organizations but I soon learned the importance of:
Enthusiasm for said niche
Clarity on your role as you interact with other businesses
Your temperament-yes, your personality and how it affects interaction with your clients.
The need for a contract-I did have contracts for all of my clients but last year made it clear why I needed to initiate conversations that established and validated my role to the person that I was working with.
Asking myself-am I serving the right clientele?
Virtual Assistant-What Do they Do…Really?
The short answer? A little bit of everything and it depends. The VA's role is really determined by the client that they are working with. Notice that I said with not for. Virtual Assistants can do tasks ranging from:
Managing Logistics
Scheduling
Making calls
Email management
Data entry
Podcast editing
Customer service related tasks
Newsletters
Editing
Event management
The list of projects that you can work with a VA on is endless. Part of the reason why I love the digital economy is that most people have the skills needed to become a great VA. But, not everyone should be a VA.
Also, in a market that is saturated with VA's how do you stand out? And get noticed in a field of many?
Social Media Managers (SSM's) 
Seem to be all the rage and with good reason. Businesses with online presences are better positioned for potential clients to find. Inc.com reported that a Redshift Research Survey (commissioned by GoDaddy) found that half of businesses aren't online. This presents both an opportunity and conundrum for would be Social Media Managers: you could work with businesses that are making the transition towards an online business and provide guidance during the process (opportunity). Conundrum-getting business owners to  understand the value of an online platform. Finally, would be SSM's need to have an ongoing understanding of the role of social media in building an organization/brand's platform.
Tasks could include:
Teaching your client how to use different social media platforms.
Creating a strategic long-term plan that utilizes social media. It's not just about posting quotes.
Creating content or working with your client on sharing content.
Deciding which social media platforms your client should be participating on.

SnapChat
Twitter
Pinterest
Blab
Periscope
Facebook Live/Mentions (if you're famous LOL!)
Facebook
Instagram

Creating a social media campaign with a specific outcome in mind
Solving problems related to external branding
The point is Social Media Managers don't just post "stuff" all day.
One Year Later
It's a year later and after working the Business to Business model I've come to realize that it was not a good fit for my personality or my skills. And I've come to realize that these models of business aren't a good fit for everyone.
I've since switched to a Business to Consumer model of business offering Strategic Coaching for individuals  who are working towards digital entrepreneurship and self-employment. I want to to help people avoid the mistake that I did my goal is to help people:
Identify and work the right model for your personality
Create a business plan
Focus on your client funnel so that you always have leads coming.
And, most importantly be excited about and stoked to do the work that you're doing.
By the way, I have friends who offer B2B services as well as friends offering B2C and most of them figured out the right model of business after some trial and error.
What's a Good Look For You?
Business wise? Hang out with me on Wednesday, March 30, 2016 to find out.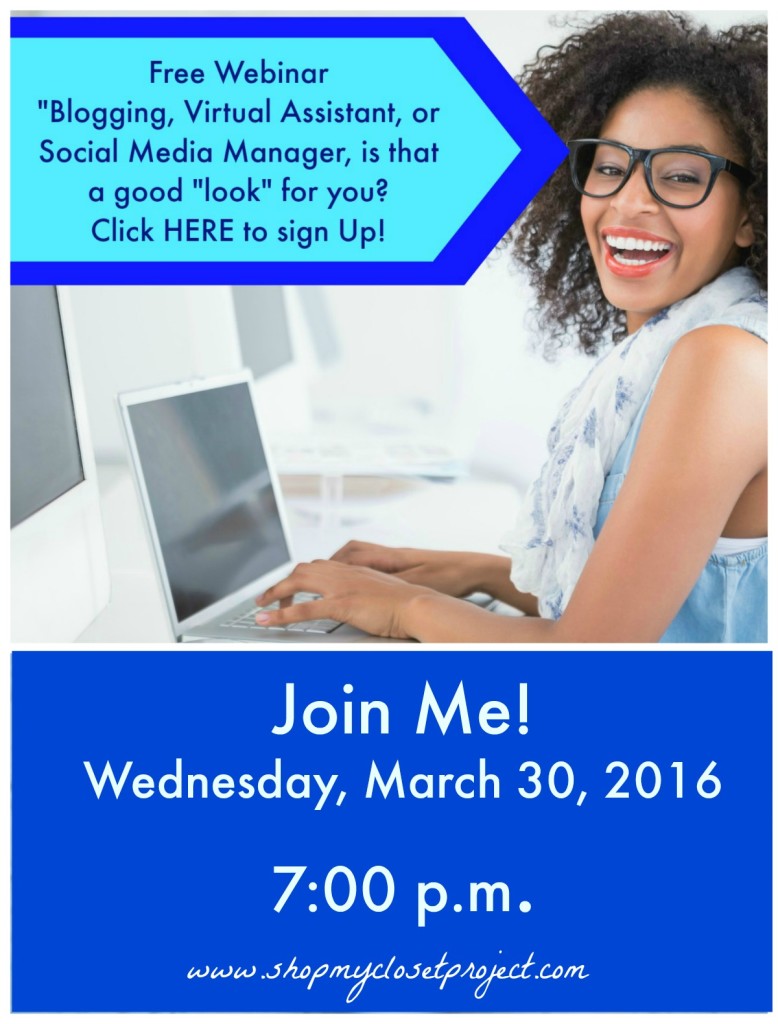 The following two tabs change content below.
I am an obsessive foodie, but not self-righteous with it, love travel, meeting new people, helping you look good, and am freaked out by people who don't enjoying reading...something! Grab a Perrier, read my blog, feel free to drop me a line! Hope to hear from you soon.