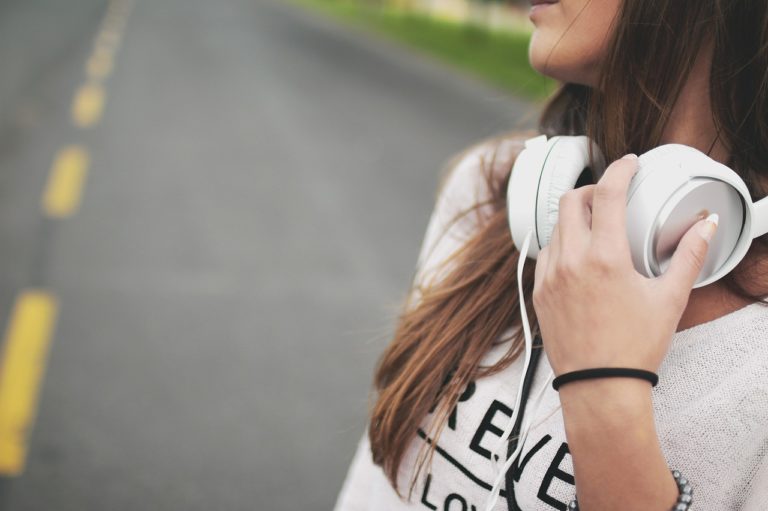 How to Start a Podcast for $5
* In order for me to support my blogging activities, I may receive monetary compensation or other types of remuneration for my endorsement, recommendation, testimonial and/or link to any products or services from this blog. Please read my disclosure here.*
When was the last time you listened to the radio? If you're like me, it has been a long-time since you messed around with the radio dial trying to get the perfect frequency that wasn't too staticky and wouldn't fade out. I don't listen to the radio anymore because I love listening to Shopify and podcasts. Wondering how to start a podcast? Read this post and learn how!
What's a Podcast?
In the past couple of years, you've probably heard people talking about listening to podcasts. Podcasts are basically a wonderful addition to all of the ways that regular everyday peeps, businesses, non-profits, and yes, even the government, can communicate directly to the people that they are trying to reach.
A podcast, put simply, is similar to a radio show. The difference is that podcast can be created and produced by anyone from anywhere. 
Why podcast?
If you are a thought leader in your field, you may want to create a podcast so that people who can't meet with you in person, can hear from you and connect with your message or information a lot more easily.
You may want to share ideas, information, resources, or products that you create.
Podcasts allow you to own your messaging because you own, create, and distribute your own content.
Typically, there is NO middle man for most podcasts (depending on how you set up your show).
Connect with amazing and interesting people and share what they are working on.
Opportunity to earn money.
Podcasts are the easiest way for people to "meet" you online. They can listen to your show while doing almost anything:

Exercising
Driving
Showering
Cooking
Hiking
How to Start a Podcast
For only $5 a month! Ok, before I share my tips, I will say that veteran podcasters will most likely disagree with my advice and will tell you the following:
Investing in good equipment when you first start is key. I say-not true.
You need at least $100 to start. Again, I say spend less.
Sound quality is everything. Well…yes, and no.
The truth is this. Building the habit of podcasting is the hardest part of podcasting. I don't want people to invest in equipment, etc. And then find out that they hate podcasting.
What does the habit of podcasting include?
Pitching for interviewees
Following up with interviewees
Creating show notes (because many listeners refer to them later)
Editing your show content
Sharing episodes when you say you will (this one is hard in the beginning)
Troubleshooting tech issues.
Marketing your show. This could include: being interviewed on other podcasts, a well-thought out social media strategy, or collaborating with your interviewees.
The Tips and Tools 
You will need to start your new podcast.
Free Conference Call (www.freeconferencecall.com)-Basically, you and your guests will call into this service. You will record the conversation. Once you're done, Free Conference Call (dot) com will create an mp3 file that you can download.
Audacity-This is a free audio editing software that is pretty easy to use. Refer to YouTube for different videos that you can watch to learn the ins and outs of editing different parts of your show.
Libsyn-This is where you will spend the big bucks! Libsyn is the place that you will upload your edited podcast episode. Libsyn is a "host" for audio content. Basically, think of it as your podcast's "house" Pick the $5 hosting option.
Keep it SIMPLE. In the beginning of your podcasting journey,  you should keep it as simple as possible. In fact, I made the mistake because I made it super complicated. I tried to do more than one podcast (I was basically running three totally different shows)  and I had no systems in place.
In the Beginning
In order to keep things as simple as possible. Do the following:
Batch your interviews. Basically, try to get all of your interviews done well before you launch.
Have 3-4 shows edited and scheduled in Libsyn BEFORE you launch (note-in Libsyn you can pre-schedule the release of each show)
Set achievable goals. If you know you're too distracted to share an episode a day (I tried to do this) then don't set this as your goal. You want to succeed and then you can change your process with each success.
Interview your guests in the quietest space possible.
Join a Podcast Meetup Group so that you can learn about the podcasting listening experience from the listener perspective (will change how you edit and create your show).
After awhile
Once you've gotten the hang of podcasting, developing good content, and sharing your shows begin the process of upgrading your technology.
At that point you will look at:
Switching from Free Conference Call (dot) com to SKYPE Call Recorder and Zoom (my two favorites)
Microphone windscreen (to eliminate wind-related background noise)
Building a podcasting box for better audio (this is the box that I built)
Other audio related content
 About Sound Quality
Please be clear that using this initial low cost set up will affect your sound quality. If you were recording with a nice microphone, etc. the sound will be much more pleasant to the ear. That said, if you continue to improve your show's sound quality and content…people will listen. I recorded some great episodes with some pretty cool people before I had the set up that I do now. I have interviewees who tell me that people heard about them because of the podcast episode that I recorded with them way back in the day on my frugal setup.
As you learn the craft and put in the work you will naturally end up wanting to improve the quality of your show. But, if you end up deciding that this was not for you, then you only invest $5 and some time.
Get Your Free Guide Today!
The following two tabs change content below.
I am an obsessive foodie, but not self-righteous with it, love travel, meeting new people, helping you look good, and am freaked out by people who don't enjoying reading...something! Grab a Perrier, read my blog, feel free to drop me a line! Hope to hear from you soon.