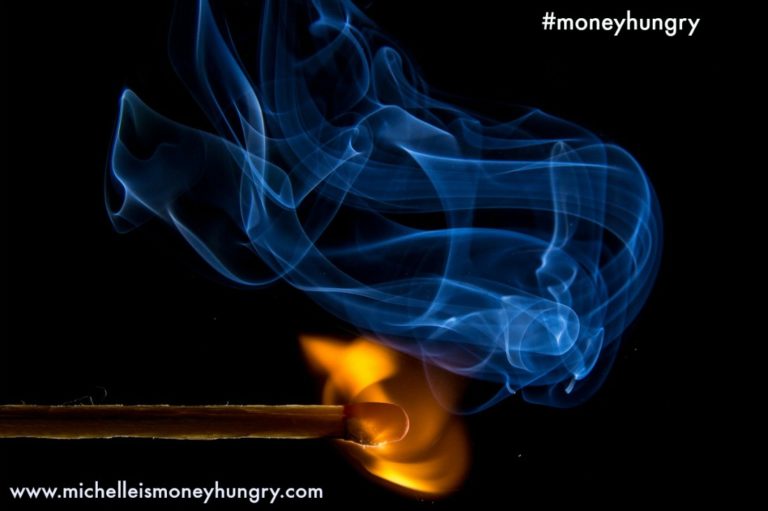 GGF Reflections on 2017
* In order for me to support my blogging activities, I may receive monetary compensation or other types of remuneration for my endorsement, recommendation, testimonial and/or link to any products or services from this blog. Please read my disclosure here.*
Episode Outline
I will be honest and say that I was a bit leery about doing a 2017 recap because I would be perfectly happy re-enacting the When Stella Got Her Groove back scene and setting all the leftover sh$t on fire. BUT, I'm better than that LOL
But, I do think that it's important to objectively look back at the year and get a gage on what did and did not work so that you can focus on growing your successes and avoid (hopefully) making past mistakes.
Want to Send Video Emails?
Check out my favorite business tool from 2017! I began sending video emails as a high-impact way to connect with people that I meet:
People that I would like to collaborate with
Email me at: michelleismoneyhungry@gmail.com with the following in the subject line: BombBomb Demo GGF. Don't feel like emailing? Click the following link to check it out!
Listen to the Show
*There is a weird clicking sound that happens occasionally throughout the show. I've never had this happen before, but it does not surprise me that it happened during a recap of 2017.

January
Started off with a bang. After a contentious Presidential race we had the inauguration. I proceeded to have 6 weeks of debilitating migraines. Hmm….In between protesting, WTH? And experiencing a constant state of of WTF? It was not the way I wanted to start my year.
Unfortunately, this lack of productivity was a harbinger of things to come.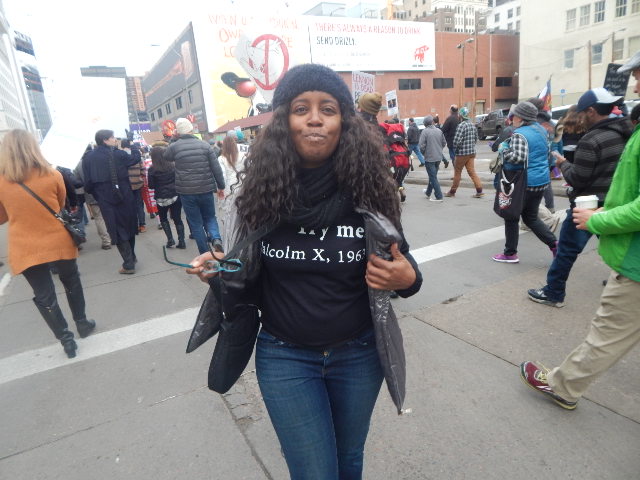 Want that t-shirt? I found a similar one on Amazon-here's the link.
NOT my cutest picture, but for some reason I love it LOL!
February
Finally, I began recovering from the migraines and started thinking about quietly rebranding my website. Who knew that this would be a great thing to do…that would also delay some of the business goals that I had set for myself.
March
Meh…but, I finally got a plot in the Community garden that is within walking distance of my home. After being on the waitlist for 5 years.
April
My friend Tonya from Budget and the Beach visited for a few days and then I attended the first of 6 conferences that I would attend in 2017. I did not love that conference and was very happy that I didn't have to pay to attend.
I would soon learn that not all conferences are created equally.
I finished my low-key blog rebrand and was extremely happy with the results. No more The Shop My Cupboard Project-Michelle is Money Hungry was born.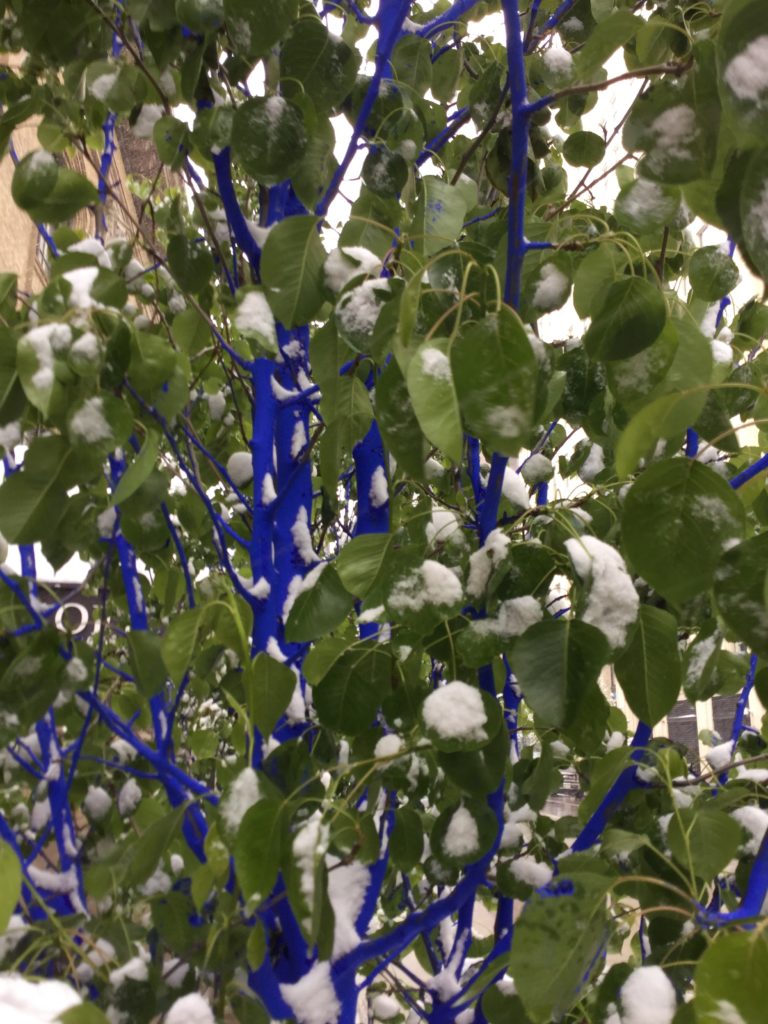 The trees were painted blue for an art installation-no harm to the trees.
May
Weather shows its face.
Crazy hail storm (most expensive in Colorado history)

Snowstorm…
Attended another surprisingly mediocre conference. Lovely location, great food and events…the content. Meh.
I finally ran that ½ marathon that I had been on my list for the past 5 years. Did I mention that I never trained? I just ran it and didn't have a heart attack.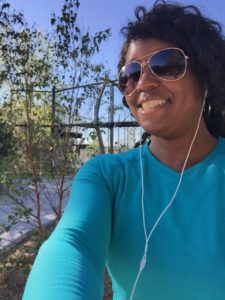 The race went through the Denver Zoo. There are tigers in that enclosure, but I think I was too tired to focus LOL!
June
I finally planted my garden. And would soon learn "What isn't tended won't grow" I also did the Manitou Incline-which ended up being harder than the ½ marathon.
Here is the link to my Manitou Incline podcast episode on my other show Square State.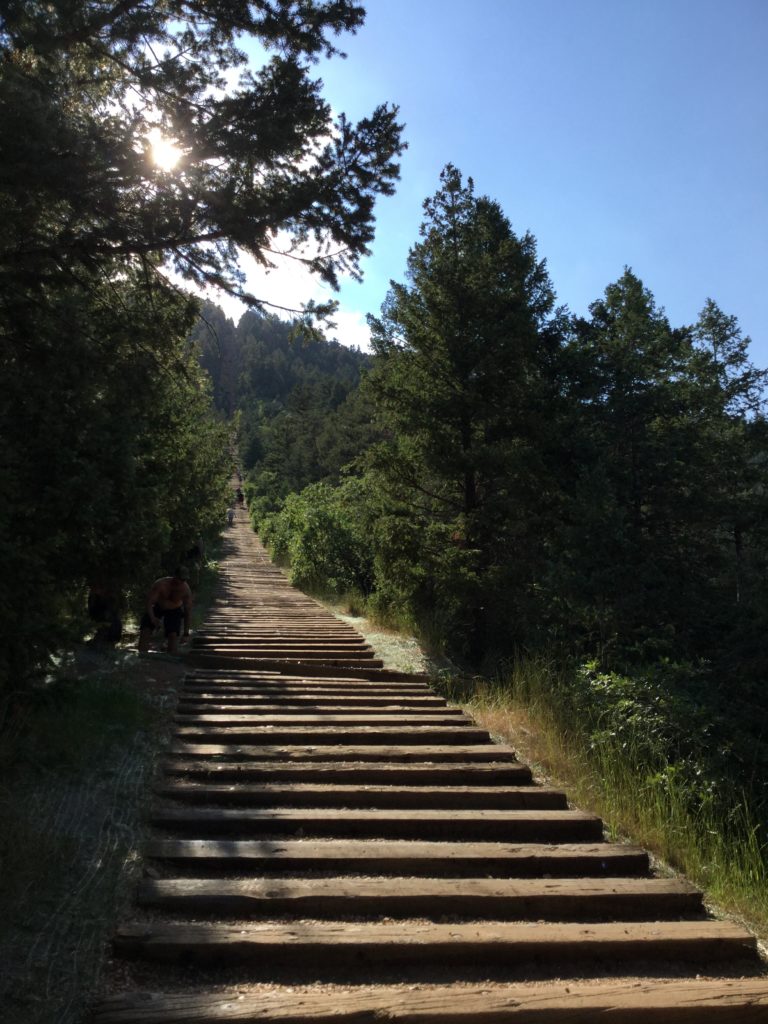 Small section of Manitou Incline
July
I attended a reunion for UWP. I was so happy to see these wonderful people who have been in my life for years. UWP is an international intercultural program that has participants travel around the world.
August
Lola Retreat-My friend Melanie Lockert from Dear Debt and Emma Patte put this wonderful event together and it gave me the excuse to finally go to Portland. It IS a weird, beautiful city with great food.
The F.I.R.E. panel was fantastic and I've invited one of the panelists, Sylvia Hall, to be on Girl Gone Frugal (again). We've already recorded the episode and I can't wait to share it!
I then went to Seattle and experienced the solar eclipse. The only negative: the guy who had taken bath salts and was foaming at the mouth.   Then, I headed to Anaheim, California where I planned on attending Podcast Movement.
Podcast Movement was fantastic and I was thrilled to run a panel on how to monetize your show. If you're interested in trying out podcasting check out the following post and resource on how to do it for $5 a month. 
I decided to check out business coaching and LOVED it! I was very fortunate to participate in the first iteration of Amanda Abella's group coaching program and even though we had to deal with hurricane craziness and life in general-it was a fantastic experience.
A friend of mine lost a baby and it  was heartbreaking.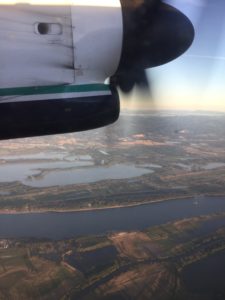 September
I attended one of my favorite events of the year: Denver Start Up Week. Absolutely fantastic, I got to hear Charlie Ergen (CO's richest citizen) and Mark Cuban discuss "all the  things" The kick off keynote speaker was Casey Neistat who I absolutely love. This event is totally free and they even fed and liquored us up.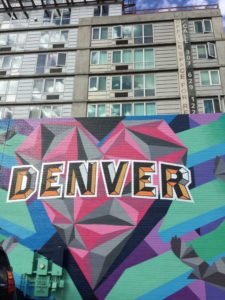 October
I attended one of my other favorite events of the year: FinCon (in weirdly cold Dallas). As is usually, I had an incredible time and met the goals that I set for that event.
Broke my brand new MacBook Pro 
A relative very dear to me was diagnosed with cancer 🙁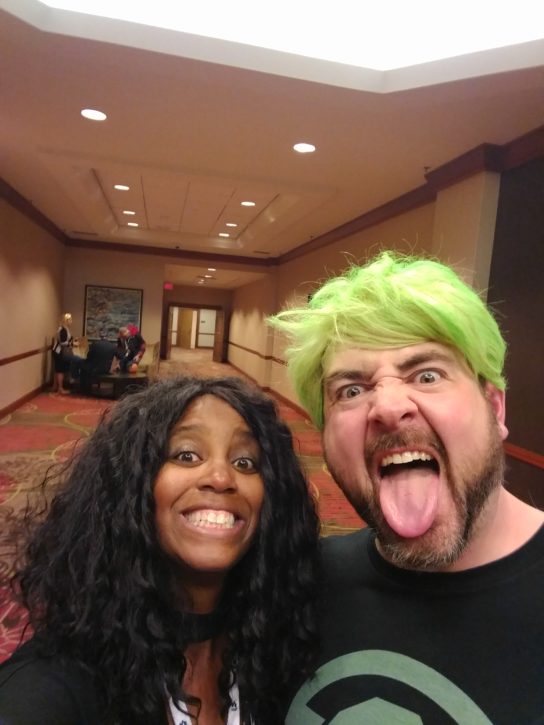 One of my favorite pictures of the year. Thats Philip Taylor, founder of FinCon…as Hipster Hulk at the after party
(it was Halloween weekend)
November
The year basically caught up with me and I began to realize that I might, just might be be dealing with depression (and exhaustion) because I was.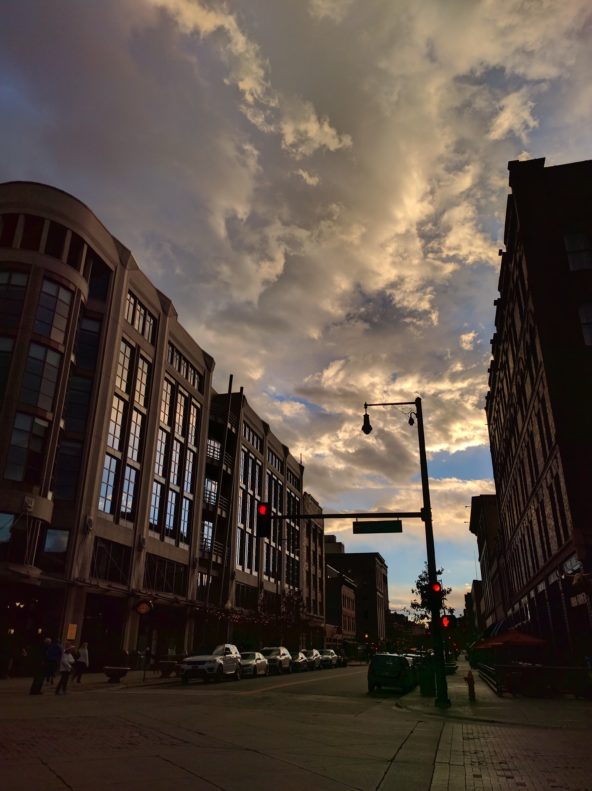 December
I decided to do a Social Media Fast and it was GLORIOUS!! 
The Low Lights of the Year
There are so many that I was overwhelmed by them. But, I will say that I was frustrated with how my business stalled out.
I didn't lose those pesky 30 lbs (not surprising with all of the travel I was doing)
I felt incredibly unfocused
I felt my goals were too easily achieved
The Highlights
I paid off $12,000 in debt. I averaged around $1,000 a month and am now dealing with 5 creditors. This is huge considering that when I started I was probably dealing with around 20-30 creditors. The amount of distractions in my life as a result of debt has dropped to the point where I'm thinking that I'm about 2 years away from debt freedom (including mortgages). This is huge. I'm on track to pay off another bill in January or early February
Running panels for both Podcast Movement and FinCon. At the time that I pitched these panels I felt like it was such a big reach…until the panel was given the green light for both events.
Running the ½ marathon and doing the Manitou Incline
Observations:
I attended 3 too many conferences. They ended up becoming very disruptive and I was unable to focus…And, I should mention the intervention
I found myself being constantly available to…everyone. This did not serve me well because I was unavailable to myself and because I was constantly supporting my friends'

Livestreams

Webinars

Courses
I was unable to focus on creating my own Livestreams, Webinars, Courses, and more.
In fact, I'm completely unable to travel and grow my business. I have friends who can do this…but, they tend to have already built their business and have really good systems in place (which I didn't until now) With the exception of visiting family next year, I have very little travel on the docket. Don't feel sorry for me-I've traveled more in my lifetime than most people in America
Social Media

Triggered my depression

Kept me constantly distracted
I'm really glad that I took the time to listen to my body/mind and take a break from "all the things." It was so helpful that I've scheduled social media fasts throughout the year. In observing what went well and what didn't, I think there are some fairly straightforward tweaks that I can do to get momentum going in 2018 for my business.
The Intervention
A friend of mine asks me if I have the following problem…ADHD (adult onset). She noticed that I was having problems with focus. It was a great assessment tool and has made a huge difference in my ability to focus.
2018
I am sharing a short podcast/blog post series called "The Foundation" this week. Covering the following topics:
How to set goals for the upcoming year
How to Choose a Word for the Year and Not Forget it
Creating the Best Vision Board for Your Year
Setting Financial Goals that You Can Achieve-including earning more and debt-repayment
The Importance of Creating a Money Manifesto
Picking the Right Conference to Move Yourself and Your Business Forward
Why Networking Has to Be On Your To-Do List
Book You Need to Read-NOW!
I plan on talking about this book quite a bit in 2018, but, if you haven't read "Overcoming Underearning" by Barbara Stanny-grab a copy NOW.  Do not let January go by without reading this book and doing the work within the book.
Grab YOUR Copy Of The Unapologetically Money Hungry Manifesto Today!
The following two tabs change content below.
I am an obsessive foodie, but not self-righteous with it, love travel, meeting new people, helping you look good, and am freaked out by people who don't enjoying reading...something! Grab a Perrier, read my blog, feel free to drop me a line! Hope to hear from you soon.