Just Call Me Ismael-Passive Income is My Moby Dick
I am one of those blog readers who loves to read other blogger's monthly earnings reports. I wait for them with baited breath and then I spend time going through the line items as if I were an archeologist on a dig. Searching for the tiniest clues to see how I too can start earning passive income.
I should say that there are parts of my life where I have the potential to earn passive income. I have a retirement savings that is growing on a daily basis, I have a home with a pretty low mortgage that I would like to rent out in the next two years and earn rental income.
When I began blogging I never thought about making an income from it. In fact, the possibility of doing that was the furthest/farthest thing from my mind. I just loved the process of sharing, writing, and building a community of wonderful readers. Because of your support I've made some huge changes in my life. If you would like to start your own blog click here.
As time went on the idea of making income from my blog became more and more appealing. But, I had no idea (or the readership) to make that happen. So, I started working on this project.  I've done a ton of research, looked at what other bloggers have done, actively worked on growing my readership, and committed to the process.
Just Call Me Ishmael
If you've never read Moby Dick or watched one of the many movies, you'll know that Ishmael is the only survivor of Captain Ahab's obsession with finding and killing the "Great White Whale." The Captain basically destroys himself in his quest to kill the whale (and everyone else).
I've spent a lot of time thinking about the best way to monetize this blog. When I started blogging I never had the idea that it would even be possible for me to make money actively from my blog. I was just sharing my story and letting the readers come along for the ride.  I didn't want to harm my blog by aggressively monetizing it, but I did want to accept the challenge of figuring out how to make money passively.
With that in mind I spent a lot of time over the past year researching, thinking and figuring out the best way to monetize and I figured out a way that is comfortable for me and hopefully not jarring to my wonderful readers.
In case you're wondering, I actually began actively focusing on monetization at the end of September/beginning of October.
Focus on Value
And, continue sharing my story. I noticed that when some sites switched to monetization they:
Stop sharing their story. Isn't that why I'm coming to your blog?
Have pop ups-EVERYWHERE. I can handle one discreet pop up (my bar at the top) but that's about it.
Are too hard hitting with their sales pitch. It makes me crazy.
I want to share the services, information, and guidance that I've actually used that have changed my life. I want to continue telling my readers about my successes, failures, and everything in between. I don't want to get lost in the process and that is why I spent so much time thinking about the best way to approach blog monetization.
The Editorial Calendar is Key
I've also spent a lot of time working on my editorial calendar. I'm trying to make sure that there is a balance in what I'm writing and that I'm not oversharing all of the amazing tools and information that I've found out about on this stressful journey that I've been on. I want to share about my dating woes, my savings struggles, my debt, and the reality of growing an online business.
I would like to be honest and upfront with my readers that I am on the search for ongoing sustainable passive income and that I'm keeping in mind the integrity of my site and the importance of my story. As I figure this out I will also share my experience so that you, too, can grow your blogging income (if you're a blogger).
October Passive Earnings:
$105 Google adSense-First time I received a payout
$120-ThredUp.com-Amazing online thrift store. Just received my first Coach bag using my credits. It's a satchel for carrying my laptop, etc. Excellent condition.
$38.61-Affiliate Network (no payout until it hits $100)
Total-$263.61
I don't expect to make substantive earnings until after the New Year. Progress has been slow also because I've attended 3 conferences this fall (September/October/November) I'm very excited to stay close to home after this upcoming conference (will also visit my grandma!) In order to do the things that I'm trying to do I need time and I need to be focused. The travel has been affective, but I'm finding that I'm having a lot of difficulty staying focused because I can't develop a routine. That's a blog post that I'm sharing later today.
Just call me Ismael. I will keep working hard to earn passive income from this blog. I'll keep you posted as I work on this process!
Bloggers, Have You Dealt With The Monetization Process?
How Did You Manage It?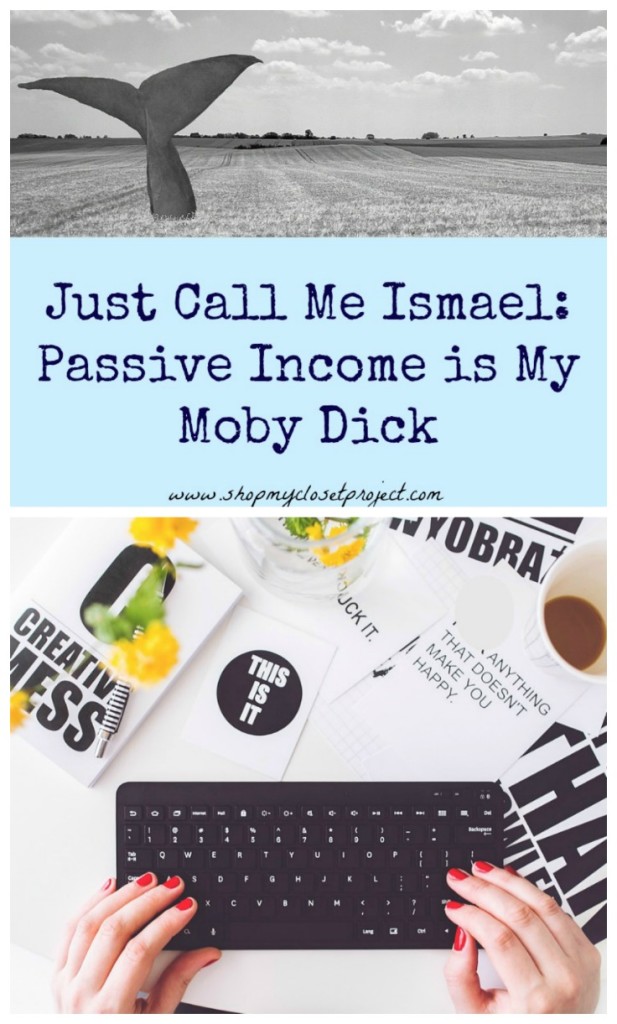 How did I get into freelancing for myself? I started a blog, I changed my life, and imagined more for myself. It hasn't been easy but I'm making it happen. If you're interested in starting a blog check out my post on How To Start A Blog, Change Your Life, and Find Your Tribes. I use Bluehost and if you click on my affiliate link you can host your blog for $3.49 a month. See How You Can Set Up a WordPress Blog in 15 Minutes 
Please note: I may receive some compensation if you use purchase a package through this link
The following two tabs change content below.
I am an obsessive foodie, but not self-righteous with it, love travel, meeting new people, helping you look good, and am freaked out by people who don't enjoying reading...something! Grab a Perrier, read my blog, feel free to drop me a line! Hope to hear from you soon.