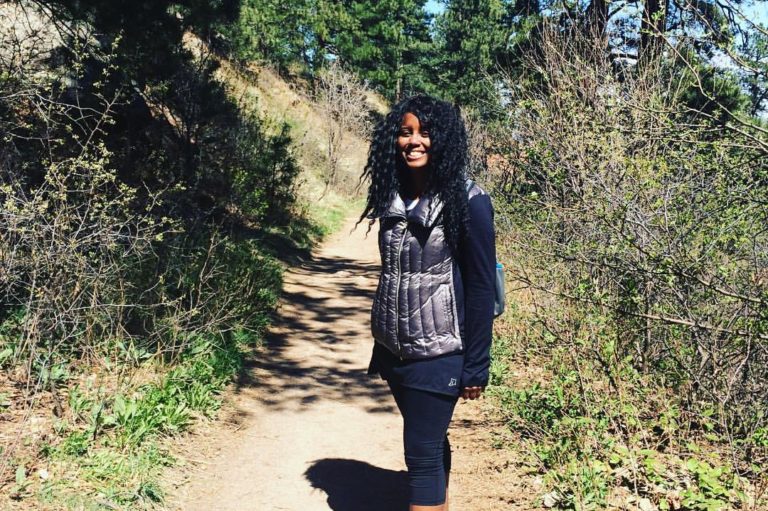 Michelle Is Money Hungry
* In order for me to support my blogging activities, I may receive monetary compensation or other types of remuneration for my endorsement, recommendation, testimonial and/or link to any products or services from this blog. Please read my disclosure here.*
I began seriously blogging about personal finance in 2012. I had discovered the world of personal finance blogs and loved reading stories of people getting out of debt, transforming their lives, inspiring other people, and, in many cases-making more money than they had before.
Little did I know that making the decision to blog about money and share my story would change my life so profoundly. When I first started blogging about money I was:
Depressed
Suffering anxiety attacks
Broke a tooth because I was clenching my teeth at night
Had gained 50-60+ pounds
Was losing my hair
Suffering from migraines.
Something had to change. I knew it but I just didn't now how to go about changing my life. Everything was so out of control and, in retrospect, maybe that was why blogging appealed to me: I could be in control of one small thing-sharing my story.
The First Five Years
Simple living appealed to me, and at the time a ton of people were doing:
Extreme No Spending Challenges
Wearing the Same Outfit for a Year
With that in mind, I picked the name The Shop My Closet Project and thought that people would totally understand what I meant. My tagline clarified everything (so I thought) "Loving what you have, using what you've got, and living your best life."
No one understood the concept. Seriously, once a year someone would say "I totally get it!" And, then, the other 364 days of the year no one got it.  
As time went on and I learned new things about money, debt-freedom, earning more, FIRE, and the list goes on, I realized that by sharing my story I was doing something that was…bigger than me.
I met a ton of people who were in the same boat that I was-trying and struggling to get ahead. I met people who had triumphed over horrendous life experiences that were made even worse, or in some cases better, because of their financial situation.
No Longer Alone
I learned that I wasn't the only one who had unexpectantly ended up supporting family,  and that my story was actually a pretty common one.  I attended FinCon (a conference for personal finance geeks) and became a part of a community that was filled with people who had tasked themselves with changing their lives and supporting other people who were doing the same. It was intoxicating.
I've Changed
In fact, I have to admit that I continue to be amazed by the people who don't change after years of writing introspectively about their money mistakes, triumphs, and lessons.
I stopped accumulating debt

and it has been 2-years since I've used credit cards. I'm not anti-credit cards for other people…just, for myself. As a result of this change, I've discovered financial self-discipline that has enabled me to purchase the things and experiences that I want with cash.
I learned to embrace my fears

-I learned to drive as an adult. I was quite nervous about it because people drive like a@@holes in Colorado (they are super sweet people…until they get on the road).  I was worried about the cost and refused to get a car loan. I was already in a financial mess, why on earth would I get an additional loan? Fortune smiled on me and my friend sold me her car for $1500. I love that car. It currently has 140,000 miles on it as of this week and I will take it in for a tune up. In fact, I love that car so much that I will drive into the ground…even as my income goes up. It's in great shape and affordable.
I began speaking at conferences

and recognizing that even though I'm in the middle of my financial journey that I had a lot of wisdom (and expertise to share). So, I did.
I've almost paid off all of my credit cards

and am thinking that I should be finished with that process before FinCon.
 I became

self-employed then did a pivot to entrepreneurship

. Yes, I think there is a difference.
I finally ran/walked that freaking half-marathon that I talked about for YEARS. It was one of the most intimidating and intense physical experiences that I've ever had and the endorphine rush (and the mental wall) are real things.
I believe that I am capable of doing anything that I put my mind to.
Time for a Change
After 5 years of blogging as The Shop My Closet Project I no longer got excited about the tone  or content on my site. I wanted to express and share the wisdom that comes from a five year financial journey…but, in a completely different way. It was time to move on from the name and energy of The Shop My Closet Project, to something that expresses where I'm at today.
Michelle Is Money Hungry 
Is the new url/domain for the website. Last week Grayson Bell from iMark Interactive made the change for me (he's awesome if you need help with blogging technical stuff). And, I am so relieved. It feels like a fresh start.
Who is Michelle is Money Hungry geared towards?
Single women who want to get their financial sh$t together. Ladies who are unapologetic about the fact that they would like to accumulate as much cash and investments as possible: but may not have the community, tools, and knowledge to confidently change their money world.
Single women (older Millennials and GenXers) looking to better their financial situations.
Not naturally frugal? I've got you! I want to share the tips and tricks that I've learned throughout the years so that I could have the same quality of life for a lot less (or free).
The blogging and podcasting curious. Are you interested in how blogging and podcasting can potentially change your life? I will share my insights.
Want to spend less on groceries but not eat crap? I'm a foodie and will be sharing recipes and ideas on how I eat naturally/organically for $150$250 a month depending on the time of year.
Love to travel but aren't a credit card hacker? I've traveled all over the world and almost all 50 states. I've traveled both using credit cards and cash and will share my insights.
Looking to be social on a budget and don't want to become a recluse while paying off debt? Let's talk.
Looking for ways to make more money? I've worked tons of jobs and side-hustles and can't wait to share my lists.
Want to get fit for less and still take fitness classes? I will talk about that too.
I've learned in the past 5 years that the frugal life can happen in a lot of different ways. And, I'm unapologetically money hungry because I've already done broke and it sucks. Michelle Is Money Hungry is a nod to the fact that I want to be ridiculously rich in my lifetime. Preferably within the next couple of years.
I'm honest.
I want to be rich. Like every song that you've ever listened to talking about money. Because rich people can:
Pay off ongoing expenses like a mortgage.
Change the world…without losing their minds over money stressors.
I don't want any more stuff. I have plenty. All I want is my freedom. That's it.
The Next Couple of Years
I am now 100% focused on helping others and making money as ethically as I can. I feel no shame, awkwardness, or discomfort in admitting that I will be focusing on income growth from now on. Because, why shouldn't I? Will tell you how it goes.
Let's Get Social
Listen to my podcast Girl Gone Frugal (again) as I talk to cool people about money.
Follow me on Instagram at: michelleismoneyhungry
Follow me on Pinterest at: Michelle is Money Hungry
Follow me on Twitter: @MichLovesMoney
If you're trying to free up cash, spend less, or prioritize your money towards what's important:
Debt-repayment
Investing
Savings
Etc.
Take the 5 Days to $500 Challenge today! You will receive 5 days of straightforward tasks to help you find, free up, and save your money. No need to hoard ketchup packets, or stop going for coffee.
The following two tabs change content below.
I am an obsessive foodie, but not self-righteous with it, love travel, meeting new people, helping you look good, and am freaked out by people who don't enjoying reading...something! Grab a Perrier, read my blog, feel free to drop me a line! Hope to hear from you soon.