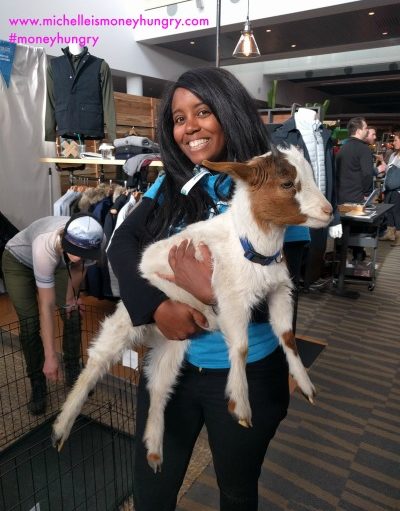 What Season Is Your Money Currently In?
Many people think about the seasons in their lives. They may be in a season of love, happiness, sadness, etc. But, many people forget that their money also exists in these seasons as well. At the end of 2017 I decided that 2018 would be a season focused on growing my income. Like, truly growing my income. For awhile I had begun to notice that my mindset had experienced a profound shift.
The shift actually surprised me because I had been dealing with a huge money related issue for my entire life. And, this shift signaled a change to come.
* In order for me to support my blogging activities, I may receive monetary compensation or other types of remuneration for my endorsement, recommendation, testimonial and/or link to any products or services from this blog. Please read my disclosure here.*
I Want to Make More Money
And, I finally, finally believed that I was worthy of great financial wealth. This change was huge because I've dealt with underearning for so long. For the longest time I felt really guilty about wanting to make more money. I also had to fight against the idea that I couldn't meet my financial goals.
The thing is I've actually achieved the following:
Paid off thousands in unsecured debt. In fact, I paid off $12,500 in debt last year.
Learned how to support myself without a 9-5. I will say that from 2015-Mid 2017 I would have considered myself a self-employed person. Now, I'm an entrepreneur
Helped other people make more money!! I encouraged several people in making decisions that helped grow money in their wallets. So, why couldn't I do the same with my own wallet? Clearly, I give some good advice!
What Earning More Isn't
I realized that I had some mindset shifts that I had to make before I could actually make earning more happen.
I had to understand that earning more wasn't a commentary on what other people in my life were earning. Or, their financial decisions.
I understood that, while I was enthusiastic about earning more money, there are people in my life who will react negatively to this enthusiasm. NOT, because they don't believe in me…but, because they can't imagine themselves growing their income.
Greed-

I'm not freaking greedy. I'm just very aware of the power of earning more money. I keep thinking about all of the people that I can serve when I grow my income the way that I'm imagining that I can.

Giving out scholarships
Helping people with their debt
Retiring my mom
Paying off. All.the.things.
The reality is that now that I've cleaned up a huge part of the financial mess that I was dealing with for years-I now have the energy to focus on growing my income.
7 Debts Left
I have 6 freaking debts left, 7 if you include my mom's mortgage (and I am). In fact, one of the credit cards listed below should be paid off in the next 4-6 weeks (hopefully sooner)
Confidence Has Connected With Knowledge
Finally. The past couple of years I have failed a lot. In fact, given the sheer number of failures that I've experienced, you're probably surprised at how freaking fired up I am to tackle my goals in 2018. Well, I tell you what happened. Each time I failed at a goal I learned the following:
A lesson

-I learned a lesson about what didn't work.
Moxy

-It takes a certain amount of boldness to try things that are outside of your comfort zone. Since the beginning of 2015 I've done the following:

Traveled to Australia and Hawaii without an idea of how I was going to make self-employment work.
Paid of thousands of dollars in debt on income that was all over the place.
Learned new professional skills
Began a podcast
Started speaking at conferences
Met a ridiculous number of incredible people
Made income in various ways with my blog
That the journey was just as important as the result that I was working towards.
With each "failure" I built up the callous needed to focus on some of my more audacious goals. Like earning epic passive income. I love passive income. I love waking up and seeing that I've received some cash in my account. I love passive income. So, in 2018 my goal is to grow that income. Because, passive income has always been my "white whale."
Tomorrow I'm going to share my blog income for January and when you see that tiny amount you're probably going to think "that's a pitiful amount." And, I would agree, but that amount doesn't tell the whole story.
When I started this post asking about the season your money in it was to help you gain clarity on the fact that these seasons come and go. I've had so many seasons that were the opposite of abundance. But, I've also spent years planting the seeds for future abundance by doing the following:
Learned more

-I've taken courses on different topics to grow my professional skills
Networked

-I've met some incredible people who support and nurture my goals. These incredible people have also given me feedback, ideas, and critiques that have helped me earn more money.
Killed the bad habits

-It only took 5 years to kill the overspending that kept me in debt.
Eliminated Debt

-I was never going to get ahead with all of the debt that I had. It has been a very slow process. But, I've just kept going and now I'm starting to feel the results.
More money will help me get to the end of my journey faster. What has been a hard emotional experience (the debt life) now feels like a huge annoyance and I'm ready for that annoyance to be gone. Now, it's time to make more money so that I can get it gone.
I can't wait. Will keep you posted.
The following two tabs change content below.
I am an obsessive foodie, but not self-righteous with it, love travel, meeting new people, helping you look good, and am freaked out by people who don't enjoying reading...something! Grab a Perrier, read my blog, feel free to drop me a line! Hope to hear from you soon.