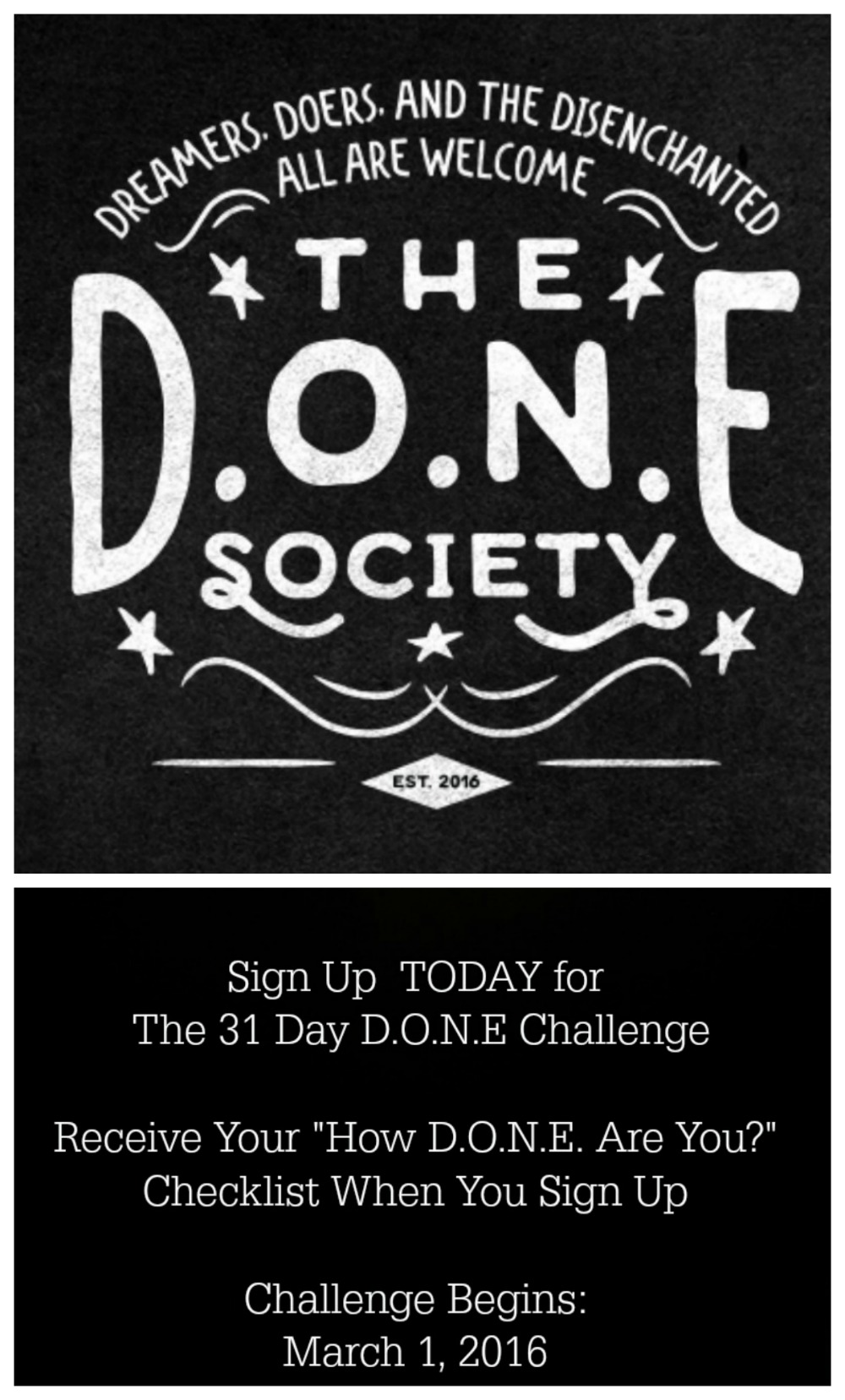 The D.O.N.E. Society-Spread the Word!
* In order for me to support my blogging activities, I may receive monetary compensation or other types of remuneration for my endorsement, recommendation, testimonial and/or link to any products or services from this blog. Affiliate links will have an asterisk (*) next to them. Please read my disclosure here.*
Today is the first day that I share a new project that I have been working on and am so excited to share with you today.
The D.O.N.E. Society and 31 Day D.O.N.E. Challenge
The D.O.N.E. Society is for Doers, Dreamers, and the Disenchanted. It is a community of people who are looking to make the switch to self-employment but can't make that switch-yet. They are so D.O.N.E. (Done and Onto New Experiences) but they aren't crazy. D.O.N.E. Society members are trying to make a thoughtful and well-thoughtout transition to online entrepreneurship.
Why Online Entrepreneurs?
I love online entrepreneurship because it is a great way to serve others, you don't necessarily need physical products and stock in order to be an online entrepreneur, the world is at your fingertips, and the possibility to scale your business over time.
People have purchased: Pet Rocks, Chia Pets, Toasters that Toast Messages on bread-there is a market for everything. I want to help encourage and engage people to figure out where their passion and ability to make money intersect and then work hard to live their best life.
Who are the D.O.N.E. Society Members?
Are people just like you and me who want to live a life where they spend time with their loved ones, can travel (if that's your thing), take care of their children, and most importantly-help other people and themselves.
Aren't Afraid To Embrace Hard Work
D.O.N.E. Society members understand that moving towards their D.O.N.E. moment requires hard work, focus, integrity, and perseverance.
D.O.N.E. Society members will: 
Work Hard

–You will continue working hard, providing value to your employer and your clientele. I worked for 2 years before I move onto my D.O.N.E. moment.
Make Difficult Choices

-I cut my budget by almost $14,000 dollars as I worked towards self-employment.
Begin Their Side-

Hustle

-That will hopefully become their full-time gig in the future. This was really hard for me to do as I was exhausted. But, I did add side gigs and slowly began learning the process of working for myself. It wasn't easy but I had to do it.
The 31 Day D.O.N.E. Challenge (free) Launches
March 1st, 2016
The 31 Day D.O.N.E. Challenge is a multi-layered challenge that helps people think about and start working on the framework needed to: substantially lower their expenses, envision their future business-who they will serve and how they will do it.
The D.O.N.E. Challenge Participants will automatically become members of a closed Facebook group where you can share: ideas, resources, encourage one another, watch monthly webinars (free), and get started on whatever online business you're looking at while you go through the process of preparing for D.O.N.E. as people complete their preparations I would love for you to share your D.O.N.E.! Moments with rest of us.
The idea is to share resources, ideas, positive energy, and mistakes to help members move towards their D.O.N.E. moments in a way that is a lot smoother than what I experienced.
The inaugural challenge begins on March 1, 2016 and I am so excited to provide a place for people to hang out, support one another, and work towards their D.O.N.E. moment.
I am a year into working for myself, it has been a strange and interesting journey filled with a ton of mistakes, amazing discoveries, and lessons learned. The thing is-this has been a long process. A process of preparation, dedication, focus, learning how to manage fear, dealing with my money issues (that I still have), killing my budget, and building community.
There are a number of phenomenal online communities out there but I felt that the people I wanted to serve and connect with are still underserved and needed a space to go to when they needed help, encouragement, ideas, and have their ideas validated in thoughtful and helpful ways.
Two Years
In reality it took two years for me to make the transition to working for myself and it was so freaking hard. I had to deal with:
People asking me why wasn't happy with where I was at?
I was asking myself why wasn't I happy with where I was at?
What did I really want to do?
What would make me happy?
What wasn't making me happy?
Figuring out my long-term goals
It was so much to deal with and it was so frustrating and overwhelming. I was so D.O.N.E and I had a hard time finding support, articulating what I wanted to do in the future, and finding a community that would support as I moved towards my D.O.N.E. Moment.
This bothered me for awhile. And even though I was able to find a community (FinCon), connect with a great group of people via my Mastermind Group, and slowly work on all of the components needed to make the switch from working for an organization to self-employment it was so much harder than I ever imagined it being. Partly because it took me several years to be prepared to make the switch. I realized that I wasn't alone in taking years to prepare and take the leap to self-employment.
In looking back I realized that I needed a community of people who were all D.O.N.E. with where they were in their lives, wanted to do something audacious, but couldn't leave their job-yet.
They couldn't leave because they had:
No idea of what they would do next
I needed a framework that would help me approach the process in a thoughtful and deliberate way. I needed to connect with people-who were like me but at various stages of working towards their D.O.N.E. moments and that is what inspired me to start The 31 Day D.O.N.E. Challenge!
Girl Gone Frugal Podcast Will Be Called….
The D.O.N.E. Society-I changed the name! Why? Well, there are several reasons and they are the following:
I am a Girl Gone Frugal but I used frugality to get towards my D.O.N.E. moment
I wanted the Challenge and the Podcast names to match.
I didn't want people thinking that my podcast was about being frugal and I thought the name might keep business focused podcast listeners from listening to the show.
The podcast is a great resource of interviews from people in the online entrepreneurship space or people who are creating their best lives through unconventional financial choices.
I will complete the name change this week.
Please note: the podcast content will remain basically the same. I will have some episodes that deal with specific topics. But, I will continue doing open conversations with awesome people who can help encourage, inspire, and move us towards action-and our D.O.N.E. moments!
The D.O.N.E. Society and (free) 31 Day Challenge Recap
The 31 Day D.O.N.E Society Challenge

has the goal to help people who are D.O.N.E. begin creating and working towards their D.O.N.E. moments. The D.O.N.E. Society is an important new component of The Shop My Closet Project blog and I'm excited about connecting with and helping both people who aren't familiar with my work and my wonderful readers from the past 4 years.
When you sign up for the 31 Day Challenge

you will also get the "How Done Are You?" checklist.

A short checklist to measure how D.O.N.E. you really are. And you will receive the

"You Deserve Happy"

mini book.
Challenge Starts:

March 1, 2016
Challenge participants will receive a link to a

closed Facebook group

of people who are at various stages of working towards done. That space is their to encourage, engage, and support people as they work towards D.O.N.E. The link will be received on March 1st when the Challenge begins.
Monthly webinars

-Topics ranging from working towards D.O.N.E. as a family, How to Mange Fear, What Type of Online Business is Appropriate for You?, Managing Stress as You Work Towards D.O.N.E., You Were Fired-Now What? and more.
Monthly Live calls

-Let's talk and see where people stand as they work through the Challenge…and life in general.
The D.O.N.E. Society podcast

(previously known as Girl Gone Frugal) it will have the same content! I will continue having conversations with online entrepreneurs and people creating their best lives through unconventional decisions (like selling their home and living in a bus)
It's going to be HARD WORK

-A friend of mine pointed out that I forgot to add this. It's going to be hard work. Working a job you don't love, being present and positive,  saving money, and killing your budget. This community will support you as you work your process.
My Hope
Is to do the following with this community:
Inspire people to save towards their D.O.N.E. Moment!
Inspire people to reduce their expenses significantly so that they can save more and pay off debt faster.
To help people work towards their best lives.
Looking forward to being a part of your journey! If you have a friend or family member that you think may be served well by this type of community please forward this post.
Rock on!
Michelle
The D.O.N.E. Society
For information on The D.O.N.E. Society click HERE. Request to join the private Facebook group HERE to connect with other digital entrepreneurs who are working on the process of transitioning to full-time entrepreneurship.
Email Me!
thedonesociety@gmail.com
I would love to hear from you
I love lifestyle design. I want you to be able to design your life and have a wonderful life.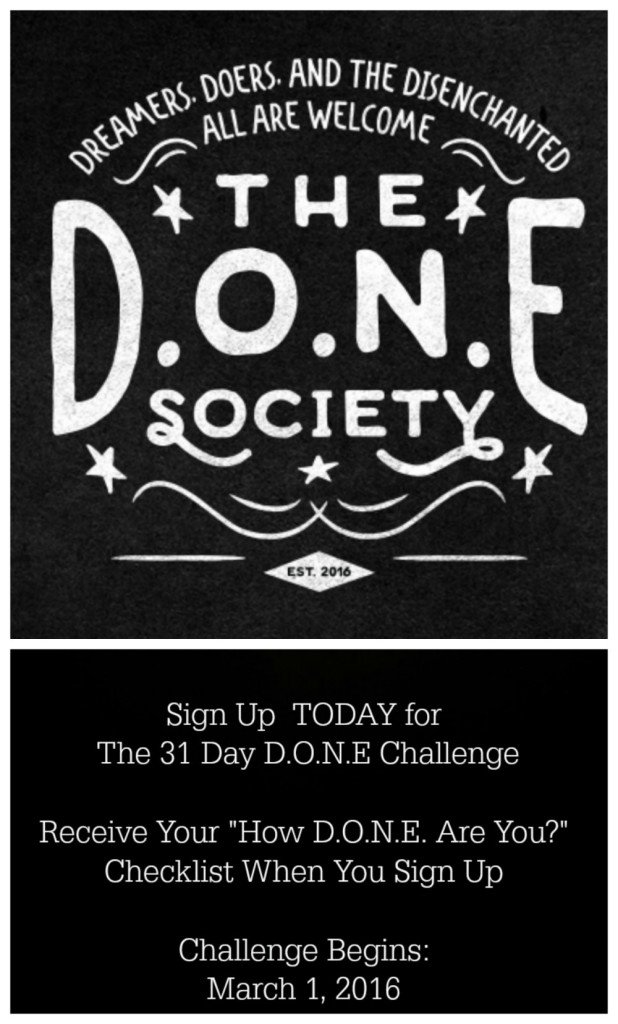 The following two tabs change content below.
I am an obsessive foodie, but not self-righteous with it, love travel, meeting new people, helping you look good, and am freaked out by people who don't enjoying reading...something! Grab a Perrier, read my blog, feel free to drop me a line! Hope to hear from you soon.