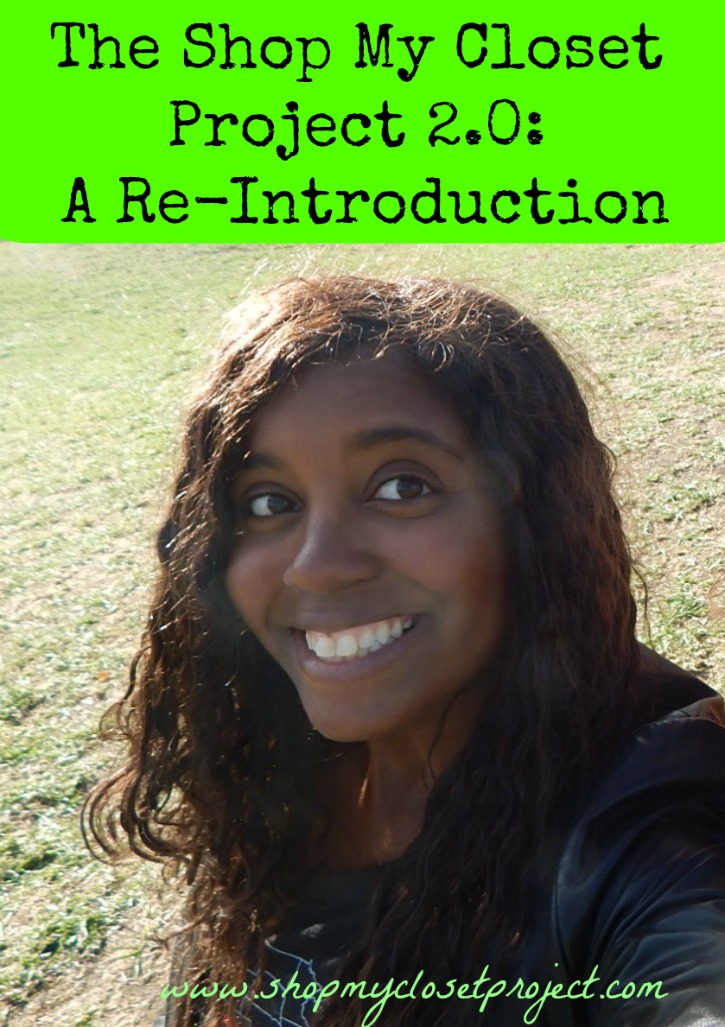 The Shop My Closet Project 2.0: A Re-Introduction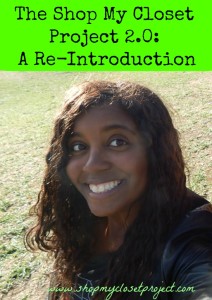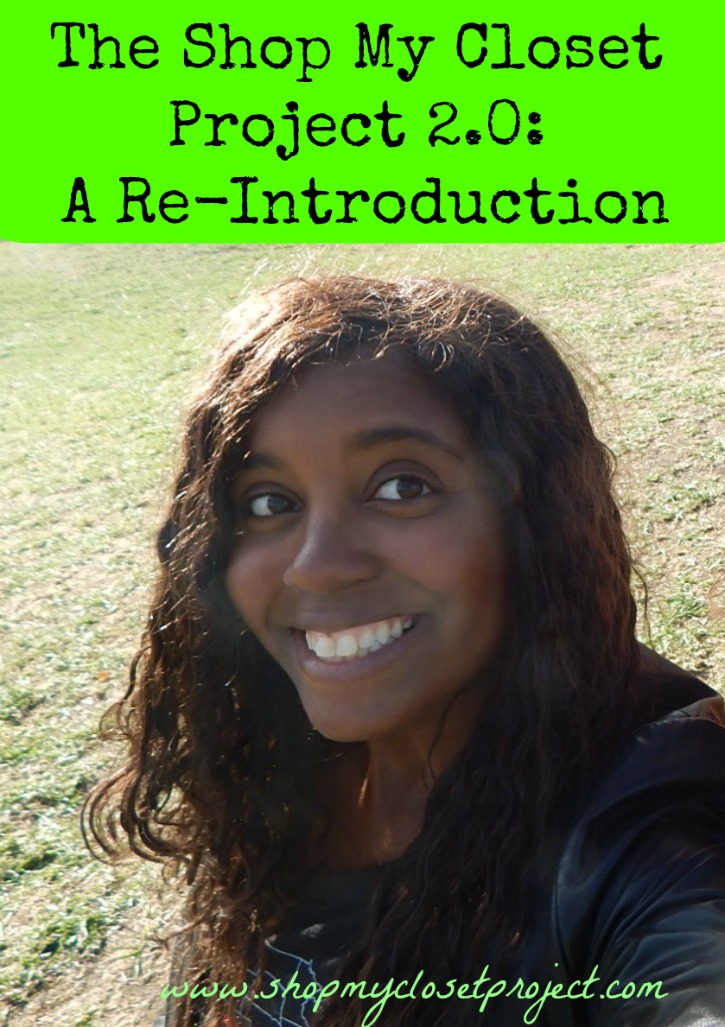 I can't believe that it is the middle of 2015. I am three years into a blogging journey that I didn't expect to last THIS LONG. It feels like it's time to do a recap in a slightly different way than I have done before. Because I have changed, what I want to do with my blog has changed as well.
First, let's do a recap for those of you who are new to my blog and a refresh for those of you who have been with me along the way.
My Story
Let's start with the fact that I have no idea why I started blogging. And I don't remember how I stumbled upon blogs. I read a lot so I suppose that one day I just started reading other people's journeys and feel in love with rooting them on, being a part of their tribe, and at the time it allowed me to commit…without committing. I could be an onlooker without really taking a risk.
In 2012 I was truly struggling. I was deep in debt, was physically exhausted, had gained around    45 pounds, had stopped dating, and hated (maybe loathed) my job. I was being consumed by my consumerism and felt that there had to be a better way.
I was stuck
Around that time I stumbled on a conference called FinCon12 that just randomly happened to be in Denver about a week or so from the time that I found out about it. The conference was a personal finance/finance blogging conference and some of the writers that I read regularly would be there. I decided that this was a sign. I had to go so I did.
I met my idols and was struck by how hard working, kind, and focused they were. I also was aware that a lot of these wonderful people had walked in my shoes.
I still had no idea how I would get out of being stuck, I just knew that I had to do something-anything to change my life. So I started blogging. Badly, sharing my thoughts, dreams, and worries.
As I continued to blog things began to change despite myself. Slowly I began to connect with other people via my blog. I started to learn new things and received different ideas about how I could lower my debt and make some traction.
2013
As I got deeper into blogging I felt like it was time to try something audacious. Something that I couldn't imagine doing. I had read about Ana from And Then We Saved and her No Shopping Challenge. I had met her briefly (she's from Colorado) so I thought that maybe this no shopping thing could change my life too? Maybe? Hopefully? On April 1, 2013 I began my year long challenge that had long lasting affects on my life to this day.
I continued working the job that I hated because I had a hard time imagining doing anything else. But ideas had begun swirling in my head. As I read about people working for themselves, leaving their jobs, and paying off debt I began to wonder…is that possible for me too? I wasn't ready though so I continued blogging.
That year I went to FinCon13 in St. Louis, MO and continued to meet more amazing people and started to truly understand that I was a part of something bigger than me.
I began to notice that people were actually reading and commenting on my blog. I soon realized that what I was sharing, my painful journey, had some value.
2014
I know that I am no longer able to continue working my job. I was in between a rock and a hard place. I still had debt, I had an idea of what I wanted to do next but it still wasn't the right time. Am slowly going crazy and am completely miserable because I am no longer able to commit to a life that is being sucked dry by every bad choice that I've made.
I worked on my vision board with a better sense of what I wanted to have happen in the next year or so.
I spent the first month of  2014 side hustling my way out of my Verizon cell phone contract and switching to Republic wireless saving me almost $1000 in my first year of switching.
April 1, 2014 I finish my No Shopping Challenge with a sense of amazement. I finished that challenge having saved around $4000, broke my shopping habit, and came out of that year with a deeper understand of why I was sabotaging myself financially.
I continued to connect more and more offline with my blogging friends and continued feeling amazed at how much support I was receiving.
In general I felt a profound sense of Gratitude. I knew that regardless of what happened it was time for me to move on from my job and from other toxic situations in order to let new things in.
In September I went to New Orleans for FinCon14 and had already begun setting my future plans into action. Life was about to change.
On December 16, 2014 I finished my job and the next day I begun a journey from Denver to L.A., L.A. to Hawaii, and then from Hawaii to Sydney, Australia-I was done.
2015
I began 2015 by watching fireworks over the Sydney Harbor Bridge. For the first time in many, many years I had a new chapter to my life that I had to manage and I had to manage it better than the last one. It was an exhilarating and scary proposition.
Today:
It is July 2015 and I'm still going strong. I am currently working for myself and though it has been an imperfect transition, I am still eating and paying my bills.
Yes, I will be going to Charlotte, North Carolina for FinCon15!
Life Changes:
Am Happy
Have killed my urge to consume
Gratitude is my middle name
Life is imperfect-but great!
What's Next Personally/Professionally/and For TSMCP?
I am

still paying off my debt

and I will continue to share stories and insights regarding that battle.
I am

still working on my personal life

and will share what's working and what's not. I'm having a fantastic time reconnecting with my friends, meeting new people, and exploring Denver. I'm also embracing minimalism and I'm loving it so far!
My goal is to

write more in depth posts

that will help my readers conquer certain issues that they may be working on such as: Paying off debt, meal planning, frugal travel, how to start a blog, and more.
Girl Gone Frugal Podcast

-I have begun interviewing interesting and exciting people and can't wait to share their ideas, insight, and information with you.

Episode 1-

An Introduction (Monday, July 6, 2015)

Episode 2-

Melanie Lockhart from Dear Debt

Episode 3-

Aja McClanahan from Principles of Increase

Episode 4-

Taalat and Tai from His and Her Money
Products

-Am in the process of producing some digital products. I don't want to say more other than it's A LOT of work!
Colorado Luv Hub

-Is my blog about Colorado. I am also working on some products associated with that site and am also recording podcast interviews for that site as well. Needless to say I'm REALLY busy.
Think of this as The Shop My Closet Project 2.0
A Reintroduction
The following two tabs change content below.
I am an obsessive foodie, but not self-righteous with it, love travel, meeting new people, helping you look good, and am freaked out by people who don't enjoying reading...something! Grab a Perrier, read my blog, feel free to drop me a line! Hope to hear from you soon.