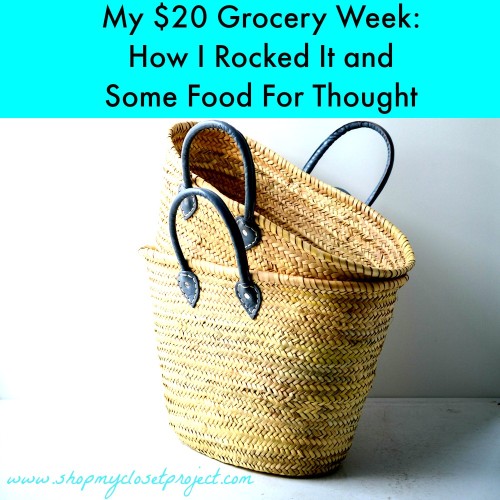 My $20 Dollar Grocery Week: How I Rocked it and Some Food For Thought
* In order for me to support my blogging activities, I may receive monetary compensation or other types of remuneration for my endorsement, recommendation, testimonial and/or link to any products or services from this blog. Affiliate links will have an asterisk (*) next to them. Please read my disclosure here.*
About three weeks ago I was reading my friends' Facebook feeds when I saw a comment about a person who did a $20 grocery challenge. My friend Khaleef was adamant that there was no way anyone could duplicate the shop that the original poster did and I was in agreement with him.
However
I did think it was possible for me to do a $20 grocery shop, eat well, and survive to tell the tale. The issue was that I was about to go on a 2 week trip to visit family and present at a tiny event. Then I realized that it was the perfect time to try this out because: I would have very few groceries in the fridge when I returned. I connected with Khaleef and asked if it would be possible to do the challenge without duplicating the original basket of items the first person purchased. Instead, I wanted the freedom to craft a menu that was filled with meals that I normally eat…but perhaps you may not have considered.
By the way, I've basically cut my meat consumption by 90% due to a recent loss of love for meat. I tried to fight it…but I just lost that loving feeling for meat right now (was confusing to my Grandma btw). So, I had to really think about how I planned on getting most of my protein that week. Fortunately I was a vegetarian for 5 years and I like to cook so I had some ideas.

The Process: $20 or Bust
You're probably thinking  the following: it's not possible to eat and eat well on $20. The challenge was from Monday-Saturday.
My process was pretty simple and here it goes:
I Evaluated What I Already Had

-For those of you who are new to my blog you might not know that I'm really into stocking up my pantry, my products, and any personal items that you might need. I grew up stocking up and it's great having plenty of stuff on hand during the lean months. I spent about 20 minutes going through my pantry and wrote down some ideas of what I wanted to eat.
Checked the Weather

-I eat a ton of salad and the warmer it is the more salads I feel like eating. I hate to tell people this but Colorado can stay pretty warm (even with the occasional snow) until the end of November. If it's really cold I want to eat food that will keep me warm and cozy. I discovered that the week I planned on doing this challenge would be a mix of warm and cold.
Nutrition and Taste

-I didn't want to eat boring bland food, so I took some time to think about what I could cook, trying to balance the carbs, and manage the taste.
Made a Menu

-As a rule I now shop about once a week and do a fairly loose menu plan. For the challenge I was strict about the menu plan and then I went shopping.
The Groceries: $19.35
I actually started off with $17.36, then I went to another store and picked up some kale for $1.99.
Hershey's Dark Chocolate Chips
A dozen eggs (cage free, vegetarian chicken eggs)
I also used my  iBotta app (affiliate link) to get some money back on my veggie purchases. I earned a .60 rebate. I actually ended up spending $18.75 on my groceries. Use grocery saving apps to get some money back. I eat a lot of vegetables so I love iBotta because it offers rebates on fruits and vegetables. This is great because it's hard to find coupons for fresh food.
By the way, if you sign up for Ibotta using my affiliate link and redeem a purchase within 2 weeks you will receive a $10 welcome bonus! SWEET.
5 Days to $500 Dollars
Join the Community!
Hey, I'm not naturally frugal either!
What if I told You that You Could Live the Same Lifestyle for Less?
Get your free guide "The Ultimate Guide to Saving!"
And the 5 Days to $500 Challenge today.
$20 Dollar Grocery Week: The Menu
Chickpea Salad

–Chickpeas, cucumber, green onion, parsley, fresh lemon juice, olive oil, and radishes (Lunch or Dinner)
Shashouka

-Absolutely delicious baked egg dish from the Middle East/Africa. You cut up some white or yellow onions, bell pepper (I had red), garlic, sauté add some canned crushed tomatoes, season (I used red pepper flakes/salt/pepper) then make a "well" crack the egg and drop it in the well. Repeat with the second egg. Bake around 350-400 degrees around 6 or 7 minutes. The eggs will be firm. Add parmesan on top. DELICIOUS. Had this couple of times during the week. (breakfast)
Yogurt

-I had Pumpkin Noosa Yogurt on hand. It's a Colorado Company and it's freaking phenomenal. (breakfast or snack)
Kale based Salad

-With avocado, boiled egg, radishes, cilantro, and cucumber (lunch or dinner)
Vegetarian Sushi

–With rice, avocado, green onion, and cucumber. Wasabi and Soy sauce dipping sauce. (lunch or dinner)
Vegetarian Congee

-A dish out of China/Japan/and I think Korea. You cook the rice down in a vegetarian broth (at least 45 minutes) I also added some Star Anise to the broth (just two) Then top with a soft-boiled egg, cooked onion, cilantro, and mushroom (I had Portobello mushrooms in the fridge) (any meal-but I ate it for lunch or dinner)
Kale Salad

–With apple, radish, and scallions and steamed fish. (lunch or dinner)
Brussel Sprout Salad

-Love this. It's a little labor intensive but worth it. You have to peel the leaves off of each sprout. Then, blanch in boiling water. Don't overcook! then I just let it cool of a touch and toss with olive oil and vinegar or fresh lemon juice. (lunch or dinner)
Pasta with Cooked Lemon

–This was the first time I made it. I needed to blanch the lemons just a little longer but it was DELICIOUS. I also added scallions, garlic, canned artichoke hearts and lemon zest. I topped it off with parmesan cheese. (lunch or dinner)
Yogurt covered prunes-

Grandma gave me yogurt covered prunes which were surprisingly good. As is the case with most Grandparents, she actually gave me 3 bags before I left her place. (snack)
Homemade tortilla chips and salsa verde-

Basically, I had corn tortillas in the fridge so I cut them up and toasted them to make some chips. I already had a mini can of salsa verde on hand so I paired the two together. (snack)
Homemade protein bars

-with peanut butter and chocolate chips. I forgot to add my protein powder but had some on hand. (snack)
Chicken with Brussel Sprout Salad

-I had uncooked chicken in the fridge so I cooked it up and made another Brussel sprout salad. (dinner or lunch)
This slideshow requires JavaScript.
Let's Talk About This:
I spent only $20 on groceries and I ate really well. Most of us could be spending a lot less on groceries so here are a number of take aways that I want to share from this experience.
Focus on Your Pantry

-I can't say it enough, take time to put together a well-crafted pantry. Well-crafted pantries should aid you in throwing together healthy and delicious meals when you: lose a job, are sick and can't leave home, have variable income as a freelancer, or don't have time to go to the store.
Quality is key

-As you buy items for your pantry rock grocery store sales and buy the best quality that you can afford. I tend to buy: dried beans, canned organic and low-sodium beans, frozen veggies, frozen fruit, good quality canned meats such as tuna/salmon/chicken.
Meat is Good

-Eat Less

-it's cheaper. Also, if you eat less meat then the quality of the meat you purchase can be higher. I only purchase meat from Whole Foods/Tony's Market/or a farmer's market.  Grass-fed beef only.
Know How To Cook

-If you don't know how to cook it would be difficult to really rock this challenge.
International Inspiration and Creativity

-I've traveled…A LOT. I also have lived in other countries. Thankfully that has helped to broaden my palate. I like to eat food from other places and thankfully what I like to eat is great for a frugal wallet.
Plan Your Menu

-The menu will work as your guide. Without a guide you will have a hard time staying in budget.
Caution!
Please don't read this post and think that a poor person who lives in a food desert could live on $20 dollars a week.  That's just not the case. I live within proximity of 5 grocery stores which include: Whole Foods and Sprouts.  I am a huge foodie and cook like a Rock Star (I kid-not really, I am a really good cook).
In order to do this there is a lot of thought that has to go into the process. The USDA's October 2015 food plan report shared the following range for a thrifty meal plan:
$43.60 for a male between 19-50 years old
$38.50 for a female between 19-50 years old
I would argue that it's possible to spend less on your groceries but that to do this would take a lot of thought and focus. I enjoy challenges like this and have done a No Grocery Shopping challenge as well. Most American homes have a TON of food in them.
My $20 dollar grocery worked but it took some thought and effort to do well.
USE YOUR FOOD
I've cut down on waste and on my grocery bill by being very deliberate about using the food in my home.
Oops!
I did end up picking up two items during the week.
It got super cold on the Monday that I started the challenge. I was at a side hustle and ended up buying a meal at Noodles and Co. Because the salad I brought was warm enough for me. $6
I went to a coffee shop and purchased a gorgeous avocado sandwich. I don't regret it. The coffee shop is now officially my favorite in Denver. $7 (posh place=expensive)
However, I still feel that I did a great job on this challenge.
Have You Tried  A Grocery Challenge Before?
How Did It Go?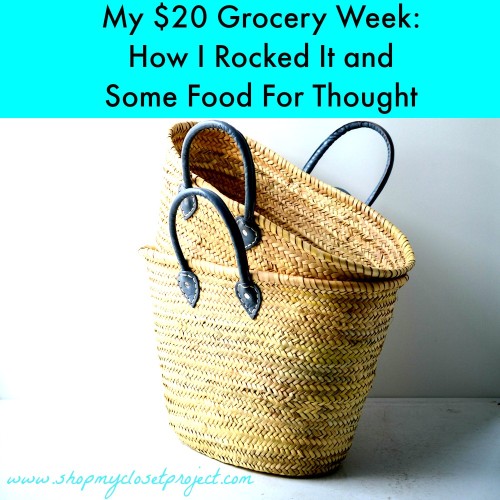 The following two tabs change content below.
I am an obsessive foodie, but not self-righteous with it, love travel, meeting new people, helping you look good, and am freaked out by people who don't enjoying reading...something! Grab a Perrier, read my blog, feel free to drop me a line! Hope to hear from you soon.