Setting My 2015 Gift Giving Boundaries (and Budget) NOW!
It's not even Christmas yet but I'm already thinking about the boundaries that I have to establish for next year's gift giving. The thing is…this year has been really, really expensive. Let me list the reasons why:
I fixed a number of issues in my tiny place
I bought out my Verizon contract (side hustling)
Paid off some cards…then charged them up again (sigh) Refer to my Depression and spending post.
Bought a ton of baby onesies as I had 8 friends, yes, EIGHT friends have their first little person. That's a lot of babies.
Yes, I wondered what was in the water that my friends were drinking!
I bought a new wardrobe replacing my depressed years wardrobe
I went to FinCon
I PREPPED for the next year, but that's a post for another time
So, going into 2015 I have decided that things are going to be different and I want to simplify several things.
2015 General Budget!
Food-I will be growing food in my Community Garden again and doing the 6 months at $240 and $40 the other six months. $1680 (for the year)
Clothing-I really don't need any clothes and I've budget $500 for the year because I will be going to 2 weddings next year. I don't have dresses that will work right now…but, I'm going to go to the thrift store and try to rock some thrift store action. (About $1000 less than 2014)
Travel-This line item will be discussed further in another post. I'm still trying to figure out a couple of things. Specifically, I really need the dates for FinCon15 so that I can lock in some other trips that I am planning.
FinCon15-I absolutely want to spend at least 1/2 of what I spent last year.  Stefanie from The Broke Beautiful Life wrote a phenomenal post about how she only spent around $150 for FinCon. Baller. Game on.
Debt-Am over it. So, I'm paying off all credit cards and the deadline is July 24 (my birthday) I did really well until I had bout of depression 🙁
Gifts-I'm only purchasing 2 wedding gifts (going to 2 weddings)  and I'm budgeting $150 per couple, and gifts for my Mom and Grandma. I will be making coffee table books for them for Christmas and probably purchasing a few gift certificates as well. I've also told my friends that I won't be purchasing gifts for the babies next year. They are all getting cards and love. That's it.
Fun-I will be focusing on free things but I will be ramping up the dating in 2015. SO, I'm trying to think about the cost of:

Happy Hour

-I usually average $30. That's usually including appetizers/drinks/entrees/dessert/and coffee 🙂 $360=2 a month for 6 months

Dinners Out

-Specifically in the summer. I like to go to those 5 course meals that usually cost around $75 for everything. I will limit this to 2 this year $150

Snowboarding

-I will try to do a barter for my accommodation costs. So…around $400-$800 from February-March.

Derby Party

(also considered charity)-I already have my fascinator $100. I love this event and the money goes towards 1 or 2 students to attend college for 4 years-FULL RIDE!!

Golf

-maybe once a month. Yes, I love it. During the warmer part of the year. $150 (3 times)

Coffee

-$60 Because I love meeting people for coffee.
Fun Total:  $1620

Budget total (excluding debt) equals $4450
I will look into ways to barter or get a deal on the different events that I've expressed interest in participating. I will of course spend a lot of time hiking, riding my bike, and walking around.
*What my fascinator looks like!*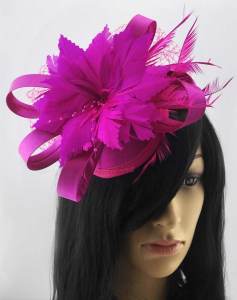 The following two tabs change content below.
I am an obsessive foodie, but not self-righteous with it, love travel, meeting new people, helping you look good, and am freaked out by people who don't enjoying reading...something! Grab a Perrier, read my blog, feel free to drop me a line! Hope to hear from you soon.