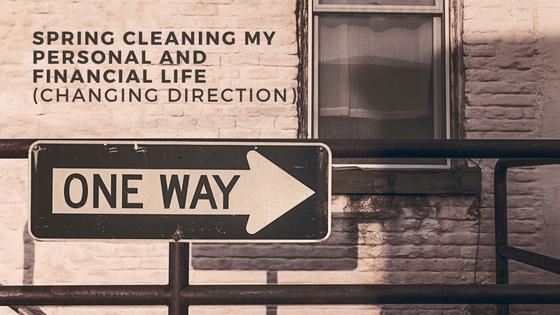 Spring Cleaning My Personal and Financial Life
* In order for me to support my blogging activities, I may receive monetary compensation or other types of remuneration for my endorsement, recommendation, testimonial and/or link to any products or services from this blog. Please read my disclosure here.*
I need to be honest about something that caught me off-guard. Every year I experience some level of winter-driven funk. During the tough years that funk, malaise, or Saudade can be debilitating and can completely knock me off my axis.
Saudade
Is perhaps the best word for the feeling that I have during the winter months. It's a Portuguese word that is hard to translate but it's basically a deep longing or melancholy…for something. Each year I would talk my way around what it was that I wanted because there were so many freaking things going on.
But, over the years I worked on those issues one at a time until there were just a few left. But, that sense of Saudade or longing was still there lingering in the background. And, as  I worked hard to change my financial life I found myself struggling to change my personal life and wishing that things would happen faster.
So, what does Saudade have to do with spring cleaning my personal and financial life? Basically, everything.
Spring Cleaning 
Is the process of freeing up space in your home, mind, and life to bring in new energy, people, and money. In the past two years as I let go of the energy that was connected to my old job and life, I inadvertently held onto some remaining energy connected to that time:
Self-Doubt

-As I embarked on an  entrepreneurial journey. Starting online based projects with the goal of earning passive income.
Lingering Debts-

That I hadn't dealt with in my zeal to just get the f@ck away from a situation that was physically and mentally harming me.
Underearning

-Which was a financial issue that I didn't know that I had until I found myself wondering why I always seemed to be just getting by no matter how much I tried to earn more.
That extra 26 pounds

-That seemed to be a testament to another time and a different person.
I'm spring cleaning the last vestiges of mental sh#t that is keeping me from the life that I want. I've spent enough time being introspective. I've spent enough time being hard on myself, and I've spent enough time beating myself up for all of my mistakes: financial, physical, personal, and professional.
I'm Human
I'm ridiculously imperfect and I'm a good person. I've spent the past 5 almost 6 years:
Learning money skills

-I knew how to work hard but I didn't know how to manage my money well.
Letting go of toxic situations

-Because I felt badly about myself I allowed toxic situations to linger…even though I thought that I had moved on.
Forgiving myself

-For the decisions that I've made that did (and didn't ) serve me well.
Last week I owned the fact that I am unapologetic about wanting to earn life-changing money. I've made some pretty tough decisions that I feel really good about. In the next month, I will be turning the page to a new chapter and taking care of those pending issues that I just haven't dealt with.
I used to be afraid to tackle these issues because of failure. But, I would prefer to tackle these issues and fail instead of not trying (again).
Spring cleaning isn't always about getting rid of books, extra pairs of shoes, and extra paper. The process is also about cleaning up the crap that clutters your life and making the way for new energy.
I'm very excited about the changes that are coming to The Shop My Closet Project and the changes that I know are coming personally. I recently read a romance novel (love them) where one of the characters talked about having this one beautiful life. I am no longer interested in holding on to anything that keeps my life from being a celebration of beauty. Life hasn't been perfect…but, I'm still standing.
Need Some Declutter Inspiration?
The following two tabs change content below.
I am an obsessive foodie, but not self-righteous with it, love travel, meeting new people, helping you look good, and am freaked out by people who don't enjoying reading...something! Grab a Perrier, read my blog, feel free to drop me a line! Hope to hear from you soon.