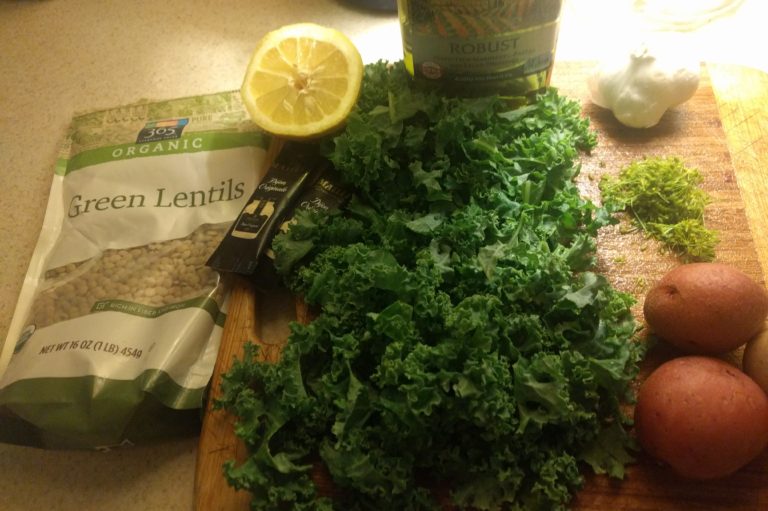 Warm Lentil, Potato, and Kale Salad: Frugal Eats
* In order for me to support my blogging activities, I may receive monetary compensation or other types of remuneration for my endorsement, recommendation, testimonial and/or link to any products or services from this blog. Please read my disclosure here.*
Can I just say that one of my favorite topics to think about, research, and share is food? Specifically, good food, and all of the ways I can connect my mouth with it LOL! I'm not sure why it took me so long to share all of the ways that I eat great for less, but, I'm glad that I started. This week's recipe is one that I found on Pinterest (follow me!) Typically, I look at a recipe, then use what I have in my home. Don't be weirdly rigid when it comes to most recipes (except when it comes to baking). Any other recipe typically will survive some level of experimentation and tweaking. Today's recipe is warm lentil potato and kale salad with a dijon mustard dressing. Super easy to make and great for lunch.
Warm Lentil Potato and Kale Salad
Typically, I create a menu for the week over the weekend. I try to do it on Saturday because on Sunday's I pick up my $10 bag of fresh veggies from the local farmer's market. By the way, I look at what I have in my pantry first, then create my menu. It's a much more efficient way to meal plan. Time to do this? About 5 minutes.
I'm thinking this is about a 20-25  minute meal to make from start to finish.
The Ingredients:
1 or 2 cloves of Garlic-I already had it on hand. Normally I get to bulbs for $1.00
1 tbsp of Capers-I already had these on hand. I use them in other recipes
4 kale leaves-Farmer's market $10 bag
Around 8-10 Mini potatoes (or, fingerling)-Farmer's market $10 bag
Fresh dill (optional) I had some from the $10 Farmer's market bag.
The Simple Vinagrette
2 mini packets OR 2 Tbsps of Dijon mustard-Typically I have dijon mustard on hand. Recently I ran out, so I ended up using the Dijon packets that came with a recent Hello Fresh order. I always save the extra condiments for later.
1/4 cup of Olive oil-I already had it on hand.
Juice of one lemon OR 1/8 cup of white or apple cider vinegar
1 tsp salt and 1tsp black pepper for dressing
1/2 a tsp of Veggie Better than Boullion OR 1/2 a cube of good quality vegetable bullion
1 cup of Lentils-Whole Foods, already had on hand. **Clean and rinse the lentils now looking for tiny rocks. Sometimes lentils will have these in the package.**
One large bowl or large food storage container
This was enough for 3 meals during the week.
To Assemble:
Read everything first before starting.
Clean the kale and separate the stems from the leaves.

**Optional-you can massage the kale leaves with a little olive oil to make them a little less fibrous. Put a light drizzle of olive oil on the leaves and massage the oil into the leaf for 30 seconds**
Chop up the leaves into small pieces. Don't get to focused on this. Just small enough to eat without having to cut them once the salad is assembled. No cooking required.
Chop up 2 or 3 garlic cloves (to your taste)
Make the vinagrette first!

Add the olive oil
vinegar or lemon juice
garlic
dijon mustard
mix together
salt and pepper
Mix together set aside. DO NOT put in fridge (oil may solidify)
This should take 3-5 minutes. Maybe. If you're moving slowly.
It's So Easy!
Put a small pot halfway filled with water onto the stove and add the lentils and Better than Bullion OR the vegetable bullion cube.

You'll want the water to eventually boil, stir the lentils every once in awhile. This is a pretty quick step. I feel like this will take 8-10 minutes at the most.
As the water boils down and lentils absorb the water, begin tasting the lentils to do a texture check (to see if they're cooked). You'll do this towards the end of the cooking time.
Once you feel like they're cooked, get rid of the excess water in the pot. Put a lid on it, turn off the heat, and put the pot back on the eye. That will keep the lentils warm for later.
Put a medium sized pot halfway filled with water onto the stove at medium heat. You want the water to boil at a low bubble.
Small potatoes cook pretty fast, again maybe 8-12 minutes. You can cook these at the same time that you're cooking the lentils. 

With a fork or a knife start poking the potatoes towards the end of the cooking time to see if they are cooked through. You'll know if they are when the knife eases into the potato with no resistence.Clean potatoes then cut them into quarters and drop into the pot of boiling water.
Once potatoes are cooked, drain the water
Last Step
 Grab the large bowl or storage container

Add the warm potatoes
Dump the kale on top, mix together
Drizzle the dressing over the potatoes and kale, then mix
Finally, add the warm lentils on top and mix everything together
Add the dill on top if you have it.
That's it. Then, taste it and make adjustments based on your taste. Sometimes you may need a little more salt or more of the vinagrette. If you decide to make another batch of the vinagrette, add a little at a time then mix, and taste.
I really loved this eating the warm lentil, potato, and kale salad. It's a great meal to bring to work or for your next hiking trip.
The following two tabs change content below.
I am an obsessive foodie, but not self-righteous with it, love travel, meeting new people, helping you look good, and am freaked out by people who don't enjoying reading...something! Grab a Perrier, read my blog, feel free to drop me a line! Hope to hear from you soon.